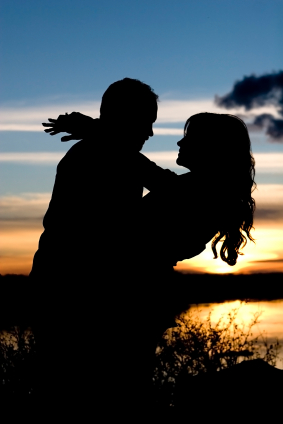 I hear Dipo's alarm go off and I burrow deeper into my pillow. I hate how on weekdays I'd long for a few more minutes of sleep and when the weekend comes when I should sleep to my heart's delight I find myself being roused before 6am. Keeping my eyes shut, I stretch my right arm with all the animosity in my heart directed towards the irritating device. That danger to my precious sleep is averted when another crops up.
"MUM!"
I'm two seconds from bursting into flames under the covers. I slowly peek at her from beneath the duvet.
"What do you want?"
My teenager is wise beyond her years and she sees through me. She does a little twirl and winks at me stretching out her left foot. She looks absolutely beautiful.
"When did you grow into such a lovely little lady? And where was I when that was happening? She giggles softly like they are wont to do at that age.
"So Mum, what do you think? Or should I change my dress?"
"I think you should go away"
I crawl back into bed and I pull the duvet right over my head.  I hear her pad out of the room but she leaves the door open as my punishment for ignoring her.
"The shoes are pretty. She should wear it" Her father croaks from his side of the bed.
"Aren't you supposed to be pretending to be asleep? Your daughter is vanity personified. She only came here to show off. I wonder where she got that from."
"Hmmmn, certainly not my side of the family. Ehen, maybe we should go for the 11am service. I honestly don't want to do anything today"
I look across at the man in my bed; My husband and partner for life, Michael Oladipo Leigh.  He is breathing softly so I know he has drifted off again into sleep. I love him with everything I have, and sometimes he jokes about how all the love I am capable of giving has been equally distributed among our children but he knows that I love him more than life itself.
He is still the same man I met two decades ago.
"Michael Leigh"
He had dropped the card after engaging in a shouting fest with the teller/cashier telling her to let her superiors know that they'd be hearing from his lawyers.
Lawyers ke? My boss heard that and decided to throw me to the wolves, I was the youngest in the team and I didn't have a say in the matter. I was to explain to the client why he was receiving crappy service from our bank irrespective of the fact that he was "paying a lot of money for top quality service". Those were his exact words. They set up the appointment and asked me to stop by the client's office and apologize. Apparently the Leighs were big clients and nobody wanted to rub them up the wrong way. I was very nervous; the more I thought about it, the more I felt Mrs. G herself should have gone to do the apologizing. Shebi I was just a year post-NYSC and everybody knew that I could be very introverted when I was with strangers. I was in my element on the phone, or behind the computer but NOT face to face.
The chauffeur kept driving like a crazed man, racing over speed bumps and getting into every pothole on the road. It did nothing for my already unsettled tummy.
"Mr. Disu, abeg try drive small-small now"
By the time we rolled into the huge gates in Ikoyi my tummy was rumbling badly. Ah! I had to use the bathroom and it was so embarrassing. I was determined to hold it in till I was done with the meeting but as I walked towards the front door I decided I'd just pocket my shame and ask the receptionist for the bathroom.
I pressed the doorbell and a butler appeared. Ah! Butler? In Nigeria? Na wa oh! I looked at the name on the card again.
"Michael Leigh"
Expatriates were everywhere in Lagos those days so it was nothing to me, I just wanted a bathroom.  I was going to wait till I was done placating my client before gently asking for the convenience facility but pressing matters were literally pressing so I was shown into a nice pristine bathroom.
When I was done, I lathered my hand very well with the nice smelling creamy hand wash and I did it again. It was lavender and I couldn't resist. I stepped out of the bathroom sniffing my hands and making a mental note to check for that brand the next time I went shopping.
"I'm glad you could make time to get to the business of resolving the banking issues"
I looked at the man standing in front of me. Bare feet, scuffy jeans and a grey tee shirt with 6 beer cans and "Do you wanna feel my 6-Pack" scrawled across it.
Please who is this Olodo talking to me anyhow and where is my Oyinbo client abeg?
I paused, swallowed and said "Please I'm here to see Michael Leigh"
A light-skinned girl with the most flawless skin I'd ever seen came out of the door behind him.
There's a way rich people look that just makes you wonder if the same hot Nigerian sun is beating all of us.
"Dipo, you're going back to the bank again today right? Please can you stop at the Nitel office too on your way? Maybe you can channel some of that your anger at the bank to the idiots at NITEL"
Every time I remember that day I cringe at the fact that I'd almost insulted my client out of ignorance. We sorted out his issues but somehow or the other Michael Leigh kept coming back to complain about one inane thing or the other.
Mrs G said "Fadake, this man likes you oh! And he's a rich kid you better give him face. Fine girl like you!"
I always laughed her off because I didn't believe he actually did like me, he was always polite and friendly. It was nothing more. One evening after work, my accounts were not adding up and I was rather frustrated so I decided to take a walk around the office. Mr. Leigh was coming down the front steps of the bank
"Ah Mr. Michael, you're still around. I didn't realize there were any customers still in the bank"
That was the first time I noticed his smile, his teeth, and his eyes. The guy was not bad looking at all!
"Please call me Dipo. Everybody does. Michael is my first name"
We had our first date the following weekend. We talked about music the whole time. I gushed about my love for New Edition and Boys II Men; he said he was the jazz and highlife kind of guy.  He wanted us to hang out again; he had some books he wanted me to read. Then it was movies and then art exhibitions. Before I knew it I was being drawn into another world. My real life fairy tale regular girl meets rich boy. But it didn't feel that way. Dipo was never overbearing and even though I rolled my eyes whenever he was telling me about things beyond the shores of Nigeria he never shoved my lack of exposure down my throat. "Michael Leigh" wormed his way into my heart and before I knew it he was my best friend and all I could think of.
I look at the man lying with his back to me. I stretch my arm to wrap it around him as a way of reminding myself that he's real and he's mine. He mumbles something and then a protracted sound rips the air between us. Even before the smell comes, I swat his buttocks. "Dipo, now!" He chuckles into the pillow and says something I can't hear. I sigh softly. Caveman or not, I love him. 18 years and three children later and I still LOVE him like I did on the day we got married. I think sometimes my love was what got us through it all and when I say "all", I mean "all".
When I was pregnant for my first daughter, Tamilore, we had agreed that Nana Leigh was going to come and stay with us for a bit till I got a hang of the whole motherhood thing. I was a little bit wary but Dipo said it would be a good time to bond with his mother. I wasn't going to hold my breath but it was worth a shot. So, on delivery day I was told my dear TamTam's head was bigger than the dilation of my cervix and I had to have a C-Section. The birthing was not bad but the post surgery pain was hell. The day we brought Tammy home, the first thing Nana Leigh said to me was "What are we having for lunch?" I stood there in shock, not knowing what to respond and not knowing how to think this woman was anything but evil. Her son must have noticed the stillness of my frame because he told her to check the freezer for stew. I knew right then that I was going to have to learn this motherhood business real quick because the woman was going to be more of a hindrance than helpful. One time I overheard her telling one of her nieces on the phone that my dad was a 'mere principal on a Unity School salary'. I gave up on trying to be nice to her from that day.
When our son was born, I had expected Dipo to be ecstatic but for some reason he just withdrew into his work. He was hardly ever home. He wouldn't talk much so I didn't know what he was thinking. One day in a fit of rage I locked his phone and laptop bag up in the bathroom and insisted he wouldn't go anywhere until he talked to me. Looking back now, I really don't know what I was thinking because my shouting didn't really achieve much. I offered sex, tried to ply him with food, I even tried to use my daughter to get him to talk to me, but nothing worked until he was ready. Later he told me that he was terrified of letting me down because money was tight and he was under so much pressure because a new baby had come and he wanted to be the best father he could be to his children. All the flush funds we were used to were gone with the start of the new business, but he kept reassuring me that things would get better and they did.
I don't want to get out of bed this morning because I just want to lie in and hold this man God has blessed me with. He wants us to go to church today because it's our anniversary.
I just want to hold him right here for another 50 years and celebrate every year with him.
Photo Credit: cancerlive.net
__________________________________________________________________________________________
July is a special month for us at BellaNaija. This year, as we celebrate our 6th anniversary, we hope to bring something special to our dear readers. Today's BN Prose is the third of five anniversary themed stories you would read this month. These are links to one and two. We look forward to sharing more interesting features with you.