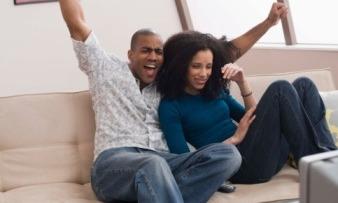 When my friend JoJo started dating this guy who was older than the guys I was used to seeing her with, I asked her how she came to "agree for" this man! She responded that he was a very kind man and that she'd always prayed to God for a man who wasn't fanatical about football (that's SOCCER to you Americans). It was the first time I was hearing that sort of thing! I didn't know that "Not fanatical about football" was a criteria for some people. It's interesting because I've never been a fan of sports! I mean, I watch it and all but I don't animatedly discuss the league table (please, I don't stick my nose where I don't have enough information to be opinionated). However, when I'm in "like" with a guy, there's a tendency to join my alliances with whatever team the guy is supporting! It's all love, isn't it?
The English Premier League started last weekend and lovers of football have started adjusting their schedules accordingly! Those who prefer to watch the match among friends or at a sports bar are excitedly making plans for it. A friend of mine said that his wife doesn't really like when there are too many guys in the house so he'd rather watch the match at a sports bar. However, the Mrs. complains that he's out all the time and they don't spend enough time together. His response? "WOMAN! THIS IS THE PREMIERSHIP!"
On the other hand, there are some women who are die hard sports fans and they go toe to toe with their men on the computation of the league table and what team has 3 points and what team has none. My friends, Lara & Kayode are like that. The two of them are ardent Chelsea FC fans and they go on so animatedly about the team and the games that I'm just lost. When I'm in their house, I just carry my laptop and go to the room to watch my Alicia Florrick in peace! If you  can find a partner who can jump hoops with you when Arsenal finally ends their trophy-less run then, you're lucky I guess.
What do you do though, when you're not interested in the game and it's all your man can focus on during the season? Surely, it would be unfair to leave out gaming or reality TV! I mean Basketball Wives, The Real Housewives of Lekki, Big Brother Africa and all those things. How do we determine how much we can take? What do you do when your 'better half' is addicted to his Fantasy Football League. How do you find a balance in the tussle for the remote control? One couple told me that they got dual view because the husband liked to watch the game and the wife was a Series junkie! It gets worse when you have kids too! They wanna watch Special Agent Oso and all I want to do is watch my Law & Order in peace. I mean, I pay for the thing; I should call dibs on what we watch, dontchya think?
On a serious note though, what do you guys think about this?
Photo Credit: vibe.com