BN Hot Topic: "Cajetan", "Cletus" & "Clementina" What's In A Name?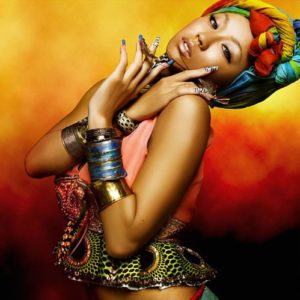 When my niece was born, my parents were asked to 'submit' names for the baby. My Dad said he wanted her to be called "Emily". Now, if you read that in the way English people do, it's nice and dandy, but if you read it with a Yoruba accent… tsk tsk…(Imagine saying 'Lydia' with a Yoruba accent) It's a completely different ball game. There's something about the 'Nigerianization' of foreign names that just makes you weak.
Hence why a lot of Nigerians advocate for cultural traditional names. Some Nigerians believe that names are more than just a means of identification. Your name is supposed to tell a story, reflect your background or so the advocates of Nigerian names assert. When asked on why my friend was insisting that his wife takes his last name or at least settle for a 'double barreled'name, he responded with "A name is more than JUST a name".
However, some Nigerians have found a balance that works for them. It's the slight cradling of the thin fence between the foreign and the cultural. Let me give you an example. A child in my nephew's school is called "Barbara". Her full name is "Oluwaseunbabarafunmi". There's little "Tammy" who I assumed was "Tamara" until I heard she was "Tamilore". There's "Tony" too. He's "Oluwatooni". Then there's "Dante" *Remember to curl your tongue and your lips for this one* "Oluwadantemi". "Wanny" is "Nwanneka", and let's not forget "Nikki", who is Nkechi. It has been argued that it's easier for the child to grow up and become more 'cosmopolitan' because it's easier for foreigners to pronounce the names. So for those who take this stand, it's completely about ease and convenience rather than any deeply rooted attachment to tribe or culture.
However, some of these re-calibrations are borderline ridiculous though… I mean how is "Shawn" any variation of "Oluwaseun" or "Tanny" a variant of "Itohan"? Or "Wendy", "Yewande". But then "To Each His Own"
When I asked my friend why his daughters didn't have "English/Jewish" names, he said he was deeply cultural and until he met a Caucasian who named his child 'Abimbola' to allow it easier for said child to be accepted in Africa, he wasn't going to give his child a "Non-Nigerian" name.
There's also the school of thought that names are just names. I mean we have "Cajetan" and "Longinus". Those are just names right? and it doesn't really matter as long as the bearer of the names are identifiable right?
I've always found some names fascinating and beautiful and if anybody asks me why I'm going to bestow such on my kids I'm not going to have any DEEP reason but the fact that I LOVE the name. On my list of personal favorites are "Oyinkan", "Hadiza", "Nifemi" and of course "Atoke" 😉
So guys, let's talk. What do you think about your name? Is it JUST a name? Is there some history to it? Do you have some funky version of your name that you refer to yourself as? If you have kids, how did you choose their names? Do you think a name MUST have a meaning? Do you think a name is beautiful and a reflection of your 'beautiful' child? Or do you believe that the name of the child sets the tone for the child's destiny?
Let's discuss!
Photo credit: damajority.com