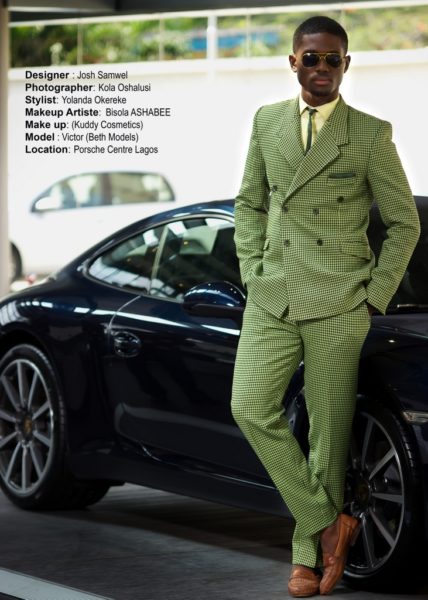 After a successful premier edition, BellaNaija Style presents another edition of The Making, a fashion and photography project initiated in 2011 to provide visibility for unknown creative designers and open up distribution and retailing channels for their brands.
For its second edition, the creative team behind the project Insigna and the BN Style team will bring you designs from 10 designers. At the end of the season, one out of the 10 designers will walk away with a cash prize as well as retail and sponsorship contracts.
Bio of Josh Samuels
Josh Samuels Clothing provides the platform for creativity to meet harmonious coordination and superior craftsmanship producing a masterpiece every time; leaving our customers Bold and Sophisticated. The vision of the creative director is to redefine and edify status quo and become a lasting legend in the fashion industry through the intricate representation of self, using fabrics and art.
Credits
Designer: Udiminue Joshua Samuel
Photographer: Kola Oshalusi
Stylist: Yolanda Okere
Make-up artiste: Bisola Ashabee
Model: Kevwe & Victor (BETH Models)
Location: Porsche Centre, Lagos
Contact
T: +2348060297414
E: [email protected]
SN:  Twitter – @joshsamuels_ | Facebook – www.Facebook.com/JoshSamuelsClothingCompany
Also check out;
The Making Season 2 – Shoot 1: "Edge of Fame" by Telvino Couture
The Making Season 2 – Shoot 2: "Lure of the Exotic" by Chechi Arinze
The Making Season 2 – Shoot 3: "The Gracian Collection" by Kholyns Couture
The Making Season 2 – Shoot 4: "Genesis 2" by sEKu
The Making Season 2 – Shoot 5: "The Fraternity" by J Reason
The Making Season 2 – Shoot 6: "Lace pro forma" by Èstömi
For more info on The Making project, log on to their website – www.TheMaking.com.ng