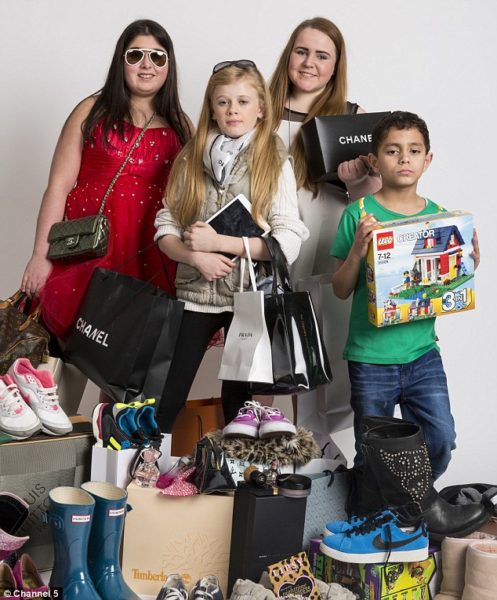 Spoiledkids.com!
Lauren Walsh, a 15-year-old British girl spends over £600 a month on designer clothing items. And where does she get the money from? Her mother, Jackie.
Jackie is a caretaker who earns about £6.81 an hour. However, she has been "forced" to take another two jobs, including a minimum wage cleaning position, in order to fund her daughter's expensive taste,  Daily Mail reports.
Speaking on why she lets her daughter have anything she wants, Jackie says, she is a "softie" and that she just can't say no.
"Nine times out of 10, she does get it, to be fair. She's got me wrapped round her finger somehow. Lauren just loves shopping but then so do I… She probably gets that from me. If you've got it, spend it – that's what I say. 
I think my friends would describe me as spoilt and I don't disagree with them because I know I am."
Lauren hasn't worn a lot of the designer clothes and shoes she has acquired. 
"I do feel quite guilty because it's just money wasted. I don't know how much [my shoes] cost because my mum just buys them for me.
She buys them and I don't ask. I just say thank you. I know my mum is a pushover, and I'm not going to lie, it's just because she's really soft and she agrees to most stuff.
I do feel pressurized when I see people in magazines..they look like normal people but they're really pretty and they're wearing all new clothes, so you think, oh if I wear those, I'll look really good as well, " says Lauren.
Jackie will be getting a fourth job soon to provide more funds for Lauren's shopping sprees. 
Photo Credit: Daily Mail/Channel 5