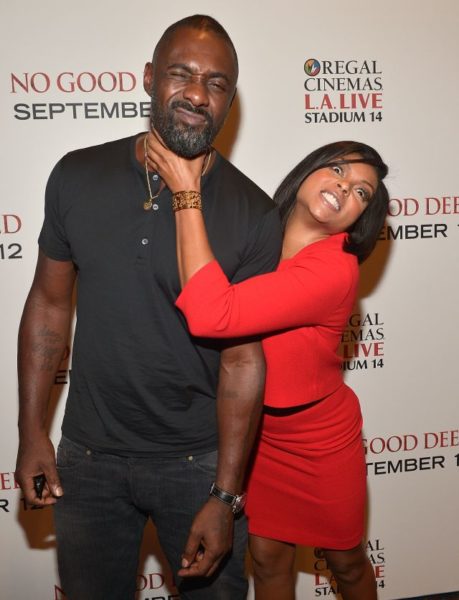 Add this to your must watch list when it hits Nigerian cinemas.
On Tuesday 26th August 2014, Idris Elba and Taraji P. Henson were playful for the cameras at the Los Angeles screening of "No Good Deed" at the Regal Cinemas.
For the press event, Taraji who was rocking her famous bob haircut, could not be missed in a red crop top and figure hugging skirt and black gold cap toe heels.
Idris on the other hand, provided eye candy for the ladies in a black T-shirt, grey jeans, a gold chain and black shoes.
In "No Good Deed", they both play lead characters.
Official Synopsis
Terri (Taraji P. Henson) is a devoted wife and mother of two, living an ideal suburban life in Atlanta when Colin (Idris Elba), a charming but dangerous escaped convict, shows up at her door claiming car trouble.
Terri offers her phone to help him but soon learns that no good deed goes unpunished as she finds herself fighting for survival when he invades her home and terrorizes her family.
Watch the Trailer

Photo Credit: Getty Images/Charley Gallay