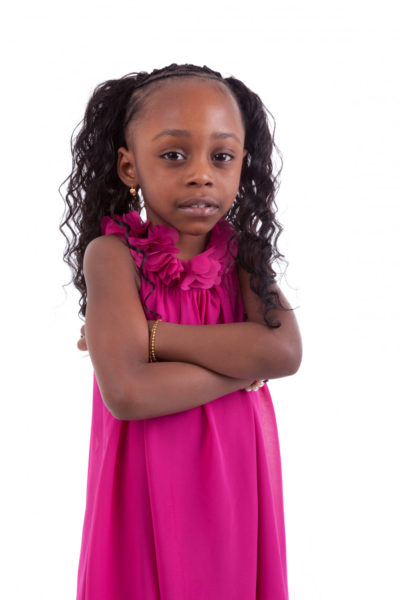 One morning during one of my long vacations in secondary school, I was sent to buy detergent. Thinking my mother had left the house, I rushed in to put on my catastrophic-looking make-up.
The thing is, my mother had a rule: 'children should look like children'. As crazy as it sounded to me back then, she was firm on children not wearing make-up and dressing or having hairstyles that were more suited for adults. I was young, it made no sense.
Watching older women, I knew something went on the lips and eyes; sometimes it was 'shiny'. So I grabbed the Vaseline jar, applied a generous amount on my eye-brow and eye-lid, baptized my lips with more Vaseline. Took a scarf and tied my hair, I let some material fall towards my face; it gave me the illusion of long-hair. I took the money I had been given, and I was ready to hit the road.
As soon as I opened the gate, my mother was standing right there. My heart sank to my stomach. I was having an out-of-body experience. I stood there frozen looking like a turkey bathed with grease about to be put in an oven. She just looked at me with pity. I will never forget the words that followed. "The pressure you're looking for, you cannot handle it at this age", she proceeded with "if you do today, what you're supposed to do tomorrow; when tomorrow comes, what will you do?" She didn't need to say anymore, I ran into the house and reversed my look from masquerade to human being. That was over a decade ago, but the happenings of today makes it feel like over a century ago.
I appreciate make-up and fashion as much as the next woman. However, I can't help but wonder to myself, if there is a line that's been crossed. Today more children put on make-up and elaborate hairstyles. I have seen young girls less than 10 years old wearing lipstick, eye shadow, foundation e.t.c. I've seen young girls with fixed nails and weaves. The dressing is mind blowing!
Questions flood my mind; why is it so? What's the point of making a little girl look that way? Are we still allowing children to be and look like children? If we instill 'attraction' as a NEED in female children, what becomes of their self-esteem and self-worth as young women?
We have more little girls, looking like 'little women'. The major pitfall of this is, when things that happen to women, happen to them, they can't handle it.
I did some calculation: a female child has about 9 years from birth to really enjoy being a 'child'. From 10-19 years, the challenges of being an adolescent dominates and from there on out, they are adults. Just 9 years out of their whole life! Should it be filled with love, simplicity, and growth? Or should we rush them into womanhood. Make-up and fashion make statements all the time: they have consequences and meanings. Neither of which a girl is equipped to understand or handle, when they are inappropriate.
Several years ago, I had a failed attempt trying to look like a woman, when I was only a girl. I've grown up to understand and a lot of people will agree that being a girl and a woman is two different periods of life. Older women play a major role helping young girls understand and transition smoothly between both phases of life.
To everyone reading, especially authority figures in the lives of female children, what's it going to be: little girls or little women?
Photo Credit: Dreamstime | Sam74100