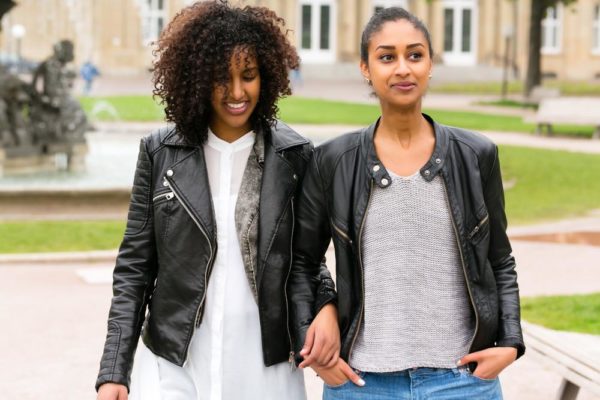 I have a childhood friend called Chika. She is an engineer but works in a radio firm and also manages a small establishment for her sister. Chika has another friend who resides in the same town with her. Chika and her friend had an argument on the wedding day of the said friend which led to the destruction of their friendship.
Below is the transcript of this friendship-destroying argument:
Friend: Girl I'm still surprised you didn't buy my asoebi.
Chika: Good morning. Do have a beautiful day and wonderful marriage.
Friend: Didn't you read my first message and you are saying have a wonderful marriage.
Chika: Don't you like morning greetings? Or don't you won't a wonderful marriage? I can keep the wishes for when I get married myself.
Friend: Rubbish. You apparently don't wish me well if you can't buy simple asoebi. I wonder who will buy your own asoebi when the time comes.
Chika: Why don't we discuss my own wedding when the time comes, if we must?
Friend: Is that all you can say?
Chika: That was actually the second to last thing. The last thing being, I know you should be getting set for your day, I'm going back to bed since I'm not attending your event. Enjoy your day.
Friend: I don't blame you. You can't buy ordinary asoebi but you just keep travelling around. I wonder who is your sponsor. I know other friends of ours who are wondering same too. You won't go and get married and get a life. At least I'm settled, though my hubby has the money but we are not going on honeymoon at least for now.
Chika: Let me give you what looks like a reply before telling you to fu*k off with all the years of supposed friendship.
1) I thought your only issue was the fact that I didn't buy your wedding material, but I see my global spirit bothers you. I have no solution to your thwarted thinking. As for your acclaimed 'other friends of ours', the day they stop wondering and ask a full fledged adult that question directly, the adult will give them a befitting answer.
2) As you well know, my surname even has a part with a locomotive connotation; I can't be living up to the meaning of yours nor the new one you are acquiring today.
3) I'm living life in full colours and want to see the world before it gets dark. I don't envy you if your husband is your rainbow.
If I have done anything wrong to you prior to this conversation, pardon me.
Have a beautiful life ahead and be a good wife while stopping the habit of looking out for what currently single people are doing with their lives.
Before the friend could type another word, she was raptured off Chika's chat.
Chika said she ended that friendship that day. I blamed both of them. I blamed the friend more because the subject matter was not Chika's decision not to buy the wedding material but Chika's frequent flyer status. Her jealousy took hold of her and she acted without thinking. I blamed Chika for ending the friendship that particular day. I felt she would have been more mature and understanding. Maybe, her friend needed the money to settle the cake designer. By the way, Chika hates to wear asoebi. This friend already knew this but she wanted Chika to still buy even if she wouldn't wear the material.
This brings me to the purpose of this article.
What does friendship mean to you? When you introduce someone as your friend, what exactly do you mean? Does it mean you have each other in your Facebook list or that you meet at the pub every Friday?
A relationship needs to have some key elements in order to be labeled as friendship.
Qualities of someone you regard as a friend:
The person must have told you that you are a friend or must have introduced you as a friend.
The person must be sincerely interested when you talk about your life
The person must have done something nice for you.
The person wants the best for you
The person is a positive influence in your life
People have bad days and act imperfect, so there are times a true friend will be negative or hurt your feelings. That is not the best time to quit the friendship. Consider the virtues of that person and the friendship first. This is the time to act friendly.
Friends don't keep scores, but there's a balance. Know when to enjoy the "spotlight" and when to give your friend the "floor".
We need to go back to the friend-that-sticks-closer-than-a-brother type of friendship.
A friend should not be jealous of another friend. How can you pray for something yet feel bitter when you see it in others?
A friend should respect boundaries and decisions of their friends. Don't always want to have your way.
A friend should also make allowances for their friends, if it will not be detrimental and sinful.
A friend should be teachable and ready to teach. By virtue of my job as a Human Resources Manager, I know that adults are more difficult to teach than children. I told Chika that she would have taught her friend manners and how to talk like a reasonable adult.
Why waste your time and resources to nurture a friendship only to discard it recklessly? This is why the society is this bad because people no longer genuinely care for others. Friends betray friends easily and without remorse. In the beginning, it was not so.
To the other issue in this article, why do some girls equate your support for their marriage ceremony to buying of the wedding material?
Why do people buy cheap materials for their wedding and sell same exorbitantly to supposed friends?
I remember my younger days, when my roommate was getting married. I suspected she inflated the price of the wedding material. I told her that she should give me the sample, let me go to the market and buy mine. She told me that it will no longer be asoebi if I did that. That asoebi means I have to buy it from the celebrant. Anyway, as my friend who knew my financial situation then, she reduced the amount for me.
Finally, always know your place in people's lives before you make certain demands from them. To be a friend, you must first be friendly.
Photo Credit: Dreamstime | Arne9001