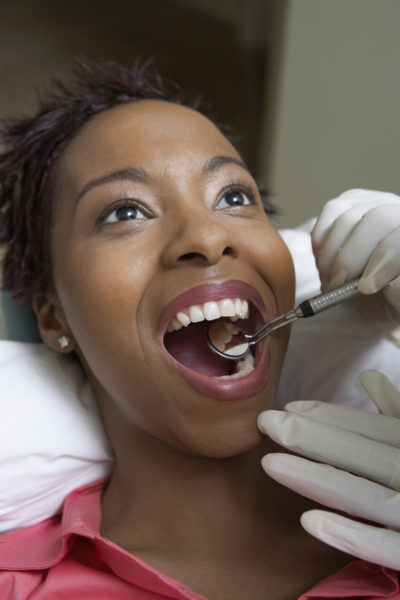 I went visiting my cousins in Lagos. Aunty Toju was my favourite, this was understandable considering all the gifts she sent to Bobo and I in the village. Sometimes, I wish she could adopt me as her own, but Papa would not even let me stay over a month in Lagos before he demanded I return home. I had to be content with the fact that Aunty introduced me as one of her own.
Today was no exception. She had told us the night before to prepare early for a dental appointment on the morrow. My cousins seemed unperturbed by the news but the thought of it only made me nervous as I recalled Mama's visit to the dentist. I could still remember her screams as they reminded me of the day she went into labour for Bobo.
We arrived a few minutes past 9am and apart from a small board at the gate which signified the 'Dental Clinic, one could easily miss it. It was a whole house dedicated primarily for that purpose. I could not conceal my utter consternation as we entered the reception area. The place almost felt like Aunty Toju's house except for the air-conditioner that blew too cold, and the dark colossal reception desk that occupied most of the room. The TV had Africa Magic on, one of my favorites, colorful images depicting teeth and other dental cartoons hung on the cream wall.
I noticed how the staff were so professional and friendly with Aunty Toju and attended to her immediately we stepped in. Obviously, we were the only patients present but it was nothing like the Government clinic back home where Mama pulled her teeth. We had to wait several hours to witness the other patients screaming and agonizing moments. I heard Aunty Toju mention my name, so I dashed to the reception desk where a petite lady sat with the widest smile, opening a clinic folder for me. A display of different brands of colorful toothbrushes and toothpastes with mouthwashes were displayed. A lady came forward to receive our folders, she was dressed in a pyjamas-looking uniform which I later learnt were scrubs.
The lady escorted us up the stairs into another mini reception with a large mirror and three doors. One of which had doctor's office inscribed on it and the other two had operating rooms inscribed on them. We stepped into one operating room which was heavenly! A large room twice the size of mine, the brightness was just captivating, a few more dental pictures and descriptions hung on the wall and the dental chair filled the room like it owned the place, with its sparkling white sink and a screen attached to it. I couldn't imagine any gruesome experience occurring in this room as much as I tried. This was nothing like the Government clinic Mama pulled her tooth! I could remember the cracked ceiling and the worn off paint on the clinic walls. The rusty old chair had grease and sweat stains plus who knows what else was embedded in the vinyl seats. The endless black hole Mama had to spit into had neglected blood stains perched on the sink and the chair made creaking sounds as Mama struggled to sit on it. The Dentist that day had mumbled an apology about the dysfunctional chair that couldn't move as it should and the torn leather seats.
While I was still convincing myself I was in Nigeria, the Dentist came in. He had a fatherly profile about him and had a most welcoming smile as he fondly greeted my aunt and chatted with my cousins like they shared a common secret. Aunty Toju and my cousins were seen with no hassles; then, it was my turn. The dentist asked me a couple of questions, some of which I thought were none of his business. Then he touched my face and neck and asked me to open my mouth. I obeyed, carefully. I tried to read his expressionless face through his face mask. He took down more notes, then he wore his gloves, positioned his light and picked a thin, silvery, sharp instrument and asked me to open. This time I hesitated and he reassured me. I could feel him probing on my teeth, then he tapped, and I screamed!
Photo Credit: Dreamstime | Photographerlondon