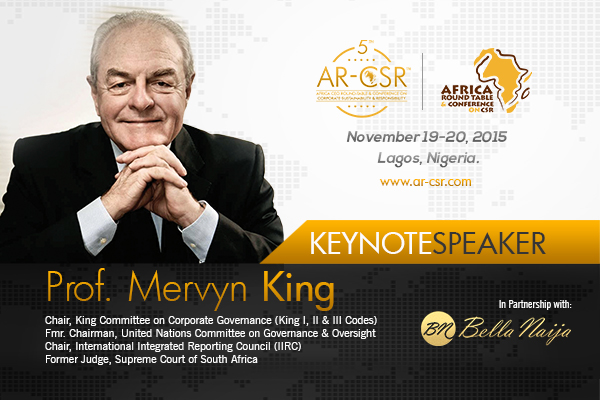 Foremost boardroom titan and czar of corporate governance in Nigeria, Pascal Dozie will host a former Justice of the Supreme Court of South Africa, Prof. Mervyn King to a special session entitled, '2 Hours with King'.
'2 Hours with King' is a side event and a feature of the 5th Africa CEO Roundtable & Conference on Corporate Sustainability & Responsibility (AR-CSR™), which holds on November 19-20, 2015 at the Eko Hotels & Suites in Lagos, Nigeria. This edition is particularly significant because it marks the fifth anniversary of the AR-CSR™ which has become the biggest platform for discussing issues of Sustainability, Corporate Social Responsibility, as well as the enhancement of a public-private synergy for the attainment of a credible business environment in Africa.
Prof. Mervyn King, the 2015 AR-CSR™ Keynote Speaker is also the Chairman of the King Committee on Corporate Governance (responsible for the renowned King Codes I, II and III on Corporate Governance), and current Chairman, International Integrated Reporting Council (IIRC). Hosting Prof. King is his contemporary Septuagenarian, Pascal Dozie, Co-Founder, Africa Capital Alliance; Chairman, MTN Nigeria; Kunoch Group of Companies and many other leading corporations in Nigeria.
Both kings of corporate governance will share their experiences, best practice models and current topical issues emerging across Africa on Corporate Governance regulation, emerging trends in the African Business Environment, Ethics and Public-Private Partnerships amongst others. A moderated interactive session will follow before networking and interactions. The event will admit only select chairmen, c-suite executives and leading CEOs in Nigeria and West Africa. Key industry trade groups, regulatory organisations and leading multilateral organisations will be invited to send representatives to participate.
'2 Hours with King' will also offer an opportunity for business leaders to interact and engage both Prof. King and Mr. Dozie on the future direction of Corporate Governance in Africa as well as current challenges. How the world's leading corporations are evolving innovative ways to handle increased stakeholder pressure and expectations, will be exhaustively discussed. Also, conversations will bother on the current governance models in use in Africa vis-a-vis the challenges of each, bearing in mind that sustainability has become the moral and economic imperative of the 21st century, and as such governance, strategy and sustainability have become inseparable.
ThistlePraxis Consulting is a proud presenter of '2 Hours with King' and convener of the AR-CSR™. Every year, the quality of the resource persons and participants, satisfactory feedback from delegates, intellectual exchanges, and learning experiences – both for corporate strategy, policy development and personal development – makes the AR-CSR™ an important event in the African Business Calendar.
The 2015 edition of the conference will deliberate on the theme: 'From Corporate Governance to Sustainable Governance', as speakers and participants alike will seek to discuss exhaustively and proffer solutions to issues such as: the role of corporate governance in relation to sustainability, relationship between the individual pillars of sustainable development and corporate governance, possible nexus between the economic, environmental performance, social performance and corporate governance within organisations, across supply chains and capital markets in Africa.
For more information and to register, please visit ar-csr.com