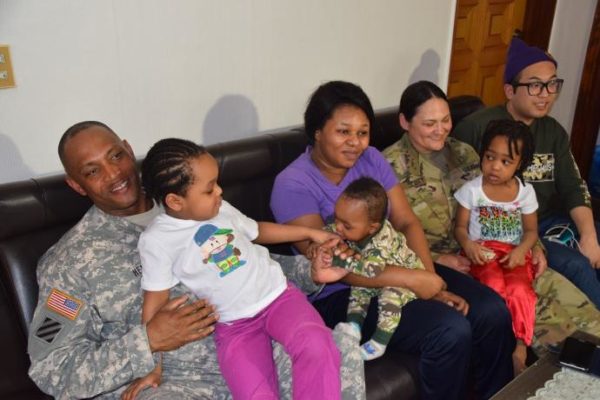 Precious Enyioko, 30, and her three children aged 1, 3, 4, were trapped in a burning building in Pyeongtaek, South Korea, on Sunday, April 30th 2016. Miraculously, they survived without injuries.
To escape the incident, Precious had to dangle her baby through the window before she caught onlookers attention.
U.S Air Force Master, Sgt. Daniel Raimondo, said he was walking to dinner when he saw clouds of smoke and set off in that direction. On assessing the scene, he discussed with a colleague on how to help and resolved to get some blankets from a nearby store. They got others to help hold the blankets, then tried to persuade the mother to drop her children to safety.
 "You could tell she was scared. She didn't want to, the last baby was the most difficult in my eyes, she just wouldn't let her go for some reason.".
He also said he repeatedly begged the mother: "Please just throw the baby down! I remember her screaming at the baby, 'I love you, I love you..' Next thing you know she dropped the baby." By this time, the mother had to jump. "The smoke and the fire was just horrendous," Raimondo said. "You could barely even see her at that point."
Her husband, Prince Enyioko, expressed gratitude on behalf of the family: "I don't know how I would explain my thanks. I was so surprised, I see the people gathering here to rescue my family, especially the military."
Watch the video here!
Credit: KCRG