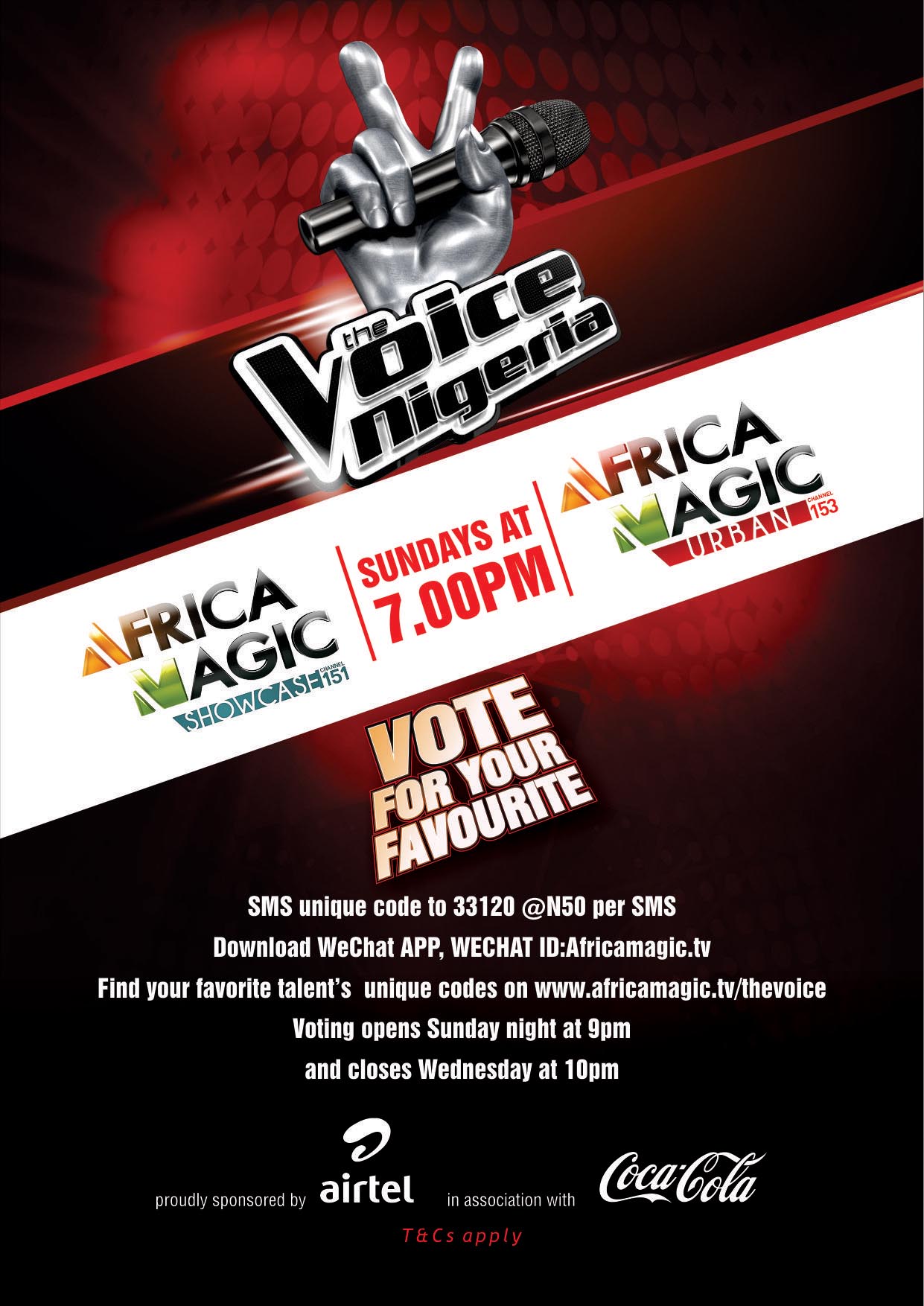 Sunday the 10th of July brought another round of exciting performances on The Voice Nigeria with a few surprises thrown in! YOU are the deciding factor on who stays and who leaves! Head on now to WeChat to vote for your favorite contestants! Simply download the WeChat app on your android or IOS devices, register, search and follow AFRICAMAGICTV…and vote! Remember, you have up to a whopping 100 votes and it's absolutely free! So what are you waiting for?! Vote now!
You can also vote via SMS by simply texting your favorite talent's unique code to 33120. Each sms costs 50 Naira.
For #TeamTubaba
Brenda – Text 01 to 33120
 Jennifer – Text 05 to 33120
 Viveeyen – Text 08 to 33120
For #TeamWaje
Arese – Text 25 to 33120
Patrick – Text 30 to 33120
Promise – Text 31 to 33120
For #TeamPatoranking
Linda Inneka – Text 12 to 33120
Chike – Text 10 to 33120
 DNA – Text 11 to 33120
For #TeamTimiDakolo
  Dewe – Text 19 to 33120
Armstrong Martins – Text 17 to 33120
Cornel – Text 18 to 33120
For more information, visit www.africamagic.tv/thevoice
Also be sure to watch the LIVE shows on Sunday at 20:00 CAT on Africa Magic Showcase (DStv Ch151) and Africa Magic Urban (DStv Ch153)
The Voice Nigeria is brought to you by Africa Magic and proudly sponsored by Airtel in association with Coca Cola.
___________________________________________________________________
Sponsored Content