Thanks to social media, a lot of people get front row seats into the lives of people they admire and are fans of. Instagram especially makes it easier because all you have to do is click the follow button to "participate" in the lives of people you friend interesting.
Noble Igwe is one of the people on Instagram that manage to keep things interesting. Whether he's posting fun photos from a trip, stylish photos of his wedding or photos of his gorgeous wife, there's always something interesting to see.
Noble, who was made an ambassador for Casper & Gambini's restaurant in Lagos recently, posted a photo of his breakfast being had at the restaurant this morning and an IG follower was quick to point out that he is almost always at that spot to eat. She went on to ask if his new wife is not cooking for him at home.
The reply Noble gave her has since gotten a lot of applause and also a lot of backlash from other IG users. While his reply was heavily sarcastic, it does show that Noble is not an "old school" type of husband.
See their exchange below.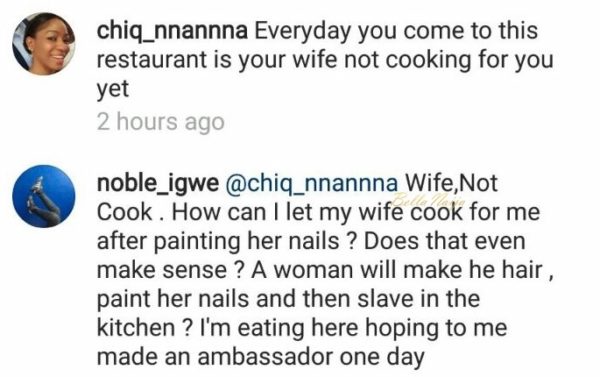 What do you think?
Seeing as Nigeria is a very traditional country, we had to bring this question to our BNers. Does it really matter if the wife doesn't know how to cook? Do men marry their wives for their cooking abilities? Shouldn't everybody – male or female – know how to cook?
So many questions…please share your thoughts!