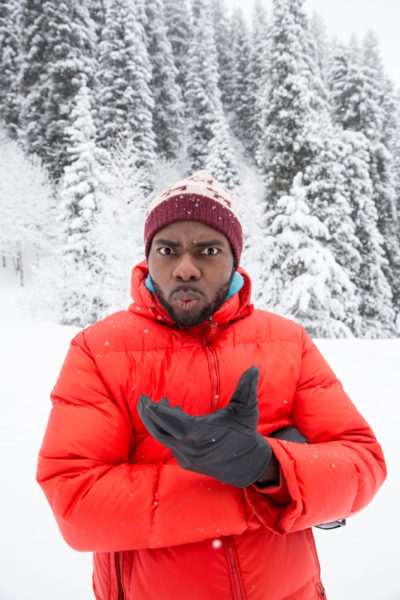 The community on BellaNaija is AMAZING!!! The comments, the DMs, the emails (which I haven't answered, sorry. I'll do that tonight! I'm not a snob! Thank you!!) … well you folks keep me willing to write even when I'd rather be eating pounded yam and catfish peppersoup. One gbosa for everybody! Special Shoutout to NaijaTalk, Delta Geh, Zarah, Caleb, Tutu and everyone who keeps coming back! 😀 😀
Ehen, if you're just joining us and you're wondering what the fuss is all about, check out part 1 and part 2 .
I decided very early in life that I wanted to be very rich. Now this is not the ordinary desire for riches. It's the kind of desire that keeps me up an extra hour and steals my daydreams. (That's when I'm not daydreaming about this awesome girl 😛 ) But this desire to be rich stems from an embarrassing part of my life I'd rather not face If I can.
I cannot dance.
I simply cannot dance. You know how at every party there's this one guy/girl hovering around the edges of the dance floor like a creepy serial killer? That's usually me. It's one of the many reasons I don't go to parties. Imagine If I see a very amazing girl and I want to talk to her and maybe get her number later on? Well, what if I try dancing my way to her and then they start playing a hit song that has a dance attached to it? And what if I cannot dance the dance? Then one yeye boy will just come from one corner and start dancing with her and then I lose my chance. This life is wicked sha!
Think of any dance. Skelewu. Shoki. Shakitibobo. Shekini. (Have you noticed how they all seem to start with "S" and end like someone speaking in tongues?). No matter how many instructional videos I've watched, no matter how many times I've tried to dance it, I find that I simply CANNOT dance. I always feel like my shoe is coming off; like My feet are suddenly going to disconnect from my body and wander off. I feel like I'm making a fool of myself.
I have discovered that the only people who don't really need to dance are rich people. I can just hold a ton of money and keep spraying people dancing. Then I can make a sudden move like I'm gonna dance. And make EVERYONE else dance. And then spray them money. Now this money I will spray must be the kind that cannot destroy my bank balance afterwards.
So I have to be very very rich, thank you very much.
And that is one of the reasons I came to school in Toronto.
One of the hardest things to understand in Toronto was the bus system.
Buses and trains all work with compass directions. North to Steeles, South to Bloor. East to Scarborough, West to Etobicoke. If you, by mistake, start your journey in the wrong direction, there is no way you'll get where you're going. You have to get down and start going in the opposite direction. Back in Nigeria you only needed to know the landmarks and bus stops (and most importantly, the ability to shout "o no ya!/o ga pu!" or "o wa!" or "akwei!" or "dropping dey!", depending on what part of the country you find yourself). I remember that under El-Rufai the public transit started to make sense in Abuja. You could buy monthly passes, buses would only stop at approved bus stops, bus times were a bit regular. But nothing like the ones in Toronto so far.
The first week was quite strange for me because of the time difference. Toronto is 6 hours behind Nigerian time in the winter. At first I thought I had beaten the jet lag because I was awake up till 8pm (which would be 2am Nigerian time). I was a bit surprised when I fell into a deep sleep, slept for like forever but when I woke up it was just 11pm! I tried to go back to sleep, wondering why I felt so bright-eyed. Then I remembered – at this time yesterday it was 6am and I was preparing for church. I've been waking up at the same time for almost 25 years and my body was simply protesting the change. The rest of that day I kept falling asleep and waking up… never able to stay awake or sleep for more than 3 hours at a time till about 3pm.
I was yet to get in touch with my family because my phone refused to roam, so I asked a few friends who already lived in Toronto where I could get a SIM card. "Funkey" my new friend said I could get one from the Mall at Sherway Gardens. I tried my best to understand all the maps I was looking at but I couldn't really make sense of it. She just said "Go East to Kipling station and then go south on Kipling, then go West on Queensway. Get off at Sherway Gardens. It's opposite the GAP store".
Yeah right. That REALLY makes things easier. **rolling my eyes like eggroll** I wrote this on #Dryjokeswednesday 😀
When I stepped outside the hotel, I noticed for the first time that it was still dark. at 4pm. It had always been dark since I came. 4pm looked just the same as midnight. I just couldn't understand!
Luckily for me I remembered seeing a Kipling Rocket at the airport, so I took the hotel shuttle back to the airport and then rode the rocket all the way to Kipling Station. When I got off, I tried to buy a monthly pass with my MasterCard. Again, my card was declined and they said I would have to pay either cash or debit. I tried my best to explain that my MasterCard WAS a debit card, but for where? The desk agent with a thick Jamaican accent told me my card would just NOT work. So I decided to walk.
Big Mistake.
You see, I had already forgotten how cold it could be. This time I was wearing a jacket, even had the gloves in my pocket. To be safe, I wore a t-shirt and a sweater under the jacket. But my brother, my sister- the cold that slapped me once I got out of the station ehn, it's a miracle my teeth didn't just fall out of my mouth!
As one of our darling commenters (Simplyjane)said, "WHO LEFT THE AC ON????!!!"
Everything was freezing. My lips. My ears. My nose. My fingers were already useless. I walked and walked and walked, freezing and tired, for like 30 minutes till I got to the Queensway. Then I took the bus. For the first time I understood that I could have simply taken that same bus from the train station! When I got on, I tried to pay and collect my change but the bus driver for some reason wouldn't take the $5 note in my hand.
"the bus is $3" he said to me
"yes and this is $5" I answered
"yes I can see that. We don't accept notes. I don't give change. Yo need to have the exact change"
For the first time I noticed that when people paid with coins, they placed it in a receptacle you just can't open without a key. Then I understood that the driver was as powerless to steal the money as anybody who tried to rob him. Pretty neat! The driver must have noticed I was still very new and clueless; first by my accent, and then by my awkward bundle of clothes, and finally by the confused look on my face – so he just told me to get on, and find some coins wherever I stopped. I asked the driver to let me off at the closest stop to Sherway gardens and he did. I still had to walk for almost 10 minutes to cross the parking lot.
I'll be honest, it's the biggest shopping mall I'd been at in my life. It was so huge, you actually need to look at the building map to understand where to go. The lighting was amazing. I kept walking past shops carrying suits I would probably kill for; Jewellery I imagined would look good on Ms Amazing Girl; toys that if I bought for my sister, she would accept to be my personal laundrywoman for 2 years.
I followed Fun-key's advice and avoided Bell and Rogers. I looked at the Fido Store and the queue was too long. I was hungry, tired and freezing, although the air inside the mall was very warm and pleasant. I saw that everyone in sight had an iphone. Little kids AND their parents were opening iPhone 6 boxes. I went to the WIND store to get a new SIM card, but the SIM card would not work on my phone (a Nokia XL). I tried with my Tecno Phantom A+ but it still didn't work. The guy suggested that the phone may be locked to a different frequency and the only option I had was to get a new phone.
That's how I went and bought an iphone too. I decided to buy a Macbook Pro as well. I'd tested one out back in Nigeria and I loved the free music production software (garageband). Then I convinced myself it was the right step to take. It was not. By the time I left there, I had spent $1600 (relax, this was before Jonathan and Buhari destroyed our Naira). Still it was a significant amount of money to spend in one day. Obara Jesus! I took everything back to my hotel.
If at this point you're feeling confused by all the things I've said today – you're not alone. That is exactly how I felt that week.
Anyhow sha, as I was walking into the hotel, I felt something wet crawl across my face. I was glad to be feeling something! My face was no longer frozen, hallelujah! But wait oh, what if it's one Oyinbo virus that can just kill somebody sharp-sharp like in the movies? Is it not in Toronto that SARS started? I quickly moved the thing from my face and held it in my palm but it melted immediately. It had been a bit of frost. I went into the room, set up my new Macbook, started downloading all the songs I'd wanted because, FREE UNLIMITED WIFI!! I checked if torrenting software and music was illegal in Canada and hallelujah, it was not. So, I downloaded and downloaded and downloaded.
As soon as I hit the bed, I fell asleep for what seemed like 3 hours but when I opened my eyes, the sun was up. It was morning. After fighting through the unbelief that I slept more than 8 hours at a stretch, I opened the curtains to enjoy the first bit of sunlight (which wouldn't really count as sunshine in Nigeria. It was that dusky sunlight at 7:30pm). A strange sight greeted my eyes. There was a black squirrel playing right under my window. But that was not the strange sight.
The whole ground was covered in snow.
Photo Credit: Vitmark | Dreamstime.com