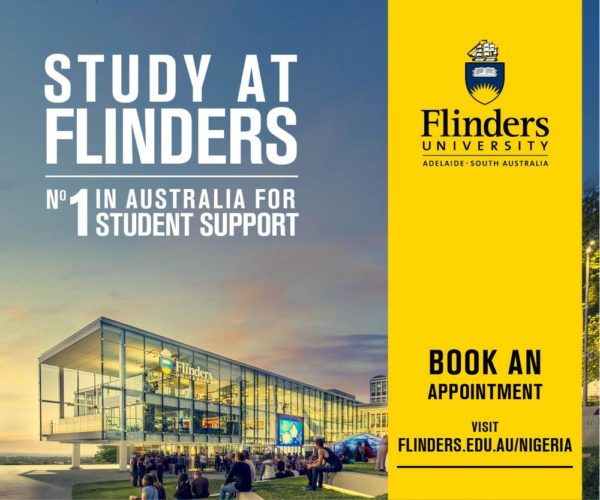 Ranked in 2% of the top Universities worldwide by Times Higher Education World University Ranking 2016-2017
Meet with Kamel Ghonim from the Flinders University International Centre and Dolapo Owolabi, the Nigerian In- Country Representative at the following venues;
PFL Ikeja 
Date: Wednesday, October 4th.
Time: 9 am- 5 pm.
Venue: 49, Sobo Arobiodu Street, Off Isaac John, GRA, Ikeja.
PFL Lekki
Date: Thursday, October 5th.
Time: 9 am- 1 pm (Lekki).
Venue: 1st Floor, landmark Building, VGC.
PFL Victoria Island
Date: Thursday, October 5th.
Time: 2 pm- 5 pm.
Venue: 296B Jide Oki Street, Off Ligali Ayorinde.
PFL Port Harcourt
Date: Monday, October 9th.
Time:9 am- 3 pm.
Venue: 2nd Floor ITEM HOUSE, 82 Tombia Rd. Extension, GRA Phase 2.
PFL Ibadan
Date: Tuesday, October 10th.
Time:9 am- 2 pm.
Venue: Oni & Sons Way, Behind Ostrich Bakery, Ring Road.
PFL Abuja
Date: Wednesday, October 11th.
Time:10 am- 5 pm.
Venue: 2nd Floor, Silverbird Entertainment Centre, Memorial Drive, Abuja.
To book an appointment, visit https://www.flinders.edu.au/nigeria.
For more information, call Dolapo on 08096373060 or send email [email protected]
As a Flinders graduate, you receive more than a degree. Flinders University provides you with the skills and confidence you need to excel in your studies and your chosen career. Flinders, located in Adelaide, South Australia, is a truly global and multicultural university, with students from over 90 countries across the world. Adelaide is a safe and affordable city located on the southern coastline of Australia with a beautiful natural environment.
In the last 3 years, we've seen significant growth in the number of students who have come from Nigeria.
Study Areas
Whether you'd like to excel in a profession, pursue research that makes a difference, or forge an entirely new path, Flinders gives you the confidence to achieve your ambitions. It all starts with a Flinders degree.
Arts | Business, Commerce and Management | Computing and Mathematics | Creative Arts and Media | Culture and Communication | Education | Engineering and Design | Government and International Relations | Health | Law and Criminology | Medicine | Nursing and Midwifery | Psychology | Science and Environment | Social Work.
—————————————————————————————————————————————————————-Sponsored Content