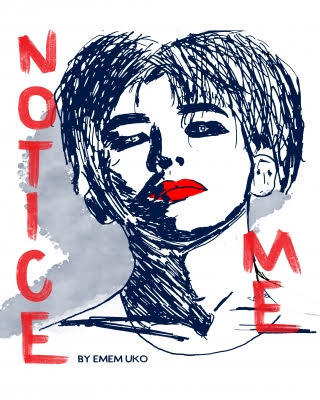 If there's one thing we authors love a lot, it is when a reader buys our book(s), read up, and write us personally to express their happiness, sadness or anger at the said book and/or its characters.
However, in Emem Uko's "Notice Me," Author E decided to insult her critic, who also made it his business to insult the protagonist in her first book. But then, he really praised her second book. And from then on, a conversation ensued
Although she was starting to warm up to this crazy fan of hers, she was skeptical because he chose to remain anonymous, yet from his texts, he seemed to be a powerful person; a celebrity. But then, which celebrity?
I must be honest, I was hooked right from the start of this novel, and just as Author E, I was curious as to whom the mysterious fan was, and why he sounded like he had the world in his hands but still decided to hide behind a fake social media account with a fake name, even after making it clear, he trusted Author E.
This book is seriously not the regular type you find around. It is a detailed life experience of a very famous musician and his band. Emem Uko was able to give us, first hand, the typical daily life, training, restrictions, events, and scandals celebrities face. How these scandals come about and how the media blows it out of proportion, giving the celebrity bad names just so they can have a story, is really heartbreaking. No one really looks behind the scenes and fake smiles where these celebrities face depression and other life issues that come knocking at their doors.
In the end, they are human too and deserve as much love, happiness, success, and friendship as the rest of us crave for.
Anders is the vocal and team leader of a four-man band brought together by FFQ Entertainment, an establishment that brings artists together, trains them and signs them up.
Ander's and his group, through rejection and obstacles still remained the best the FFQ had brought together in a long time and they rose to limelight very quickly.
But When Anders lost both his parents, Everest and Feng in an accident on the same day, things were not really the same for him again. He went from the cool, charming, intelligent and well-regarded bandleader he was, to a drunk who threw tantrums and brought one scandal after the other on himself and the company, thereby almost ruining the band.
Things took a really bad turn for Anders, and he almost lost it, as the media and his fans didn't allow him any excuses for his behavior, even when they knew the reason.
The story is very well written and edited. No confusing typos or mix-up in characters and character development. I'd rate this book 8/10.
However, I believe the author would have gotten the remaining two points if she had done well to give details about location eg, countries and states. For example, I know Anders is a foreigner, but we are not told the country he came from, or the country he relocated to so as to join FFQ Entertainment. We are only told about the language barrier when he first arrived at the company. Even if it is a fictional location, it still would have been good to mention it.
All the names mentioned were foreign names and from the flow of the novel, I will say this is not a Nigerian novel, neither is the setting Nigerian. Stating the countries would have helped clarify identities very well. However, Nigerian or not, it was a lovely read. I stayed up all night just reading this book.
Dear readers, I bet a lot of you will never just sit back and insult any celebrity again after reading this book because you'll get to understand, their pain and struggles is something the media never covers. Heck! The media will never understand and don't care, as long as they have a juicy story to sell to their audience.
I must admit though, that reading Emem Uko's "Notice Me," gave me some fantastic business ideas in line with some things I've always wanted to do. I'm definitely going to refine those ideas and execute. Time waits for no man.
You can get a copy of "Notice Me" on Okadabooks. Click here: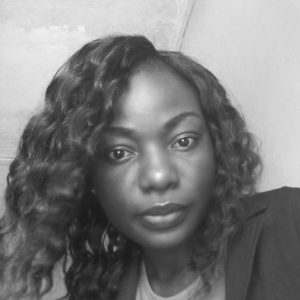 Karo Oforofuo is an experienced freelance writer, an author of several fiction books, and a blogger at Pelleura, where she entertains readers with mouth-watering stories, real-life experiences, relationships and business articles. She also specializes in helping authors, who want to start and grow their reader base, through consulting sessions. When she's not working, she's busy reading the next best paranormal romance novel or writing one. Check out her novel "Strange Man at Iri"