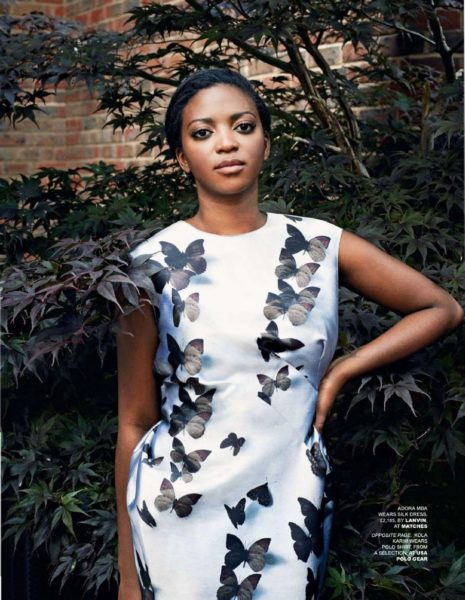 So "The Nigerians Have Arrived"…
The December 2013 issue of British society magazine Tatler features an article on Nigeria's growing "young moneyed" set.
The set of Nigerians with billionaire parents, boarding school credentials and private jet passes.
Florence "Cuppy" Otedola, Eku & Kessie Edewor, Misan Harriman, Rotimi Alakija, Chin Okeke, Richard Vedelago and Adora Mba are just some of the young Nigerians included in the feature while Kola Karim represented the older set.
The feature highlights many of the facts which the international press focused on Nigeria has been enamoured with lately – "Nigerians are this country's (Britain) sixth-highest foreign spenders", "Nigerians spend 300million pounds annually at British Universities and schools", "Nigerians are investing 250million pounds in British property every year" juxtaposed alongside stats such as "All of which might seem jarring from a country of 170 million people, 70 per cent of whom live on under £ 1.25 a day."
While all this is interesting, many featured in the article and their families are said to be upset. Claiming that the article possessed a "mocking & judgemental tone" and presented them as "shallow" and "privileged" while others believe it was a well balanced article with the facts well presented and subjects distancing themselves from the lavish lifestyle. For example,
…the budding oil and property mogul Rotimi Alakija – whose mother, Folorunsho Alakija, is the richest black woman in the world (oil) and dropped £100m on four flats in One Hyde Park ('She didn't mess around,' says Vedelago, who helped sell them to her) – tells me a Nigerian champagne war in an American club ended with the winner spending £1.1 m, though Rotimi certainly wasn't there: 'That's just silly. It's not part of who I am.'
Here is your chance to decide for yourself!
Open each photo in a new tab and enlarge to read or download the pdf file HERE