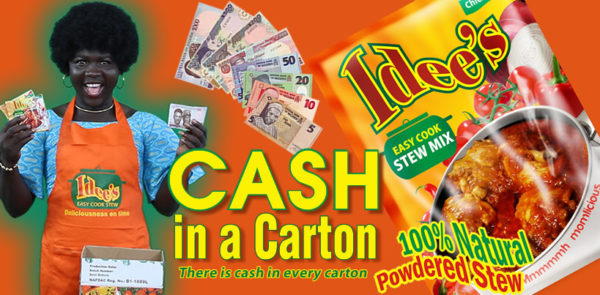 Try Idee's Powdered Stew and win instant cash prizes!
Yes, cash aka "Naira, Ego, Owo, Kudi, plus Dollars"! These prizes are hidden in every carton of Idee's Powdered Stew. All you need to do to is buy a carton of Idee's Powdered Stew for N1500 only and win instant cash of up to N3,000 or $100. No SMS's to send or raffles to enter, everyone is a winner Instantly.
Check out their funny promotion video with a special appearance from Seyi Law (if you can spot him).

To get your carton you can call them on 08172004140 to order yours or watch out for the sales persons in your neighborhood. Hurry and get your own carton and start winning.
Follow the conversations at www.facebook.com/easycookidees | Twitter: www.twitter.com/ideesstew
______________________________________________________________________________________
Sponsored Content