Happy Friday! Hope you're gearing up for a great weekend. BellaNaija Weddings is very proud to present this BN Bridal Beauty. The BN Bridal Beauty column is to inspire you with beauty tips, color combos and more! See previous editions – HERE
Today you're going to hear from brides (and bridesmaids) on why they wore their hair natural on the big day. Hopefully this will become a series, if we hear from more brides that want to share their natural hair tips and tricks. Please email us – weddings (at) bellanaija.com if interested.
BN Weddings wants to deeply thank the brides and maids that shared their photos and stories with us. And for you reading this, we want to let you know you're truly beautiful no matter what hair you choose on your big day.
Be Inspired! + Bookmark this page!
***
Bride: Dele Alakija
BN Weddings: What inspired your natural hair do for your special day?
Dele: By the time my wedding came around (May 2011), I was rocking the TWA (Editor's note: teeny weeny afro, or as Naijas say, low cut) and couldn't bear the thought of relaxing my hair for my wedding, let alone again in life. It hadn't been up to year since my 2nd "big chop" and I had already decided that the days of relaxers and a burning, itching scalp were far gone. And considering hubby is not a big fan of weaves, my options seemed pretty bleak. I probably had about 2 weeks left to figure out my hair for my wedding and was essentially freaking out until my dear friend and sis in MUA-dom, Tiwa Lawrence – instagram.com/pinkdiamondstl, pointed out some natural hair styles that renewed my hope (though I was a little unsure considering the lack of hair length). I was introduced to Aeleise Mitchell of HairLoveArt – www.hairloveart.com, an AMAZING Chicago-based natural hair stylist (and STILL my go-to-gal anytime I return to Chicago). I told her about the vision and she DELIVERED!
I loved everything about it and while I was met with more than a few incredulous looks and/or exclamations from some older family members, on the day of the wedding they saw how the whole look came together. Was really happy to have taken that risk then and still having a ball exploring different natural styling options (and more random stylings can be seen on Instagram @delealakija – http://instagram.com/delealakija
Photography: Marc Climie and Enimien Etomi Inegbedion – http://blog.eetomi.com/
___________________________________________________________________________________________________
Bride: Mercy
BN Weddings: What inspired your bridal hair choice?
Mercy: I had my traditional and church wedding in one day, I wanted a hairstyle that would stay through all the gele changes and what not so I opted for cornrows and twists (I had some kinky hair extensions
added to my own hair for length). I got my hair done the day before by Chioma at Spring Sparadise in Utako, Abuja – www.springsparadise.com
Photography: Libran Eye – http://libraneye.com/blog/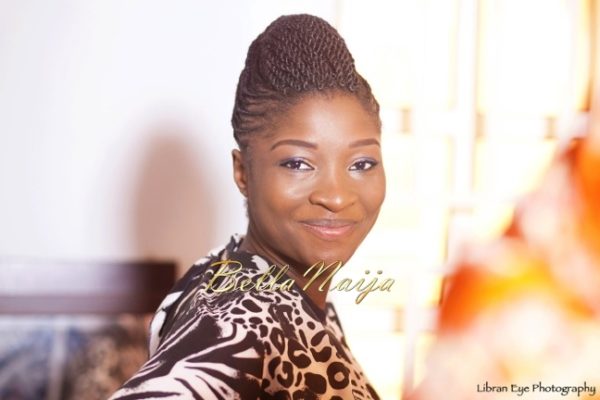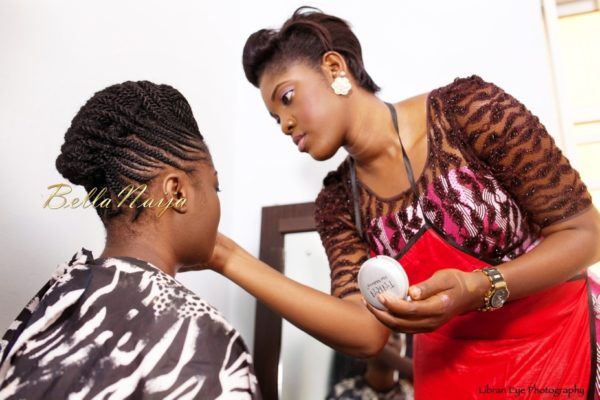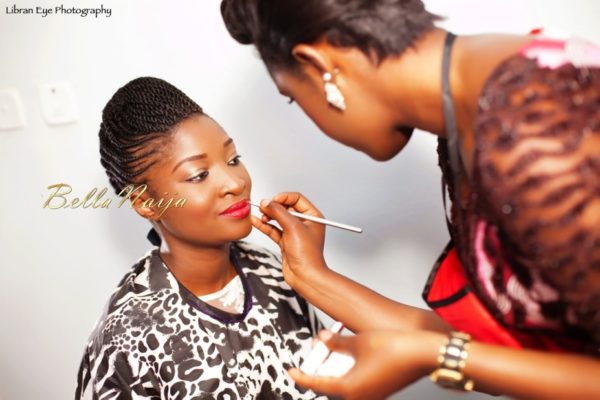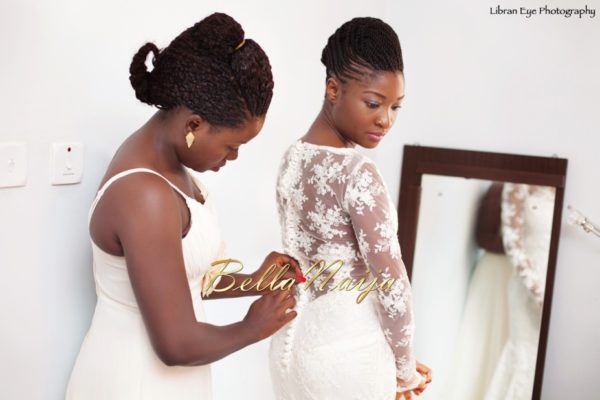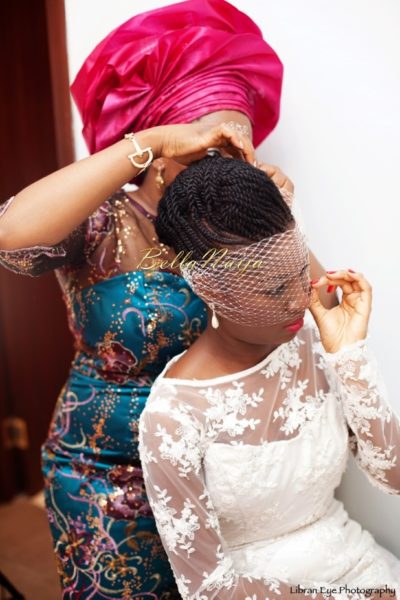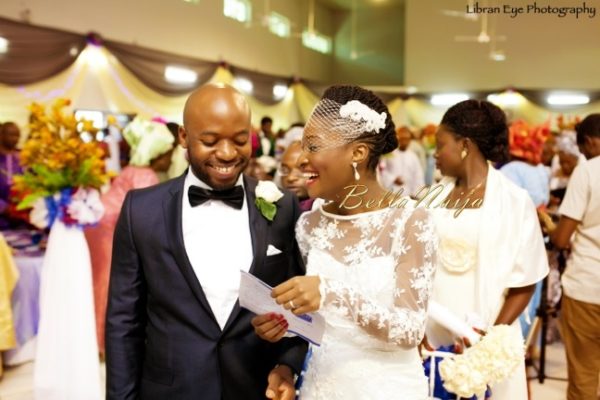 ___________________________________________________________________________________________________
Bride: Victoria
BN Weddings: What inspired your beautiful bridal braids?
Victoria: Wearing braids on my wedding day was not the easiest choice I made – it was a roller-coaster of emotions especially as our hair is the crown of our beauty. I had ample time to plan my wedding – a good year – and the same issue popped up every month "Victoria what hair style are you having for your day?" my answer remained the same though I always knew I would never dabble in relaxed hair again – "I actually do not know." A final decision was made in the last week of August – a few days to my wedding which was scheduled for 6 Sept 2013.
I battled with relaxed hair for so many years, the breakage, buying overrated American hair products that caused even more breakage and so much more. In March 2012 I decided to go ahead and action the 'BIG CHOP', I freed myself of all the remaining strands of relaxed hair and just glared in the mirror for a long time wondering what to do next. At this time I was not engaged – so had no reason to keep my relaxed hair. In July 2012 my hubby proposed – then I entered into the whirlwind of restless thoughts "ooooo nooooo my hair".
Fast forward a year (March 2013) – my hair was now totally grown out, longer and beautifully kinky, it took me a good 9 months to fall in love with my natural hair. My hairdresser recommended so many alternatives to braids for the big day – I even purchased an 'expensive' kinky hair weave from abroad (remains in original packaging). However, there was one special individual who continued to remind me that I should do me, that it was my day and I should go with what I have always secretly intended – braids. My wedding coordinator Esther really did help. I laugh now when I remember the expression on people's faces when I mentioned I was having braids for my day– I nearly started doubting the whole idea all over again but thank goodness for closure.
Now once decided – the predicament was no longer the issue of braids – it was now the style of braids, do we go for normal three plaits, kinky twist, the popular pic n drop etc. My slight issue was that braids tend to look very harsh especially in pictures. I searched the internet endlessly for cute braid styles and eventually settled on soft twists with simple hair from eXpressions. My hairdresser promised I would look lovely for the wedding, all styling was by my MUA Kemi Kings – she worked her magic and made my simple braids 'bridal'.
Vick's loving message to You
My message is that 'your wedding day is your day', I held on to those words like glue to paper. You are the bride, your wedding is in essence an expression of you, what you love – believe me when I say that what makes you happy and content will please all those who gather to share your beautiful day – your confidence will radiate. If you are not comfortable no one else will be. Be yourself – it is soooooo much easier 😉
MUA & Braids Styling: Kemi Kings Makeup – Facebook
Photographer: Soozana Pvan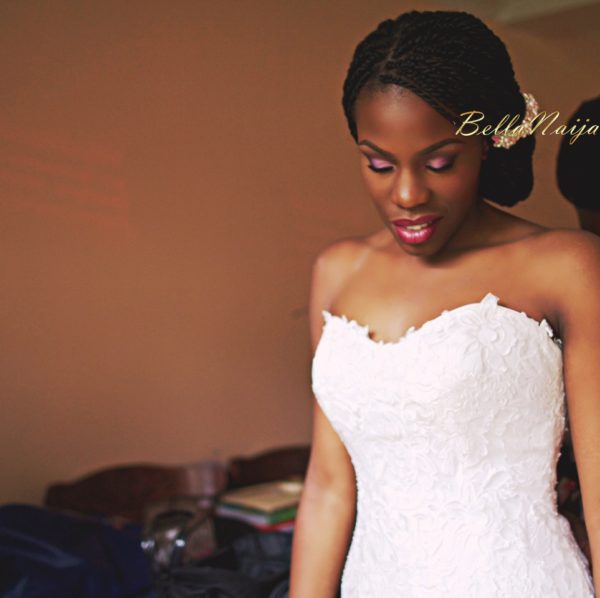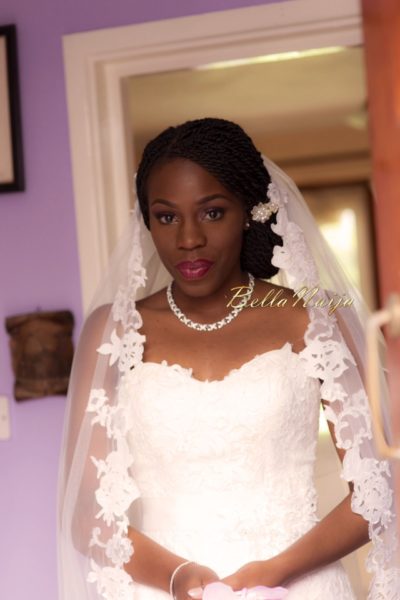 ___________________________________________________________________________________________________
Bride: Osayi Emokpae Lasisi
BN Weddings: What inspired your bridal hair dos – the twist out and fro-hawk?
Osayi: I've been natural for about 5 years now, and I decided that I wanted to highlight how beautiful natural hair can be. I am amazed that people always ask me about my hair and whether I do something special to my hair and all I always say is that I use coconut oil (it works wonders).
My hairstyle for my wedding was a side swept mohawk, using a combination of braids and two strand twists. My hairstylist was O'Naturals – www.Onaturalsbeauty.com (They specialize in natural hair, here in Lagos). I decided to go with this style because I realized that my wedding was going to be a very busy couple of days, and I did not want to do too much to my hair.
Someone asked me if I was going to get my hair relaxed or add extensions to my hair, and I just smiled and said no, I was determined to let people see that our hair can be beautiful without any additions. My traditional was on a Friday and the church wedding was on a Saturday, so I needed a hairstyle that would be easy to manage. I am from Edo state, and my husband Kehinde is from Osun state, so we had decided that we would wear the traditional outfit from both of our cultures, which added to the challenge of the hairstyle I needed to have. I needed something that would fit into all the head coverings I would be wearing – beads for Benin, Gele for Yoruba, Tiara and veil for the church wedding, and a fascinator for the reception.
And of course I also needed something that would be versatile and I could still look wonderful for all my honeymoon pictures.
I'm really glad that I picked the style I did. I was able to keep my hair in the braids for about three weeks, and I was able to do everything I needed to do i.e. dancing like it was 1999, sweating on the dance floor, running in the rain etc.
Osayi's personal blog where she talks love, natural hair and more: www.iyasostuff.com
Osayi's Pre Wedding: She did a fun and fab twist out.
White Wedding:
For her white wedding, Osayi did a fro-hawk.
(Editor's note: a mohawk with afro hair)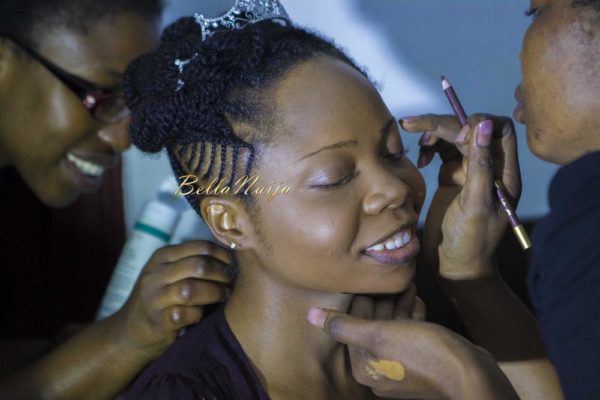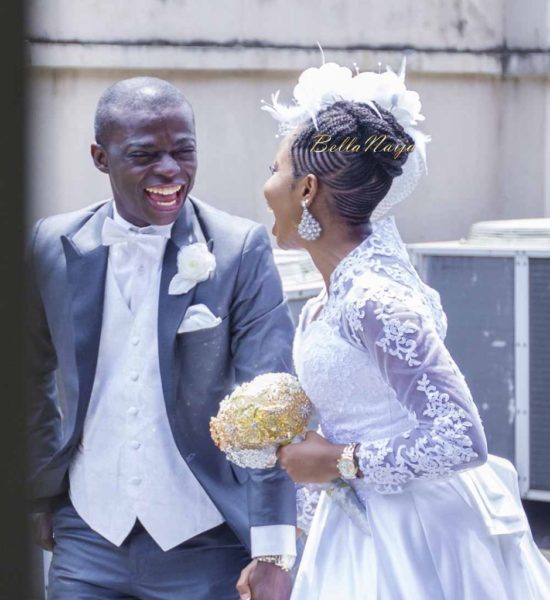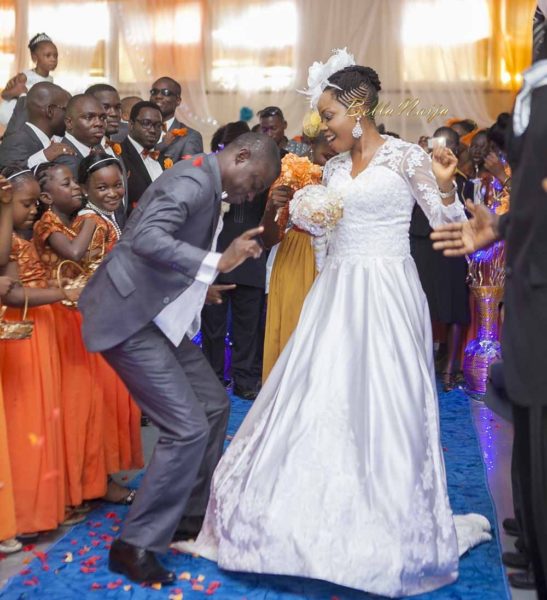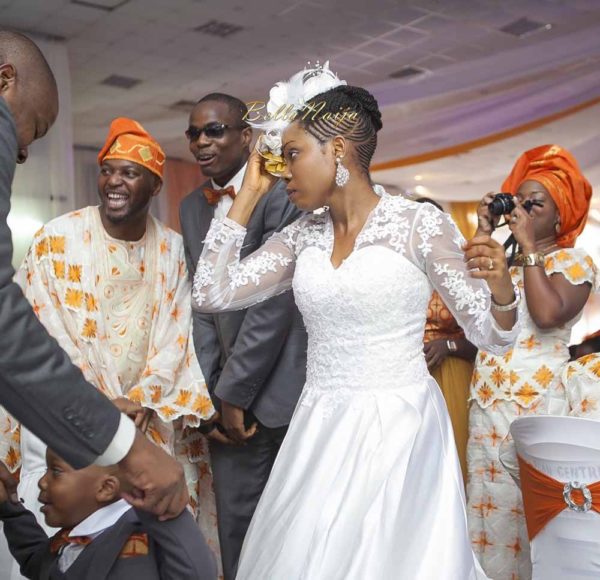 Little Bride:
Aww, her little bride also rocked a natural look, achieved with braids.
Traditional Wedding:
For Osayi's Edo and Yoruba Traditional Wedding, she kept her hair plaited.
Yoruba Traditional Engagement:
Her hair was neatly tucked in her gele for the Yoruba wear.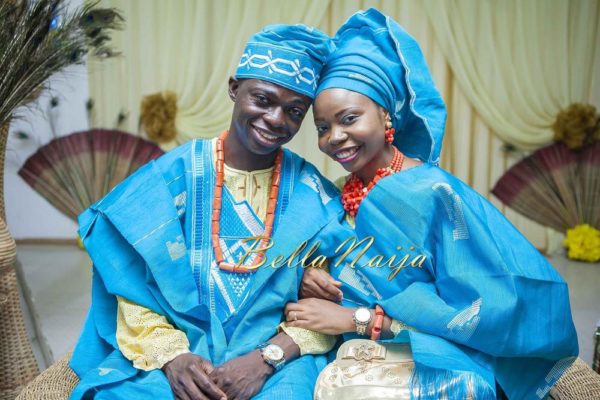 ___________________________________________________________________________________________________
Bride: Jimisola
BN Weddings: Why you chose to wear my hair natural for your big day?
Jimisola: I chose to wear my hair natural for my wedding for a few reasons:  1) Getting a weave or relaxing my hair would have been "un-natural" for me (pun intended…lol). I have been natural since January of 2009 and in that time; I have worn my hair "natural" about 95% of the time (the rest of the time it is in braids or twists). Therefore I didn't want a wedding hairstyle that I would look back on and wonder "what was I thinking?"  Or feel like "It wasn't me" 2) I was planning to return to work 2 days after the wedding. Because I am in the military, my hair has to be worn according to certain regulations while at work. I didn't want a hairstyle that would be complicated or take a lot of time to accomplish only get to rid of it three days later.
BNW: What was your hairstyle inspiration – did you do it yourself? Is it a style you do regularly?
J: I spent a good amount of time searching for natural hair styles online. I toyed around with the idea of a wearing a twist-out on stretched hair (twist-outs are my go-to style), but quickly decided against that because natural hair is easily altered by moisture i.e. rain, humidity or even sweat. I settled on a natural up-do which I found via mz_tammy on Instagram. She had a great tutorial for the style on her YouTube page – SupaNatural Tammy (http://www.youtube.com/watch?v=-Sd1cjuYvXQ). After deciding on a style, the next task was finding a natural hair stylist in New Jersey. I searched for a while and even did a hair trial, but it just wasn't working out and I was running out of time. Rather than getting stressed or frustrated, I considered styling my hair myself. So, I watched a lot of tutorials on YouTube, practiced quite a bit, and felt pretty confident in my abilities. The decision was made to do my hair myself.
Three days to the wedding a friend of mine (who was less confident in my hairstyling abilities) mentioned that she had a cousin who was pretty good at styling natural hair. I sent her a picture to give her an idea of the length of my hair and also so she could decide if we would need additional hair for the style. She watched the tutorial on YouTube and agreed to style my hair. On the wedding day, I washed and blow-dried my hair to stretch it. That took me about an hour and then she styled it, which took another twenty minutes or so. We ended up styling just my hair (no additional hair was used) which made it much easier. I accessorized with floral hairpins that were purchased from Etsy.com and that completed my wedding hairstyle.
MUA: Abby of JuicyLooks
Photographer: Abella Studios – www.abellastudios.com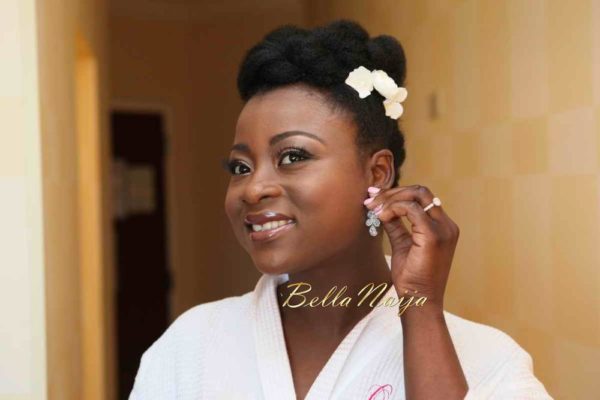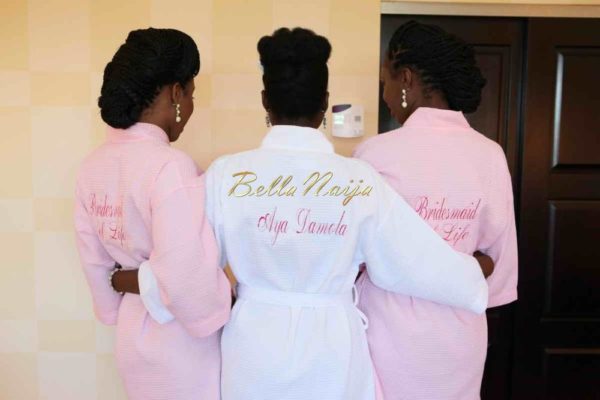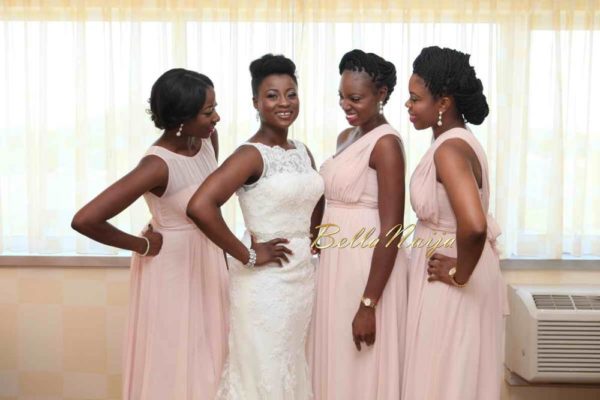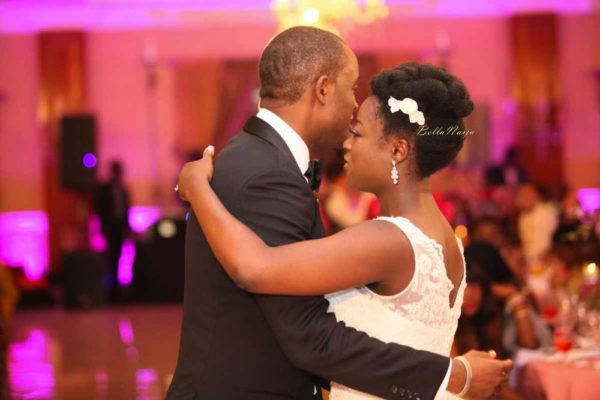 ___________________________________________________________________________________________________
Bride: Adeola
BN Weddings: What inspired your natural hair look?
Adeola: I did the big chop in February, 2012. Once I started planning the wedding, I knew I didn't want to relax my hair. I also wanted an "Afrocentric" look- so, no weave. I had pictures of several styles (mostly TWAs and updo with my fro) and then realized that my hair was at the awkward length stage where it would be too long for a cute TWA and too short for an updo. It was challenging to get someone who could stretch my hair effectively for the planned hairstyle. So, 2 days before the wedding, I decided to get braids inspired by the fact that my bridesmaids were all going to be in braids. Also, I have tried some formal updos with braids in the past, so I knew I'd be able to handle it myself.
Traditional Makeup: Tosh Makeover
White Wedding Makeup: Ayaoba Makeovaz
Beads: Mrs Ajoku (+234) 803 303 0667
Photographer: The Atunbi Experience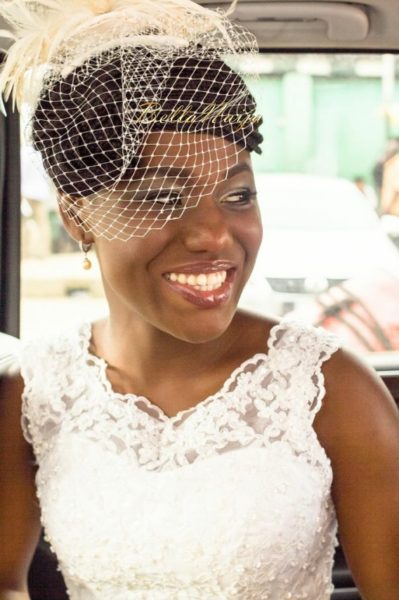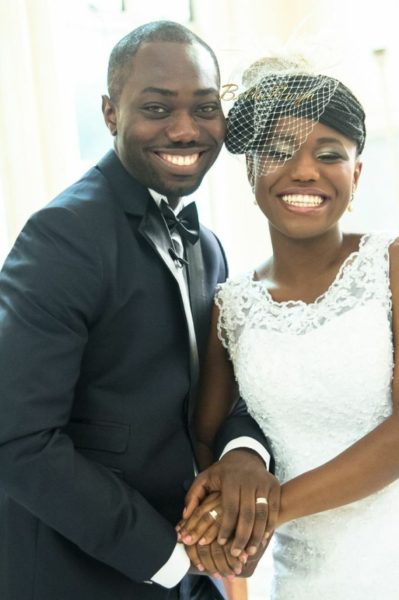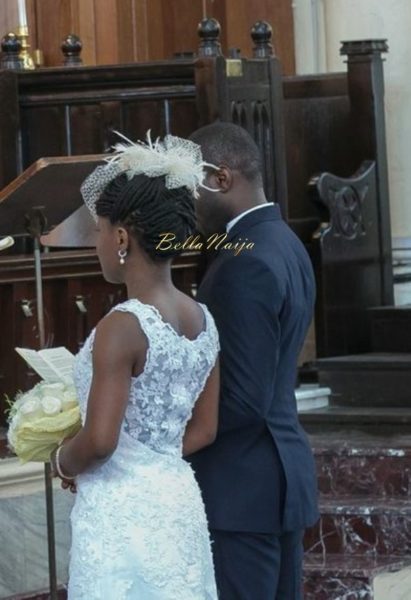 ________________________________________________________________________________________
Bridesmaid: Odera Ifeoma Ekwunife
BN Weddings: Why did you rock a natural hairstyle for your friend's wedding? Was it her idea or did it just happen?
Odera: For the wedding, most of us who were natural on the bridal train decided to keep our hair in a protective style to withstand the heat and sweating from the day's activities. Our hairstyles were versatile, which added a unique factor to the usual uniform of bridesmaids' dresses. Our bride did not ask us to wear a particular hairstyle, it just happened! For this wedding I did Kinky Twists, Chidinma did hip-length Senegalese Twists, Ugochi did Genie Loc/Yarn Twists, and Nkoli did a natural twist-out FroHawk.
Photography: Leeda Images & SamAlesh Photography
Hope you were inspired! Bookmark, pin away and share with your friends.
xoxo, Ink
______________________________________________________________________________________
We love weddings as much as you do – get in touch for inquiries, inspiration & more!