Yay, it is time for BN Pick Your Fave.
…and you're going to like this one.
Today we have Kenyan actress Lupita Nyong'o who is Hollywood's New It Girl and American director Kathryn Bigelow in a Grecian-inspired dress by Italian label Prada.
See how these leading ladies rocked the piece.
Lupita Nyong'o
Where: Toronto International Film Festival of "12 Years a Slave" on Friday 6th September 2013 in Toronto, Canada.
How She Wore It: We first spotted Lupita on MTV Base's Shuga series which was featured here on BN in 2012.
The Yale School of Drama graduate made her Hollywood debut at the Toronto International Film Festival Premiere of Steve McQueen's movie "12 Years a Slave" in September.
She was spotted on the red carpet with Brad Pitt, Chiwetel Ejiofor (Half of a Yellow Sun) and Michael Fassbender (Click here for photos)
Lupita set the fashion standard high for herself when she arrived in this Prada white long sleeve silk jersey gown. The dress features intricately placed gold sequins on the neckline and the bodice.
Rocking her short hair cut, she styled the dress with diamond earrings, a cocktail ring, a gold Prada clutch and barely-seen gold Prada heels. Lupita finished the look with red berry lipstick.
Where: 2013 BAFTA Los Angeles Jaguar Britannia Awards on Saturday 9th November 2013 Beverly Hilton Hotel, Beverly Hills, California, USA.
How She Wore It: When Kathryn Bigelow stepped on the red carpet at the 2013 BATA LA Jaguar Britannia Awards where she was honoured, the BellaNaija Style team immediately knew that we had seen the dress before.
It didn't take us long to conclude. (Hey, don't judge we are that obsessed with fashion)
Going against a pretty-young-thing isn't easy but The Hurt Locker oscar-winning director fully made the dress her own. She chose an oxblood coloured version.
BN brought you photos from the event (Click here to see)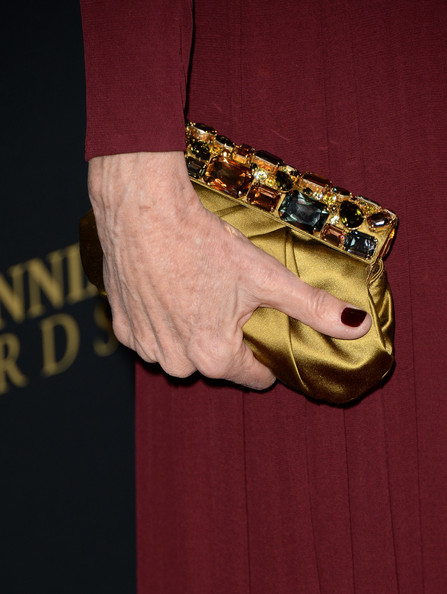 With her brown locks cascading to her shoulders, she went with a simple approach for styling. She opted for light pink lipstick, an oxblood coloured nail polish to match her dress and a Prada satin clutch with crystals.
So…whose look are you loving, Lupita's or Kathryn's? Pick Your Fave!
Photo Credit: Zimbio