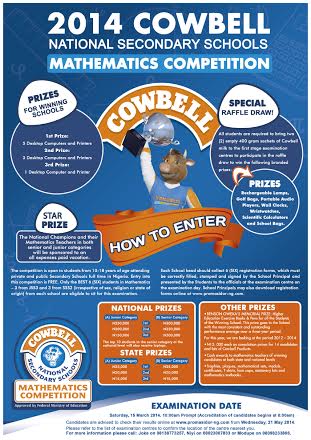 Do you think you've got what it takes to compete in the 2014 Cowbell National Secondary School Mathematics Competition? Yes? Then here's how you can compete.
The first stage examination for this year's competition will hold on Saturday March 15, 2014 in 200 centres in the 36 states and the Federal capital. It is open to all students between ages 10 – 18 years in JSS3 and SS2 attending full time secondary education in government approved schools in Nigeria.
The best 3 students in the Junior & Senior categories will represents each school. To be one of these students the candidate must be in JSS 3 and SSS 2 for the junior and senior categories respectively.
Each school head will collect six registration forms available in all Promasidor Depots Pan Nigeria; Promasidor Head Quarter, Isolo; State Ministries of Education; Neo Media and Marketing Limited and online at www.promasidor-ng.com.
Students with the highest scores in both the Junior and the Senior Categories from each state will be invited for the second and final stage examination from where the National prize winners will emerge. The second and final stage examination will hold in Four (4) regions on Saturday 31st May 2014.
The best students in each category from each State and the Federal Capital (74 students in all), accompanied by their mathematics teachers, will be invited to the four (4) regional centres for the second and final stage examination. Best three (3) students in junior & senior categories will represent each school.
The best three (3) students in each category at the state level will receive the following cash prizes for their outstanding performance at the first stage examination;
Junior & Senior Categories 1st Prize – N25,000
2nd Prize – N20,000
3rd Prize – N15,000
They will also get branded materials: School bags, T-shirts, Pens, Notebooks and certificates of recognition while cash award of N15,000 each will be given to the Mathematics teachers of the first prize winners in each state for both Senior and Junior categories.
The Final Prize-giving award ceremony is scheduled to hold at Le' Meridian Hotel, Uyo, Akwa-Ibom State on Thursday 26th June 2014. At this occasion, the best 10 students from each category at the second stage examination will be celebrated as COWBELL MATHEMATICIANS in the presence of all stakeholders including the Honorable Minister of Education are awarded prizes.
In the junior category the first prize student will win N250,000, a trophy, a medal and all expenses paid vacation and a plaque. The first runner up will win N200,000, a plaque and a medal while the second runner up will get N150,000, a plaque and a medal.
However in the senior category, the first Prize winner will cart home N300,000, a trophy, a medal and an all expense paid vacation, a plaque and a laptop. The first runner up will win N250,000, a plaque, a medal and a laptop while the second runner up will go home with N200,000, a plaque, a medal and a laptop.
__________________________________________________________________________________________
Sponsored Content