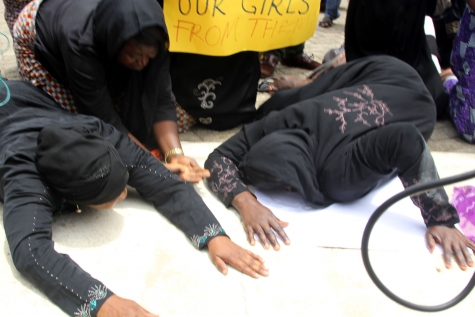 A Nigerian guy and his Caucasian girlfriend moved into our house last weekend. Last night as they were having dinner, she asked him if he had heard of the over 200 girls that were taken from Nigeria. He said he had,'since last week'. Then she said… "but it's in the news because nobody seems to be doing anything about finding them". She added that international celebrities are lending their voice to asking questions about bringing them back. The guy's response was: "It's good for them". I nearly choked on my salad. I wasn't sure I heard him properly, neither did his girlfriend, because she said: "I don't understand". He clarified, "It's Hausa people killing themselves. They should go and sort out their problems."
WHAT?
I mean, I've seen stupid comments like this on Twitter and even in the comments section on blogs but I never imagined I'd meet a human being who actually thought like this. His voice had so much conviction. "Hausa people killing themselves?" I was trembling in anger.
My father was born and raised in Niger State. He was born in Wushishi, grew up between Pandogari and Minna. He went to secondary school in Jos and uni in Zaria. He only came to the south in his 30s. My mother is a Jos girl through and through. For all intents and purposes, my parents are Northerners. I am a Yoruba girl with Northern parents. That statement made my blood boil. "Hausa people are killing themselves?" "It's good for them?" If there are many more people who reason like this then what are the chances that our girls will be found?
Here lies the thrust of all our problems in Nigeria. The disunity is deep and real. It's far reaching, and I wonder if we can truly see ourselves as one – especially in trying times as this. These missing girls could be your kids, or my kids. They could be you or me. When the Nyanya bomb went off, there was no marginalization of religion, or tribe – it was a mass murder, for which nobody has been held accountable. These injustices prevail while we sit, do nothing and pray for the best.
There are protests organized across Nigeria today. Here's a chance for you to lend your voice to something. If you are unable to join the protest, tell someone about it. If you have access to the internet, use that tool to help bring change. We cannot underestimate the power of social media.
Yesterday evening I saw a comment on Tiwa Savage's Instagram page stating that she should have changed her name to Tiwa Balogun and not Tiwa Savage. In the bigger scheme of things, someone is more concerned about Tiwa's change of name or lack of it therein? We need to be able to prioritize. What is important to us as a people? What is the basis of our value system?
While we sit and complain about whether patriarchy should still be the prevalent value system, our economy is being eroded terribly; innocent lives are lost and our standard of living keeps dropping.
While we complain about whether 'celebrities' are lending their voices to causes, we don't realize that we're not doing anything in our little corner. If you think a celebrity is just using a cause to improve his stats with his fans, think about the fact that he/she is actually doing one Indomie pack more than you – who is doing nothing.
Every little thing counts… even if it means telling one person that it's not about Hausa people killing themselves, then you've done something.
If you're in Lagos and you can join the #BringBackOurGirls protests, please do so. If what you can do is buy a pack of bottled water for those who are protesting, then do something. If what you can do is spread the word about the protests, then by all means… spread the word.
But, please let's not stay silent. This is about you. Let's do this for the Chibok Girls. Those girls have faces, they have dreams, they have people who love them. They're not just statistics. They're not just 'Hausa people'.
Let's bring back our girls.
Photo Credit: saharareporters.com
________________________________________________________________________________________
Atoke – Writer | Lover | Noisemaker. Twitter – @atoke_