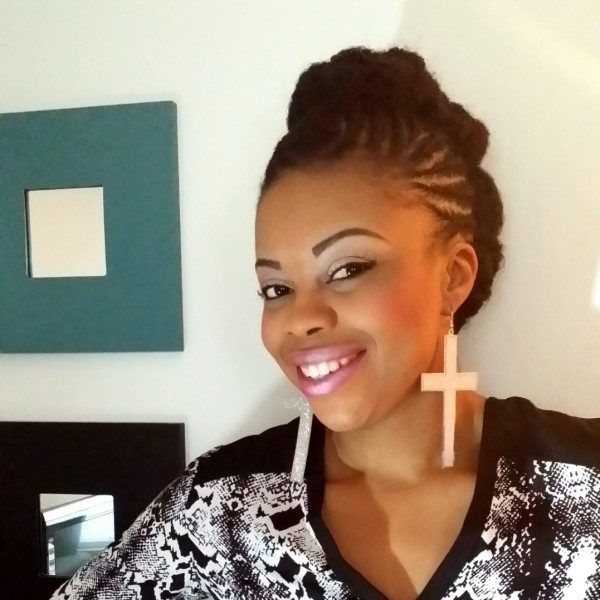 This post was inspired by Temitope (shout out to her and a couple others who reached out to me after my first post). Her fiancé is a plantain freak and she wanted some unique recipe's to impress him so I promised to put some recipes together for her. If you love plantains, then this is for you too. Feel free to add remove or substitute any of the ingredients to suit your preferences.
Plantain empanadas:
This recipe is very similar to the recipe for our popular Nigerian meat pies and fish pies, except the dough is made from just plantain, and you do not need to go through the hassle of mixing multiple ingredients and kneading.
What You Need
Plantain (either ripe or unripe, depending on your preference)
Any boneless fish (you can use ground beef, chicken, shrimp etc)
Carrot
Sweet corn
Sweet peppers
onions
Black beans (optional)
Potato Masher (you can use a pestle if you don't have one)
Rolling Pin (or a clean bottle)
Oil
How To
Add some water and salt into a pot and allow to boil. Rinse your plantains, cut each one up into 5 thick cross section and add to the boiling pot of water. Allow to cook for about 20 minutes or until it is soft and well done, then remove the peel.
Using a potatoes masher or a pestle, mash the plantain thoroughly and set aside to cool.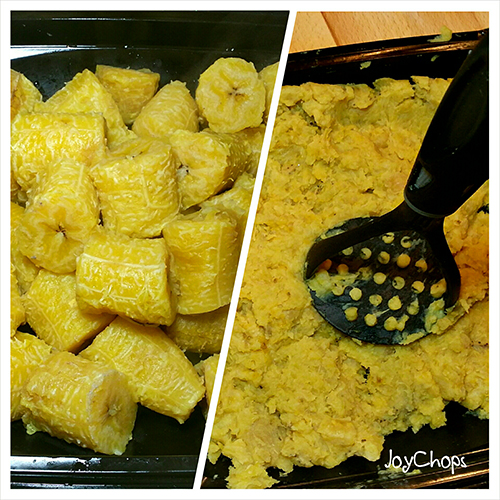 While waiting for the plantain to cool, you can prepare your fillings. Wash the fish and season as needed. Pre-heat a frying pan over medium heat, add a little oil, then add the fish and sear until lightly browned. Remove the fish from the pan and set aside.
Add about 2 tablespoons of oil, black pepper , spring onions, vegetables and seasoning cube and cook together for about 5 minutes. Add a drizzle of oil and the fish back into the frying pan and allow everything to cook on very low heat for an additional 6 minutes. Set aside.
Once the plantain is cool, take some of the plantain, make it into a small ball, place it in between two plastic wraps then flatten it using a rolling pin or bottle. Use a round shaped cutter or bowl  to cut it into a round shape. Place some of the filling in the middle and fold the plantain over to make a semi-circle (just as you would do for meat pie). Lightly brush the plantain with some oil or melted butter and bake for about 20 minutes.
For a faster alternative, add some oil into a frying pan and shallow fry the plantain empanadas as desired.
Plantain Lasagna:
This recipe was inspired by a similar dish that I had in a Caribbean restaurant sometime back. I really enjoyed the dish but it had too much cheese and an overpowering taste of pasta sauce so I decided to add some Nigerian touch to it and recreate it without the cheese and pasta sauce. The result was amazing. Thanks to my nice server for giving me the basic recipe for the dish.
Don't cringe when you see 6 plantains or 5 eggs, the meal is very filling and can serve about 8 people.
What You Need
6 Plantains
1.5 lbs Ground beef(or any minced meat)
1 table spoon of Garlic (minced)
Pepper
Onion
Carrot
Potato (chopped)
Sweet corn(optional)
2 cooking spoons of tomato sauce (Pre-made) or some left over stew
Seasoning cubes and salt to taste
Oil
5 Eggs lightly beaten and salted
How To
Heat up some oil, then add the onions, pepper, garlic, seasoning cube and curry. Sauté for about 3 minutes, then add the ground beef and cook until it is browned. Add the tomato sauce, potato, carrot cubes and very little water and allow to simmer for about 10 minutes.
Peel your plantain and cut them into about 4-5 slices lengthwise and shallow fry them in little oil for about 3 minutes on each side or till slightly brown. Spray the baking dish with some oil or butter, then pour some of the eggs on the bottom of the baking dish.
Lay the plantain slices on the bottom of the dish until the properly covered, add about half of meat mixture on top of the plantain slices and spread it out to a uniform layer. Repeat the layers with the rest of the plantain slices and meat mixture and end the layers with plantain slices on top.
Pour the rest of the eggs over the plantain layers(so that it covers the plantain and seeps through the layers)
Bake for about 25 minutes.
Allow to sit for about 10 minutes to firm it up before slicing.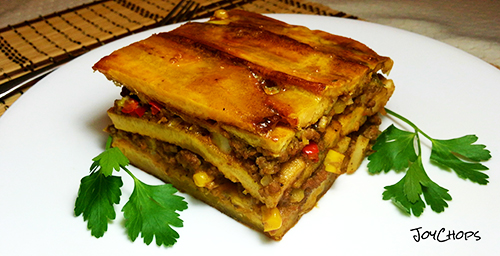 Plantain and chicken Balls
What You Need
Plantains (peeled and grated or sliced into thin strips)
Chicken strips (pre-cooked)
Onion
Pepper
Parsley (chopped into small bits)
Seasoning cube
Salt
Flour
Bread crumbs
Egg (slightly beaten and salted)
Oil (optional)
How To
Cook the plantain with very little water  and salt for about 15 minutes, or until it is properly cooked. Add the chicken strips and cook together for about 5 more minutes. Add the onion, pepper, seasoning cube and parsley and cook together for an additional 5 minutes then use a fork to mash them together into small bits. Set aside and allow to cool.
While waiting for it to cool, pour out some flour and breadcrumbs, and 1 beaten egg into 3 different shallow bowls. When the plantain mixture is cool enough to touch, take a small portion, roll it into a ball then coat it first with the flour to hold it together, dip it into the egg and finally coat it again with the bread crumbs. Repeat the process with the rest of the plantain mixture.
Fry or bake until golden brown.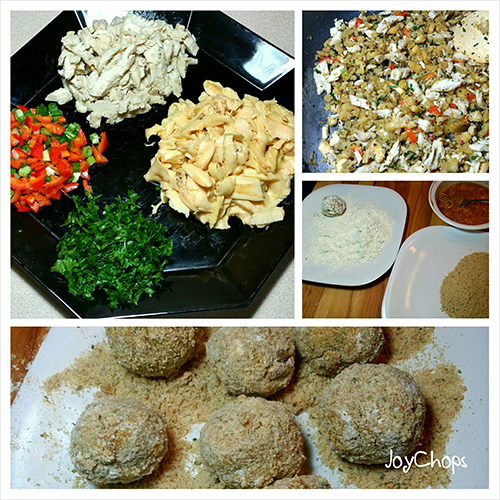 Serve hot!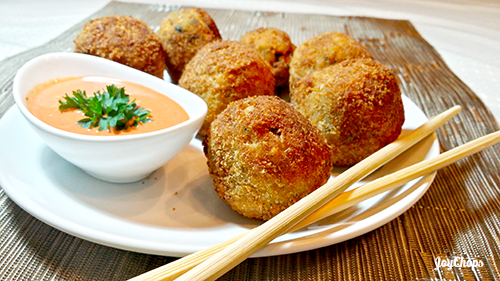 I chose all my fillings and vegetables based on my preferences, feel free to switch things up to suit your taste.
__________________________________________________________________________________________
For Ugo, cooking has no rules, she is constantly looking to put the AHA! taste in our local meals. Her first introduction to cooking was in competitions organized by her mother for her and her siblings. Since then, she has not stopped recreating dishes, inventing mouthwatering healthy options and meshing cultures in her kitchen. For more unique plantain dishes like these and other interesting dishes, follow her on Instagram @ugojoy1.