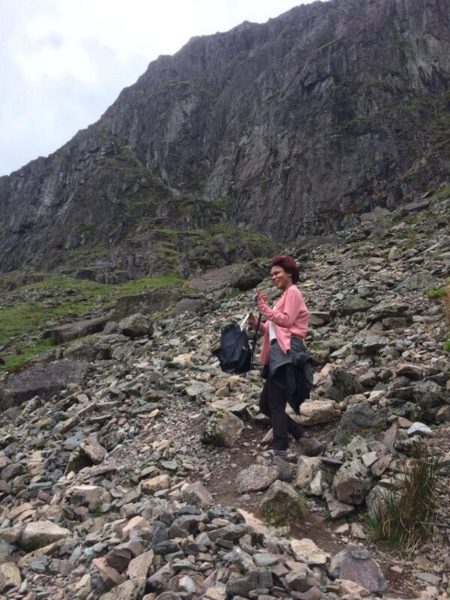 TV personality/media entrepreneur Funmi Iyanda is one fearless lady.
After climbing Mountain Kilimanjaro, she was happy to go on another hiking experience with her friend Jem Bendell, Professor of Sustainability at Cumbria University, UK.
No mountain too high can stop Funmi from thinking about her style, she wore a grey silk camisole, pink shirt and Deola Sagoe jeans.
In a series of tweets, she shares her must see memorable experience.
A little story. @jembendell prof of sustainability at Cumbria university invited me to give a lecture and come hiking pic.twitter.com/thhmfag9uI

— Funmi Iyanda (@Funmilola) April 30, 2014
I thought, why not, I have climbed Kilimanjaro, this looks easy, even wore a silk shirt and my @shopdeolasagoe jeans pic.twitter.com/GQQNoQzARS — Funmi Iyanda (@Funmilola) April 30, 2014
Washed my face in a stream … pic.twitter.com/tBMJJwXOvt — Funmi Iyanda (@Funmilola) April 30, 2014
Took a @YGL voices working together type selfie … pic.twitter.com/8L3qyvS1jI — Funmi Iyanda (@Funmilola) April 30, 2014
And started confidently hiking up… pic.twitter.com/gS6s2rE09V — Funmi Iyanda (@Funmilola) April 30, 2014
3 hours later mostly sampling up and wondering if this was such a good idea.. pic.twitter.com/Nj9jcYJQYf — Funmi Iyanda (@Funmilola) April 30, 2014
Then we hit the cliff edge and death gullies and l finally found I am afraid of heights. Was dangerous to go back so pic.twitter.com/tuycPVQbXk — Funmi Iyanda (@Funmilola) April 30, 2014
.. I struggles on between panic attacks and retching. Never felt such fear but I face it point to point till the top pic.twitter.com/q84WFL4qxa

— Funmi Iyanda (@Funmilola) April 30, 2014
On the 2 hr hike down, I met her. And @jembendell casually mentions that a woman died on the mountain last year. pic.twitter.com/Upd77hgoi6

— Funmi Iyanda (@Funmilola) April 30, 2014
The view was so great and the experience so enriching l forgave him. pic.twitter.com/AfEOOcuv4A

— Funmi Iyanda (@Funmilola) April 30, 2014
He tells me it is a key part of British culture to hike, scramble and climb up mountains. pic.twitter.com/zYujORmv6C

— Funmi Iyanda (@Funmilola) April 30, 2014