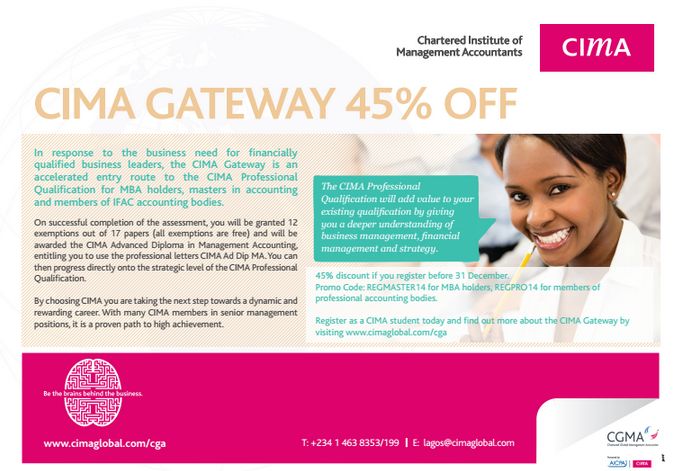 CIMA, the Chartered Institute of Management Accountants has a launched a special limited offer of 45% off its standard registration fee for MBAs, M.Sc in Accounting holders and qualified accountants. The offer closes on Wednesday 31st December 2014.
Ijeoma Anadozie (CIMA Country Manager) say – "Our mission as an organisation is to help people and businesses succeed and we see this as the way to make CIMA more accessible to a greater number of business, finance and accounting graduates and professionals. Anyone with a relevant degree will benefit from a carefully defined exemptions policy that will allow a student to start CIMA studies at the right point and progress more quickly through the qualification."
The Country Manager disclosed that CIMA's accelerated route has been extended to chartered accountants, Msc in Accounting and MBA holders in Nigeria. The route, according to her, grants 12 exemptions out of 17 papers, leaving applicants with just five papers to write after the initial assessment.
Start your journey to more career opportunities as a CGMA by joining the Chartered Institute of Management Accountants (CIMA) today.
For more information on this special offer and on how to register for CIMA, call 07002462644 or register online with the promo code REGMASTER14 for Masters and MBA holders; and the promo code REGPRO14 for professional accountants at www.cimaglobal.com.
____________________________________________
Sponsored Content