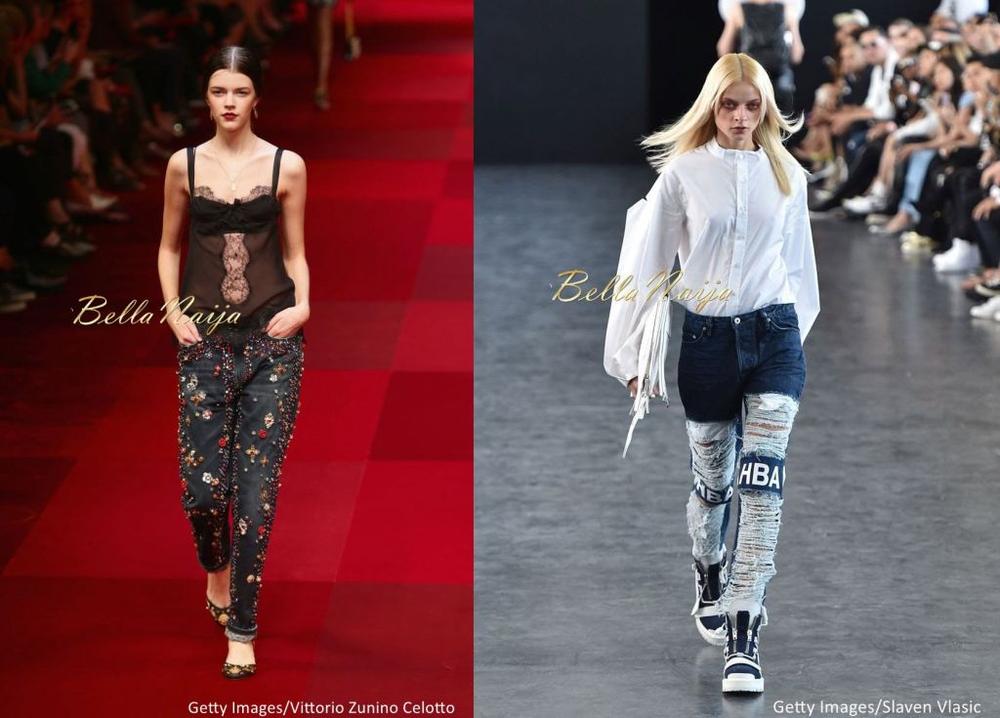 A new year is the perfect opportunity to re-vamp old trends. And judging from the Spring 2015 runway shows in Paris, London and more, the denim trend is back with a vengeance.
With so many variations – from embellished jeans and the clean denim trend to messed-up/extra distressed denim and patchwork; we've never seen denim so diverse. We love it!
There's a lot to pick from, so how about we give you a rundown of the top 5 denim trends you need to get your hands on this year.
Check them out!
1. Clean Denim
This trend hasn't been seen in a while and takes us to denim's pre-distressed and pre-washed versions. The clean denim trend is neat, one-toned, unfrayed and perfect. They almost seem too-brand new to be true.
A great way to wear this trend is to wear it all over. You could go for a clean denim-on-denim look or wear it with clean and crisp colours.
The best thing about it is, you can almost never go wrong.
2. Rolled-Up Denim
Designers are obviously loving the quirk in this denim trend. Depending on how high or low the hem is rolled or folded and how you rock it, this trend can go from clean & official to chic & laid-back easily. It adds a little oddity to your look and can be rocked with flats or heels.
We especially love this look because it can make you look casual, toned down and add a distinct aesthetic to your overall outfit.
3. Longer Denim Skirts
If it's boho-chic you're looking for, we have something for you. Another major trend that's hitting us in 2015 is longer denim skirts. Coming in a range of textures and colours, this skirt is a free-spirit-dream. As you can see above, this trend can come in a number of styles, which is great if you like to have your options open.
With a laid-back vibe, you can wear this trend with a loose shirt or sweater and pair it with flats, or heels to give you added height.
4. Patchwork & Embellished Denim
It looks like denim is getting another major upgrade. The statement trend is bold, and very much in-your-face with the patchwork paying attention to variety in colour and texture; and embellishments ranging from dainty jewelry, patterns, glitter clusters, broches and more.
This denim does all the work in your outfit, so ti would be best to go understated when pairing it.
5. Messed-Up/Extreme Distressed Denim
If you think distressed denim was pushing it too far, then you should stop reading now.
The messed-up denim or extreme denim trend is more like the amplified version of the distressed denim look, and is for the rebel and wild-child. It features frayed edges and can really make a statement dressed up or down. Think you're bold enough to rock it?
***
Those are just 5 denim trends you are sure to see more of this year. Which one's would you be rocking?
Photo Credit: Getty Images/Michael Dills | Getty Images/Pascal Segretain | Getty Images/Frazer Harrison | Getty Images/Vittorio Zunino Celotto | Getty Images/Slaven Vlasic | Getty Images/Albert Urso