Hi BNers,
It's time for our weekly dose of the best bargains, deals and discounts.
***
Get 10% off a wide range of products & services from Naira Offers
Get amazing daily discounts on an eclectic range of products and services when you shop at Naira Offers and guess what? They are offering the first 100 followers on Twitter, Instagram, and Facebook an additional 10% off purchases made on their website!
Whatever your interests may be, they've got something for you. Take advantage of this opportunity to live better and pay less!
Follow them on social media to take advantage of the additional 10% discount offer and keep up to date with our amazing daily offers: Twitter: @nairaoffers | Instagram: @nairaoffers |Facebook: Naira Offers| Website: n-offers.com.ng
Get 20% off all perfume souvenirs ordered in the month of September 2015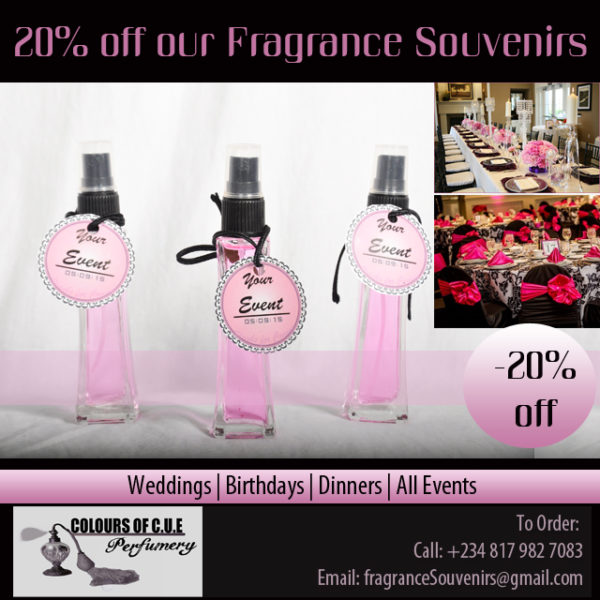 Perfume Souvenirs are one to grace your event with a touch of class and make it one of the most remembered & talked about events in a while.
The fragrances are made of the purest & finest essential oils, well-crafted to suit your chosen feel. Their feels range from floral notes to Fruity notes, bare citrus, woody, bouquet, ocean, pheromones, tutti fruity, romance, passion and much more.
Here's your chance to get 20% off all perfume souvenirs ordered in the month of September from Colour C.U.E!
To take advantage of this promo visit: www.fragrancesouvenirs.wordpress.com | Call: 08179827083 | email: [email protected]
Get Huge Discounts off Wedding Cakes from Bluberry Cakes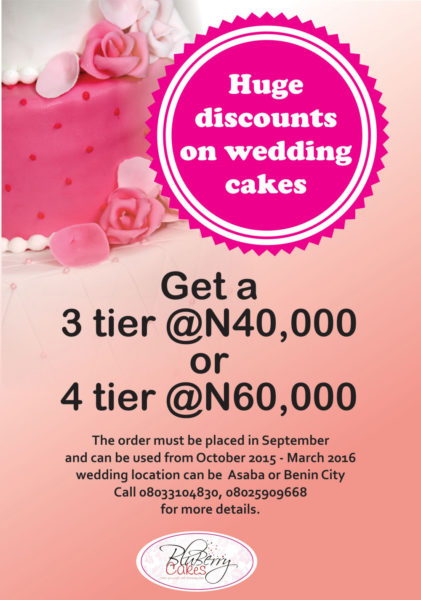 You can get an Elegant 3 or 4-tier wedding cake from Bluberry Cakes at a huge discount and it can be any design or cake flavour of your choice.
Order has to be made this September.
Bluberry Cakes is located in Asaba and Benin City, but arrangements can be made for delivery to other cities.
Call 08025909668 | 08033104830 for more information.
---
Sponsored Content