Still thinking of what to get for your loved ones? Beautiful selections are here to put a smile on your face. Place your order now at Zhoni.com
_____________________________________________________________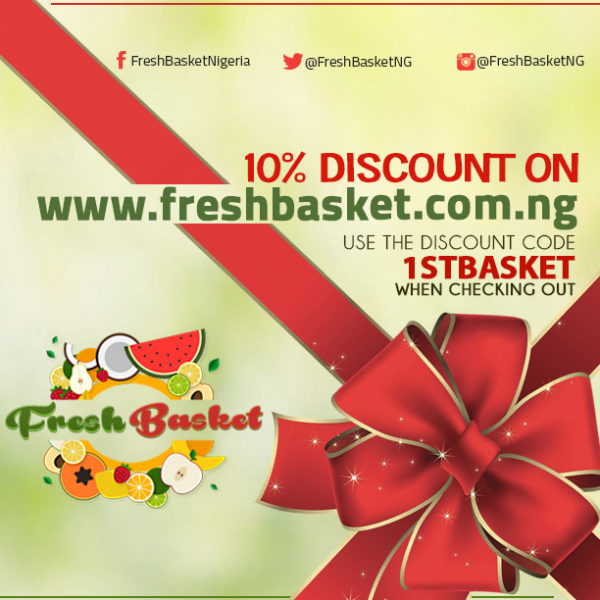 At Fresh Basket, We deliver organic, ethically sourced boxes of brilliance straight to your door. You can shop online for Fresh Fruits, Vegetables delivered at your doorsteps in Lagos. Every item is sourced and handpicked so we can bring you very fresh, safe, top-quality foods.
Our range of products & services include: Fruit Boxes, Veggie Boxes, Customize your Box, Festive Boxes, Get Well Soon Boxes, New Mother Deluxe Boxes, Valentine Boxes.
In a bid to show appreciation to our new customers, we would be giving a 10% discount off all purchases for first time customers.
Orders placed between January to March 2016.
www.FreshBasket.com.ng
Email Address: [email protected]
Instagram: FreshBasketNG
Twitter: FreshBasketNG
Facebook: FreshBasketNigeria
_____________________________________________________________
This month, we are working people who have an innate creative ability build on these skills and help them become the designer they want to be – and of course… getting paid for what they love doing and what comes naturally to them!
How about moving from just explaining a design to your colleagues and actually drawing it out professionally for them and selling your designs to them?  Or better still…. helping people come up with beautiful portfolios and charging them for it!  It is fun, it is stressless and best of all you are making money doing what you love!
Register for our Short Course in Design and Illustration with the option of Computer-Aided Design! We will teach you how to develop a concept from an idea, how to choose colors and fabrics, how to communicate your ideas to your tailor, and how to draw and digitally enhance your creative ideas and best of all, how to develop stunning fashion portfolios for fashion school applications, consultations with your clients and for fashion competitions – ALL FROM SCRATCH!
We have a weekend option available for busy professionals and a weekday option for those with a more flexible schedule.  AND we have different options for you to choose from regardless of whether you are a beginner or a skilled illustrator looking to enhance their skills!
Date: Weekend Option:  27 February, 2016 | Weekday Option:  2 March, 2016
Time: Weekend Option: 10am – 6pm (2 sessions, Saturdays only)| Weekday Option:  12 noon – 4pm (2 days a week)
Duration:  8 weeks for both options
Fees: Option 1 – Full Course – Design & Illustration with CAD – N85,000  | Option 2 – Design Only Option – N25,000 | Option 3 – Design and Manual Illustration Only – N55,000 | Option 4 – Design and CAD Option Only – N55,000 | Option 5 – Manual Illustration with CAD Only – N65,000 | Option 6 – Manual Illustration Only – N40,000 | Option 7 – CAD Only Option (for skilled illustrators only) – N45,000
All Options include all training materials, all drawing options include drawing kits and all CAD Options include digital tablets.  Please note that for the CAD Option, you will need your laptops.  Also note that the duration varies depending on the option you go for.
For more information contact + 234 818 395 8856 | + 234 903 498 5877 | + 234 809 787 6075 | [email protected] | [email protected]
_________________________________________________________________________
Sponsored Content