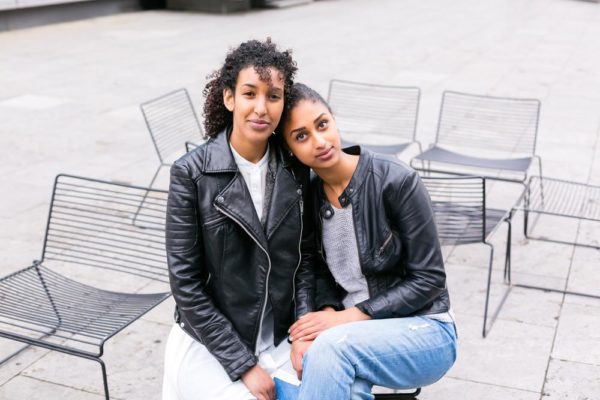 Sarah and Tina grew up together; but time and distance happened and they were no longer besties. They remained good buddies though, loving each other no less. So, when Sarah, who was pregnant with her second child, got sick, it was only natural that Tina be very worried.
Ochuko, Sarah's husband, too was worried but short of ideas. His financial misfortune could barely afford their daily bread, let alone hospital bills. So, it was hot water massage today, herbal drinks tomorrow. When Tina visited again four days after the illness began, the Sarah she saw was an amateur artist's bad silhouette portrait of her Sarah. She couldn't help yelling at Ochuko, "Na wen dis woman die for house money for burial go show! Better go beg for money!" Seeing Ochuko's vain pride, she offered she'd go begging with him.
And so they went begging friends, family, neighbours. Some made endless promises of tomorrow, others narrated their own financial burden. They were eventually directed to meet Chief who worshipped in their church.
Now, Chief was a widower with grown kids abroad and too much money solving no problems. With reverence and hope, they visited him and narrated their story, not failing to emphasize that Sarah was pregnant. After a brief dramatic pause, Chief began, slowly and calmly, as though the weight of his money was borne by his throat, "I'm a man of few words. There is money, as you know. Get in bed with me and I'll give double of what you ask". His eyes were fixed on a stunned Tina. Tina, who didn't know her mouth was opened till she closed them, replied by walking out in an audible silence. "You don see why I been no wan go beg? See insult!" Ochuko exclaimed in rage when he caught up with her.
The next day, Ochuko visited Tina to tell her that Chief called him saying that he was really sorry which was why he had gone out of his way to find Ochuko's phone number to call and apologise, that he had a re-think and was willing to help them. Tina was half-pleased and maintained she won't go again to Chief's house despite Ochuko's many pleas.
Ochuko returned not long after from Chief's without the money. Chief had said he would only give him the money after he had apologized to Tina. "If she truly has forgiven me, then she'll be here", he said.
In Chief's house with Ochuko, Tina, who wouldn't have gone but for Sarah, heard Chief apologise more than she could count. As she replied him, she realized she was smiling and nodding too much, saying and seeing too little. She closed her eyes tightly to blink away the numbness. When she opened them again, a grateful Ochuko was receiving a small polythene bag from a half-dressed Chief. "That's triple the amount", Chief was saying, "She's sweeter than I thought".
It was then Tina realized what had happened. With all the strength she could muster, she threw her naked self at Chief and Ochuko, clawing and cursing them and their generation unborn to merciless deaths.
Outside Chief's house, Ochuko said to Tina, "Na your friend you help o. If to say you been gree that day, I for no put that thing inside the orange we lick for road. How you sef no go gree? Wey you dey gree for who reason you marry?" Still as the wind in March, Tina walked home silently.
Weeks later, Sarah recovers and goes visiting Tina with gratitude. It is then Tina tells her all that happened. "No wonder you stop to dey visit me when Chief give una de money", Sarah replies, hands across her chest. Tina, concerned that Sarah might get rashly vexed with Ochuko, tries to calm her down but Sarah continues, "You be winch!" Tina is confused. "I swear you be winch! Because you no ge husband you kon wan spoil my marriage? Ahhh, God punish you!", Sarah exclaims. The more Tina tries to explain, the more Sarah curses her to the hearing of the whole neighbourhood.
A heart-broken Tina goes to church to blame it all on God. Crying more than she was praying, her spirit speaks, "Remember, man art dust". It takes some seconds, then it makes sense to her. What more could be expected from heaps of dust but dirt and dirt and dirt? She knew that moment she could forgive them all, dust them off, and after that, she'll be alright.
Photo Credit: Dreamstime | Arne9001