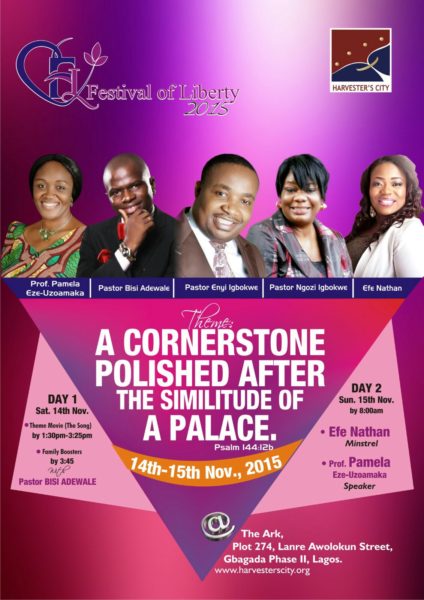 In 2012, an innovative life enhancing programme, Festival of Liberty, was conceptualized and born with its maiden edition. It has been a fun, refreshing and empowering medium touching lives in a renewed way. Each edition leaves evergreen moments etched in the memory of attendees. 'Festival of Liberty', as reflective in its name, is a platform for liberation in diverse areas where restrictions have kept people bound body, soul and spirit. This annual programme is powered by the House of Deborah (Women's Fellowship), of Harvester's City.
It is a gathering of men and women, their loved ones, intending spouses etc. It brings a cocktail of eye opening and life transforming teachings and sessions affecting the physical, emotional and spiritual areas of the individual. It is an enlivening celebration of Womanhood. The inspirational teachings, practical and interactive sessions on the woman, marriage, courtship, interactions with the opposite sex in diverse areas are among the highlights of this annual programme. The speakers are seasoned with abilities to dissect and impart the Word and address life issues. It is an event like none other. We eagerly look forward to receiving you in this destiny-defining event.
Date: Saturday 14th & Sunday 15th November, 2015
Time: 1 PM  & 8 AM respectively
Venue: Harvester's City, Plot 274, Lanre Awolokun Street, Inside Gbagada Estate, Gbagada Phase 2, Lagos
See you and God Bless!
_________________________________________________________________________________________________
Sponsored Content