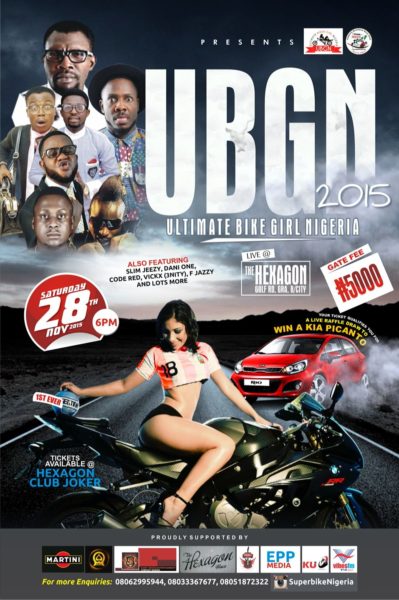 The 3rd Edition of Nigeria's Superbike Road Race, The Bikers Trophy (The BT) comes up on the 28th of November, 2015 in Urhonigbe, Edo State.
The BT, as the event is popularly known is the premier motorcycle motorsport event in Nigeria and draws participants and spectators from all over the world. This year's event has been tagged 'A Celebration of Speed – Picassos on Wheels'. For more on the superbike race, please visit www.superbikenigeria.com.
The Bikers Trophy (The BT) event concludes when motorsport meets showbiz in the evening with The Ultimate Bike Girl Nigeria Contest. A contest to choose the BOLDEST & MOST CONFIDENT lady that has got it and isn't shy to flaunt it.
Featuring performances by Maleke (Wini Wini Wana Wana crooner) and other top Nigerian artistes, it promises to be an exciting evening of Comedy, Music and Dance.
Date: Saturday, November 28th
Time: 6 PM
Venue: The Hexagon Place, Golf Road, GRA, Benin City
Tickets cost N5000 and are available at the venue of the event till 6pm on the 28th November, 2015.
Ticket holders to the event will have the chance to win a Brand New Kia Picanto in a Car Raffle Draw to be held LIVE at the event.
For more on the Ultimate Bike Girl Nigeria (UBGN) Contest, please visit, www.ultimatebikegirlnigeria.com.
_________________________________________________________________________________________________
Sponsored Content