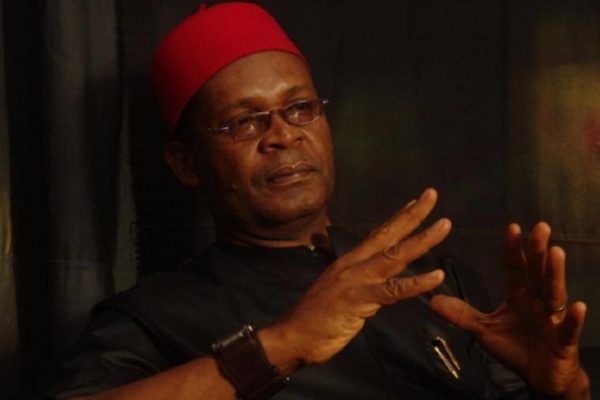 'We have just lost another activist to the devil!', snapped a young man at the news that Reuben Abati, fine public commentator, had just been appointed into the Jonathan administration. The devil in question was not Goodluck Jonathan. It was a symbolic remark, in which case civil society meant the arena of populist, Godly pursuit, partisan politics being the wicked opposite. It is difficult to believe that a Nigerian activist will join mainstream politics and come out completely human. It is more difficult to believe that, just years ago, Joe Igbokwe, Lagos APC publicity secretary, was a shinning member of rights advocacy and civil society groups in Nigeria.
For starters, Igbokwe's current evangelism is that the Supreme Court justices, who overturned appellate decisions on contested governorship elections in Rivers, Akwa Ibom, and other states, should be investigated for corruption. His strongest point for this position is that there was violence in those states, for which reason, citing the dead, he believes those elections should have been quashed. You'd begin to think there was no violence in the presidential and other elections in which his party won. A valid submission, perhaps; but we must first examine the biography of his bias before we begin to nod credulous affirmation.
Igbokwe is the author of a shameful pile of rants littered all over the media, insulting genuine government critics, defending apparently indefensible government gaffes, spewing tantrums against imaginary anti-Tinubu forces, etc. He was the one who frantically defended the deportation of Igbos from Lagos, even as former governor Fashola, chief actor in that saga, later admitted error and apologised. He was the one who pilloried Professor Okey Ndibe over a piece that tasked President Buhari to accelerate pace, accusing the professor of being a PDP agent, never mind that the learned columnist had held sway as a tireless PDP gadfly.
Igbokwe has always been like that, an industrious, cane-wielding provost shouting down invented APC and Tinubu detractors. An activist of colourful, deliberate omissions, he has since chosen partisanship over patriotism.
We must not throw away the baby with the bathwater, someone may caution, over his recent opinion; to which we must reply that a political message must always be examined with respect to integrity of source. While we may grant validity, if any, to the suggestions of a biased citizen, we must also not let him go home with the glory of speaking the truth. Let Igbokwe say his mind, but let us also not forget the character of that mind in public commentary.
There is a sad implication in Igbokwe's mutation from a credible activist to a pathetic power apologist: genuine political discourse and activism now suffer public skepticism. Sad also is the desperation to criminalise every critical take on the APC. It is thus dangerous to let Igbokwe and his classmates continue to shut up, bully and pollute valid conversations with cretinous twaddle.
Meanwhile, it is necessary to interrogate the ancestry of Igbokwe's Goebelian hobby. An Igbo man, he occupies a juicy minority position in the APC. He is desperate to solidify his relevance first, by sustaining an ethnic mutiny against his kinsmen, and second, by keeping himself thoroughly busy with imaginary fights for his party. It is the case of a man doing all he can to show gratitude for a huge political charity he did not expect. It will be disingenuous to always assume that Mr. Tinubu and the APC send him on these shameful errands. Perhaps both may even often be embarrassed by the wild dimensions of Igbokwe's volunteer work, but may be keeping quiet out of courtesy or pity. At one time, following his unruliness, an Igbo group 'barred' him from visiting the South-East; at another, the OPC gave him a seven-day ultimatum to withdraw an insult against the organisation or risk having Yoruba gods invoked upon him.
But Igbokwe's work is just a tip of a new, massive culture of political bias in the country. His spot is made remarkable by his ethnicity and position as his party's publicity secretary. Many Nigerian intellectuals, activists, and rights advocates, who championed the current political change, are yet to reverse themselves from partisanship. Given the dire nature of the presidential election, it was understandable, even necessary, for otherwise neutral entities to join the opposition to neutralise a locust PDP. Such partisanship should, however, end after the election, so that proper surveillance can be directed at the new source of concern.
In a bid to ward off taunts of bad electoral choice from PDP sympathisers, many intellectuals have become self-appointed spokespersons of the current government, gratuitous defenders of apparent errors. Vandals of truth, they have failed to realise that as stakeholders at the sidelines, their primary allegiance is to the nation, not to party or individual constructs. President Buhari's boots bristle from the sanitation of their partisan tongues. Perhaps some, as sometimes alleged, have chosen to be blindly subjective on the terms of a secret employment to that effect. This is sad, a shame.
It is a shame, this choice of partisanship over patriotism, with Joe Igbokwe as one of its most notorious icons. It is sad for good men to keep quiet while an otherwise noble activist is possessed by a strange spirit. Igbokwe needs to be saved from himself in the interest of objective commentary and good governance. We have lost too many activists to the proverbial devil. We need to begin to reclaim them from that unwholesome territory and, for those whom we can't, we can begin to insist on tarring them with the same brush we had reserved for incorrigible politicians. Let us start with Joe Igbokwe, the man who, like Reuben Abati, reminds us that credibility is lost and never to be regained in that activist who mutates into an invested mascot of power.