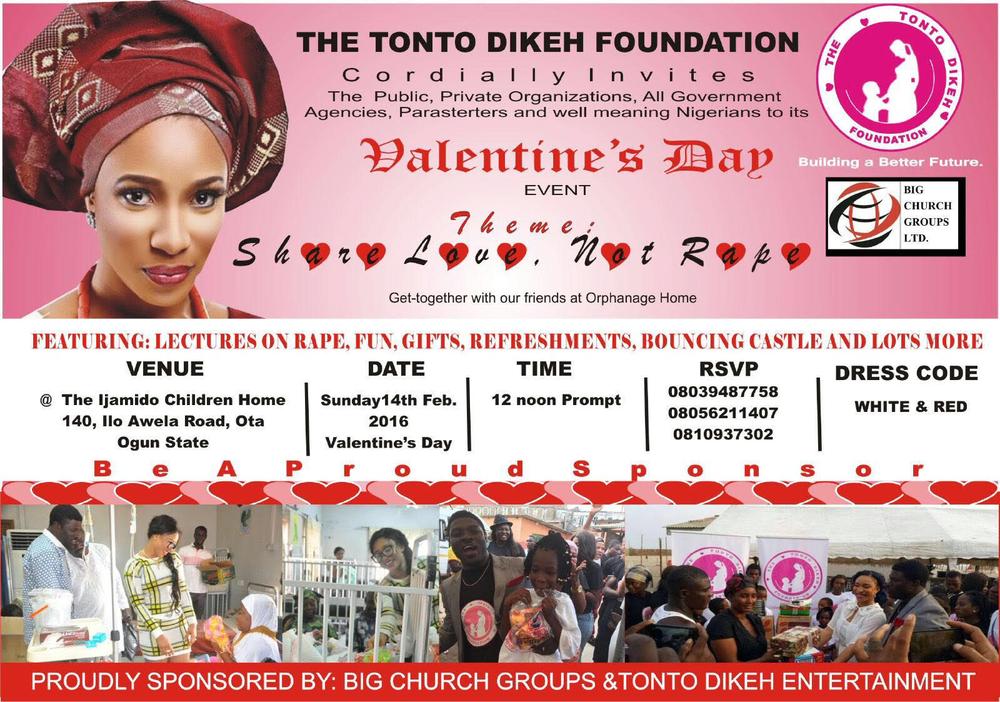 The Tonto Dikeh Foundation cordially invites "the General Public, Private Organizations, Government Agencies and Parasterters" and well meaning Nigerians to its Valentine's Day Event with the theme: "Share Love, Not Rape" with our friends at the orphanage home.
This is in line with the foundation's goal of eradicating violence against women and raising public awareness on the travails of the female child.
Venue: The Ijamido Children Home, 140, Ilo-Awela Road, Ota, Ogun State
Date: Sunday, 14th February 2016
Time: 12 noon
Dress Code: White & Red
In the wake of this development, The Tonto Dikeh Foundation invites interested individuals and corporate bodies for the sponsorship of the event. It is a platform for raising awareness, educating the general public and creating avenues for improving the perception of the girl child in Nigeria. This is especially important with the spate of infant rape and sexual abuse within the nation.
Interested parties can support the foundation by donating funds.
Call: 08109373702 ; 08056211407
Website: www.tontodikehfoundation.com
Instagram/Twitter:  @T_d_foundation
Email: [email protected]
Sponsors: Big Church Groups Limited and the Tonto Dikeh Foundation
You TOO can be the one to show love this Valentine, that BE THE reason a child smiles on this day through your donations.
_________________________________________________________________________
This content has been published for free as part of BellaNaija.com's commitment to youth, education, healthcare and community development as part of our corporate social responsibility programme.