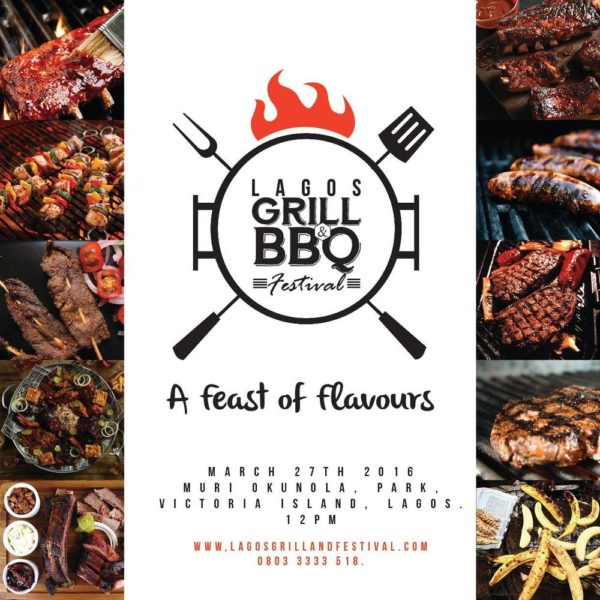 The first edition of the Lagos Grill and Barbecue Festival was an absolute success and now they are set for another amazing edition in 2016.
The Second Edition of the Lagos Grill and Barbecue Festival will hold this Easter Sunday March 27th 2016.
This family event will feature delicious food from 15 Grill & BBQ Joints across Lagos, with the likes of Grills in and out, Farm city's Grill house, Sean Barbecue, Grind Grill, Lala's Grill, Kmac Grill, Islander Barbecue, Delicioso Mobile Chefs, Ginger Topas & Grill, Bolielicious, etc, a fun fair for kids and entertainment for all.
According to Francis Ebie, Chief Coordinator of the event, "This second edition will make the first edition look like a test run – We are pulling all stops for the 2016 Lagos Grill and Barbecue Festival which is a fusion of Western style food festivals and authentic Naija grill and BBQ".
The park will be transformed into a summer style festival with gazebos, comfortable seating areas, cocktail tables and a big stage for the performances. There will be an entertainment host who will keep people entertained and keep the momentum going during entertainment intervals.
A section of the park will be for the kids with interactive games, bouncy castles, rides, video games, arts & craft and play pens.
Adults will not be left out this year; games include who can eat the hottest wings and fastest burger eater contests. The winners of these contests will go home with great prizes courtesy of the sponsors and organizers.
This year, we are introducing the Barbecue Guest Challenge, where 6 finalists will showcase their skills during the festival, they will be scored by celebrity judges and the audience. Winners will also go home with fantastic prizes from our sponsors
Date: Sunday, March 27, 2016
Time: 12 PM
Venue: Muri Okunola Park, Victoria Island, Lagos
Click to watch last year's festivities below.
For Sponsorships, partnerships, registrations and enquires contact The Grind:  +234 803 333 3518 | + 234 8064535579 | [email protected] | www.lagosgrillandbbqfestival.com | Facebook/Google+/Twitter/ : Lagosgrillfest | Instagram : @lagosgrillfest
______________________________________________________
Sponsored Content