Hello BellaNaijarians,
It's almost time for Easter and there are so many events for you to pick from as your spend time with your loved ones!
Here's the scoop on all the exciting events happening this Easter.
Enjoy!
**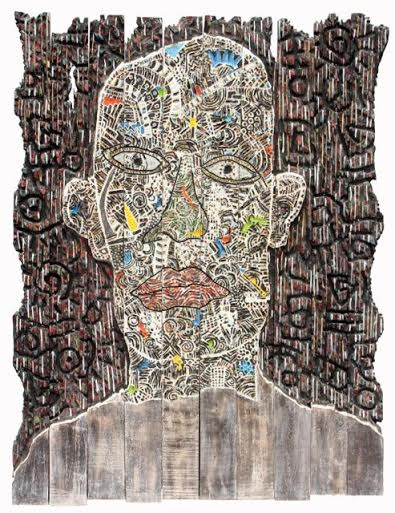 People's Paradise
The exhibition features a body of work by Gerald Chukwuma, one of Nigeria's leading contemporary artists. Selected works for this exhibition are 43 in total which includes wooden panels mixed media art, new watercolor paintings, sculptures and other powerful installations.
Date: Monday, March 21st – April 30th 2016
Venue: Temple Muse, 21, Amodu Tijani Close, Victoria Island Lagos
---

iREP Film Festival
The festival presents discourses around the issue of Change as a concept and an African reality, with a view to understand how Africans are responding to this ongoing reality. The overarching framework of the festival is to engage Africans in self-conversations that can bring about a better understanding of the African situation and to possibly find solutions to them.
Date: Thursday, March 24th to Sunday, 27th
Venue: Different locations in Lagos, Freedom Park remains the primary centre for all activities. See details here.
---
The Best of Rock and Alternative Music
Are you ready to have some fun this Thursday? Do you love live rock/alternative music? Join Nigerian Rock artist Dabyna and his band at Spice Route as they thrill guests with special performances.
Date: Thursday, 24th March, 2016
Time: 8:30 PM
Venue: 36 Adeola Odeku Street, Victoria Island, Lagos
Contact: 019037777 | 08080208080
---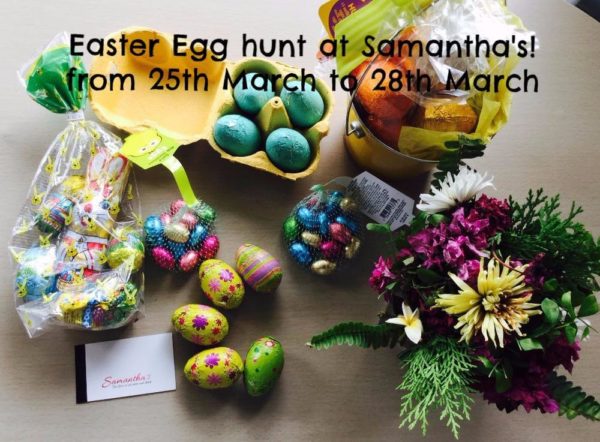 Easter Egg Hunt
Register your kids for a funfilled Easter at the Easter Egg Hunt at Samantha's
Date: Friday March 25th – Monday March 28th 2016
Venue: 2, Olawale Daodu, (Webb Road), Off Kingsway Road, Ikoyi
Contact: [email protected]
---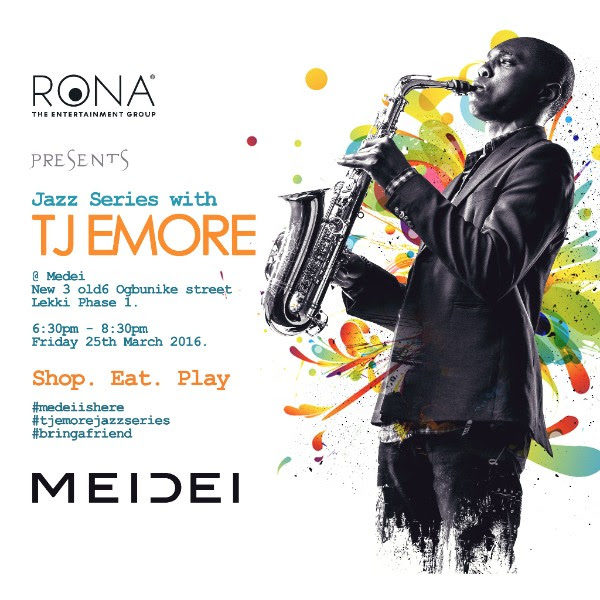 Jazz Series with TJ EMORE
Shop. Eat. Play … Jazz Series with TJ EMORE.
Date: Friday, March 25, 2016
Time: 6:30 PM
Venue: MeiDei, 3 Ogbunike Street, Lekki Phase 1, Lagos
---
The Spice Route Burlesque Party
The nouveau party concept is a vintage inspired style that perfectly blends Broadway burlesque show with comedy. There will also be a performance of the famous Broadway musical "Cell Block Tango"
Date: Friday, March 25th, 2016.
Time: 10 PM
Venue: Spice Route, Victoria Island, Lagos
Contact: 01- 9037777 | 08080208080 | 08187600000
---
Education Seminar
Lambton College, Canada is inviting you to a free education seminar for Post Graduate programs. Come and meet with Chioma Udom, the representative of Lambton College in Nigeria to get an easy placement into the institution.
Date: Saturday March 26th, 2016
Time: 10 AM – 4 PM
Venue: 1, Mugambo Close, by Mr. Biggs, Maryland, Ikeja, Lagos.
Contact: 08140389862 | 07034165573
---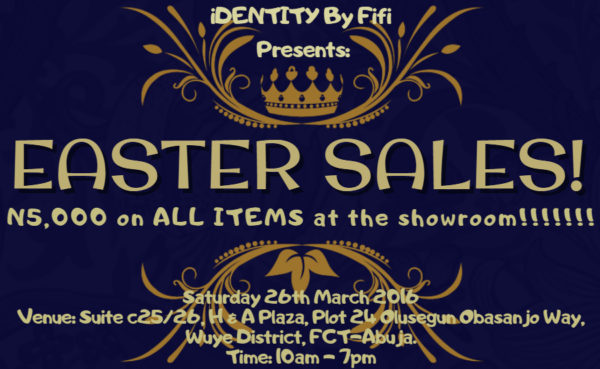 iDENTITY by Fifi Easter Sales
iDENTITY By Fifi design label is offering Easter Sales of N5,000 on ALL items at her showroom for the season. 
Date: Saturday, March 26th 2016
Time: 10 AM – 8 PM
Venue: Suite C25/26, H and A Plaza, Plot 24, Olusegun Obasanjo Way, Wuye District, FCT-Abuja.
---
Project 50,000 Entrepreneurs Conference
Theme: Wealth Creation Through Entrepreneurship. The Land is Green Foundation (TLIG) is on its quest to raising 50,000 Entrepreneurs in various sectors ranging from IT, Agric, Beauty, Fashion, Manufacturing, and a whole lot more.
Date: Saturday, March 26th 2016
Time: 11 AM
Venue: Devine Hotel, 17 -19, Abel Oreniyi Street, Off Salvation Road Opebi, Ikeja, Lagos
---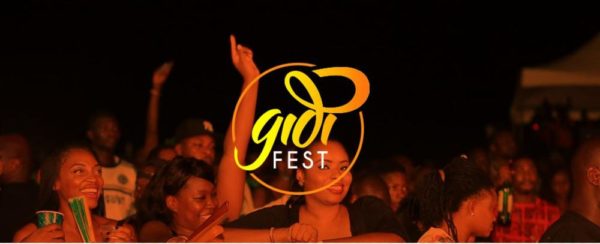 Gidi Fest 2016
Here's your chance to have fun this weekend at a Festival with your loved ones.
Date: Saturday, March 26, 2016
Time: 12 PM
Venue: Eko Atlantic, Victoria Island, Lagos
---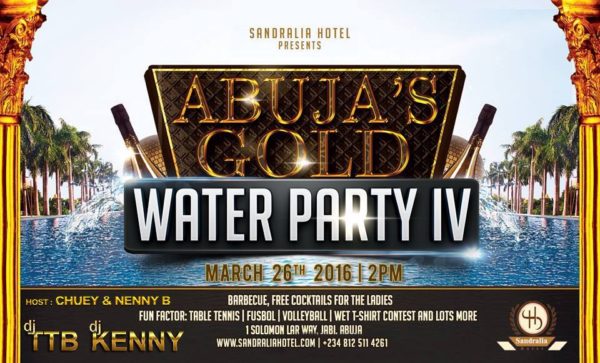 Abuja Gold Water Party
This quarter's event will feature music by DJ TTB and DJ Kenny. It will be hosted by the PULSE TV guy, and the delectable Nenny B from Hot FM Abuja. The event will include several exciting activities and present an avenue for relaxation, socializing, dancing, swimming, fun games etc.
Date: Saturday March 26th 2016
Time: 2 PM
Venue: Sandralia Hotel, 1, Solomon Lar Way, Jabi, Abuja
---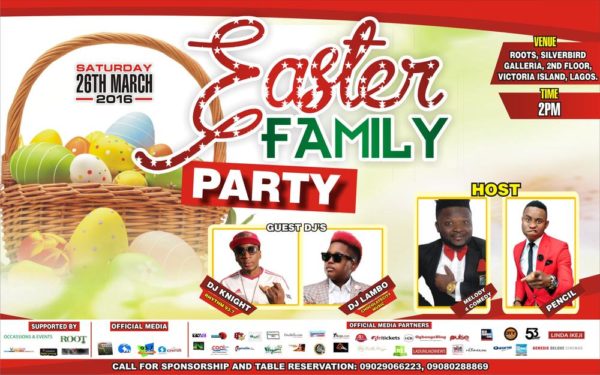 Easter Family Party
Join to celebrate the Easter festival.
Date: Saturday, March 26th 2016
Time: 2 PM
Venue: Root, Silverbird Galleria, 2nd Floor, Victoria Island, Lagos
Contact: 09029066223 & 09080288869
---
Easter Blast 2016
Join Oritsefemi, Lil Kesh, Gordons, d code and other celebrities in the 2016 Easter Blast. Also featuring: DJ baddo, Himzey and top talented dance crews.
Date: Saturday, March 26th 2016
Time: 3 PM
Venue: Martino's Multipurpose Hall, 1, Otunba Jobii Fele way, Central Business District, Alausa Ikeja.
Tickets: Regular- N5000 | VIP- 25,000
Contact: 08180091907 | 08137806580 | 08035261016.
---
ITAN (Stage Play)
ÌTÀN is a very fascinating blend of drama, cultural and contemporary dance and music. It captures the sublime tension and misunderstanding that exists between different age generations – the millennials, in particular. It also outlines subtle modern cultural mismatches.
Date: Saturday 26th & Sunday 27th March 2016
Time: 3 PM & 6 PM Daily
Venue: Agip Hall, Muson Centre
---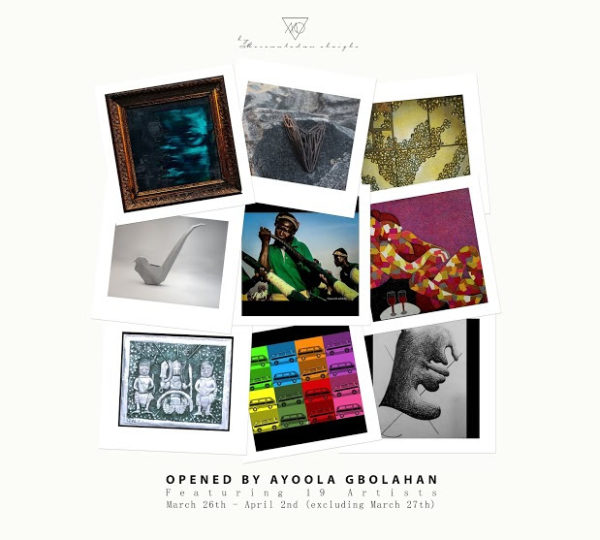 The Philosopher's Muse
An alternative art exhibition by 19 Nigerian artists.
Date: Saturday March 26th 2016
Time: 4 PM
Venue: The Gallery of The Blue Mahogany, 31B, Adebayo Doherty, Lekki Phase 1
---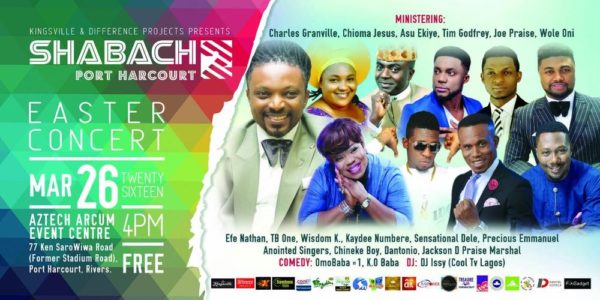 Shabach Easter Concert
Anywhere around Port-Harcourt? Join Charles Granville, Chioma Jesus, Asu Ekiye, Tim Godfrey, Joe Praise, Efe Nathan, Wisdom K, Omobaba #1 and more for the Shabach Concert.
Date: Saturday march 26th 2016
Time: 4 PM
Venue: Aztech Arcum, 77, Ken SaroWiwa Road (Formerly Stadium Road), Port-Harcourt.
---
Lagos Underground
The Lagos Underground with Keziah Jones and Nneka is brought to you by Omenka Gallery. It promises to be an evening of fun as alternative music keeps rising in Africa. 
Date: Saturday March 26th 2016
Time: 5 PM – 8 PM
Venue: 24, Modupe Alakija Cresent, Ikoyi, Lagos
Ticket: N2500 | N5000
Contact: www.omenkaonline.com
---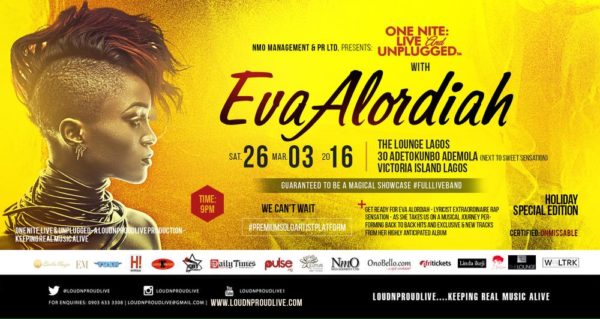 One Nite: Live & Unplugged
Get ready for lyricist and rap sensation, Eva Alordiah as she takes us on a musical journey performing back to back hits and tracks from her highly anticipated Album.
Date: Saturday, March 26th 2016
Time: 9 PM
Venue: The Lounge, 30 Adetokunbo Ademola (next to Sweet Sensation), Victoria Island, Lagos
---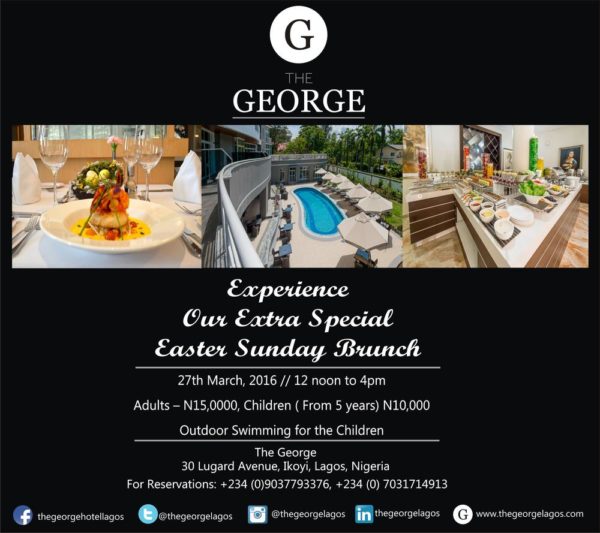 Easter Sunday Brunch
Enjoy a yummy Sunday brunch!
Date: Sunday, March 27th 2016
Time: 12 PM – 4 PM
Venue: The George, 30, Lugard Avenue, Ikoyi
Contact: 09037793376 & 07031714913
---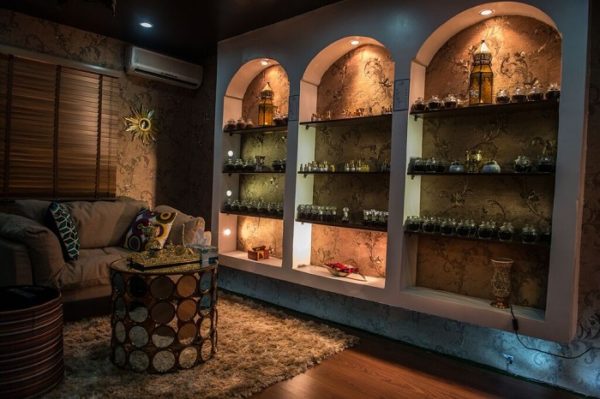 Mahnoush Beauty Place Opening
Be a part of the Opening of Mahnoush Beauty Place. Enjoy Drinks,Canapes and Finger Foods. Free Henna Designs for every purchase!
Date: Sunday, March 27th 2016.
Time: 2 PM – 7 PM
Venue: 12b, Fatai Idowu Arobike Street (2nd floor) Lekki Phase 1
---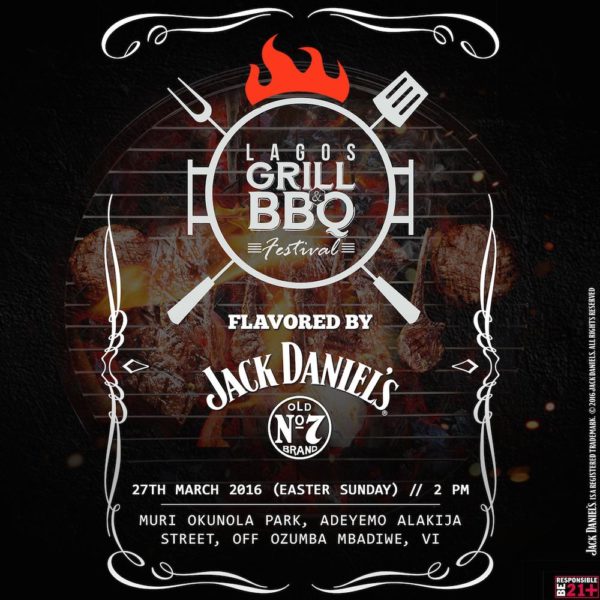 Lagos Grill and BBQ Festival
Jack Daniels returns for a second year this Easter with a bigger recipe. Following up from past editions held in locations at Lagos and Abuja (2015), 2016 looks even hotter and spicier for all friends of Jack.
Date: Sunday, March 27th 2016
Time: 2 PM
Venue: Muri Olunola Park, Adeyemo Alakija Street, Victoria Island
---
International Whisky Day 2016
In Celebration of Whisky, Pernod Ricard and Twenty-5 Lagos will be holding the first annual International Whisky Day celebration in Lagos.
Date: Sunday, March 27th 2016
Time: 4 PM
Venue: Twenty-5 Bar & Grill, 25 Banana Island Rd, Ikoyi, Lagos
---
Conversations & Cocktails
Conversations & Cocktails is a monthly networking event created and hosted by The Social Prefect (@TheSocialPrefect). This edition is the BUSINESS SYNERGY edition! If you run a business, hope to someday, have an amazing idea, or just want to join the conversation then come on out! We're getting together to share more about our businesses and see what kind of synergy we'll find in the room. All of this in addition to the staple fun we have at Conversations & Cocktails!
Date: Sunday, March 27, 2016
Time: 5 PM
Venue: Fahrenheit Loft, 312 Akin Ogunlewe Street off Ligali Ayorinde, VI
---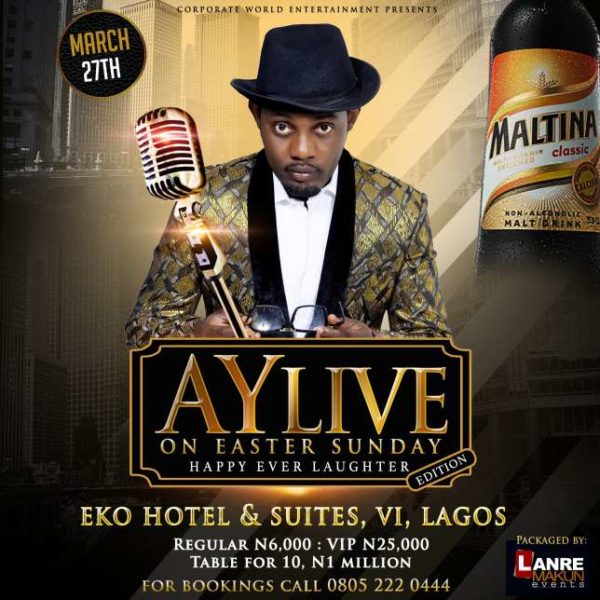 AY Live
Come experience the undiluted live dramatic entertainment with Funke Akindele, Falz the Bad Guy, Chigul, and the unlimited back to back comedy timeout with I Go Dye, Gordons, Klint D Drunk, Akpororo, Seyi Law, Helen Paul, Elenu, Acapella, Ajebo, Pencil, Kelly black and lots more.
Date: Sunday, March 27th 3016
Time: Orange Carpet- 6 PM | Show- 7 PM
Venue: Convention Centre, Eko Hotels and Suites.
Tickets:  Regular: N6000 | VIP: N25,000 | Table for 10: N1,000,000
Contact: 08052220444
---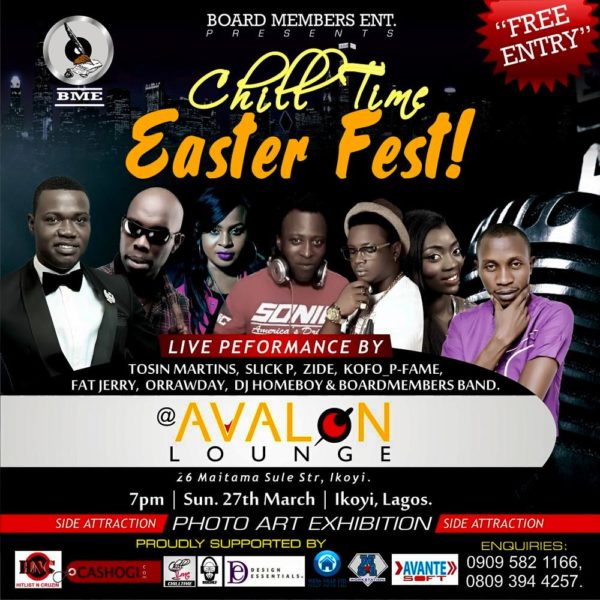 Chill Time Easter Fest
Get your dancing shoes and energy of fun as Board Members Entertainment presents Chill Time this Easter.
Date: Sunday, March 27th 2016
Time: 7 PM
Venue: 26, Maitama Sule Street, Ikoyi
---
LEAD the Way
The programme will take teenagers through fun activities, role plays and engaging out door sessions on leadership, self -awareness, building self-confidence, teamwork, communications, and much more.
Date: Monday, March 28 – Friday, April 1, 2016
Venue: Corona School Waziri Ibrahim Crescent, Victoria Island, Lagos
Ticket: N50,000
---
EKO of the Future
The TPH Souk seeks to reflect the enthusiasm of the bustling metropolitan city called Lagos. The literal meaning of "Souk", in its Middle-Eastern origin, is "marketplace".
Date: Monday, March 28th, 2016
Time: 8 AM – 6 PM
Venue: The Dome, Freedom Way, Lekki Phase 1, Lagos
---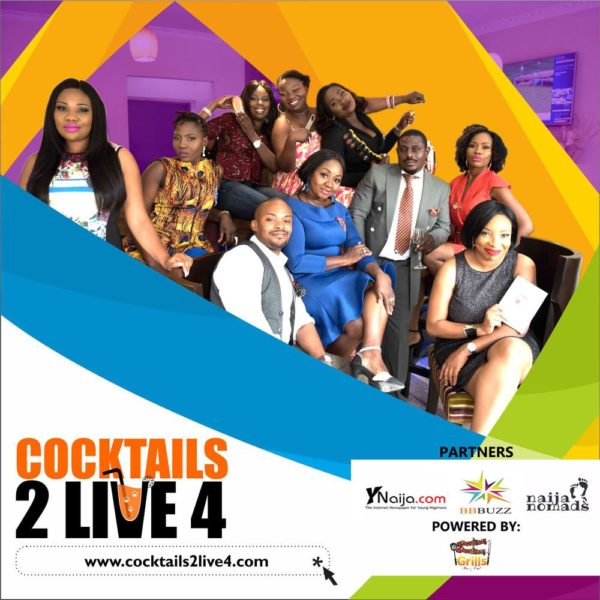 Cocktails 2 Live 4
The monthly event will be hosted by a super talented, professional and passionate Mixologist or bartender of repute, who will prepare and wow invited guests, customers and friends of the House, with amazing cocktails/mocktails mixes made from premium liquors, spirits and ingredients it could be classic/contemporary/signature.
Date: Monday 28th March 2016
Time: 1 PM
Venue: Grills In and Out Restaurant, 7A, Admiralty Road, Before Forte Oil, Lekki Phase 1, Lagos
---
Urban Lifestyle Bazaar
This Easter, Envee Beauty Store, Fashion Cookout and Belleabeau are ready to wow you with awesome makeup, skincare products, virgin hair, wristwatches and shoes.
Date: Monday, March 28th 2016
Time: 1 PM
Venue: Rooftop Megaplaza Car-park, 12 Idowu Martins, Victoria Island Lagos
_______________________________________________________________________
BellaNaija.com is not responsible for the organization or further promotion of these events, neither do we have a stake in their sales or popularity. Inclusion in "Events This Weekend" is Free. Contact – adsales (at) bellanaija.com on or before Wednesday every week if you will like your event to be included. Note that BN reserves the right to choose which events are featured. "Pay to attend" parties attract a fee.