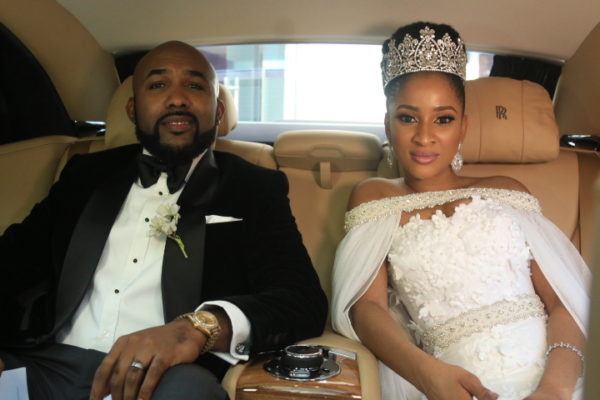 With 4 more months to go in the year 2016 (Yay! We are in August), the Nigerian movie industry still has some juice left to win us over with the movies they are yet to release (probably a long shot, as it relates to winning, but I am hopeful and seriously keeping my fingers crossed).
The year kicked off well with movies such as Suru L'ere, Wives On Strike, Remember Me, Couple of Days, Ayanda, The CEO, Dairy of a Lagos Girl, Affairs of the Heart, Beyond Boarders, ATM, Ghana Must Go, North East, and a host of others. However, I present to you movies to expecting in the next 4 months that would either make or mar the industry.
Arbitration
"The Arbitration" from the stables of FilmOne Distribution tells the story of Gbenga (O.C Ukeje) and his employee Dara (Adesua Etomi) who had an affair. After the affair ended and Dara leaves the company, she sues Gbenga and accuses him of rape. An arbitration panel is constituted to find out the truth. The movie also stars Ireti Doyle, Sola Fosudo, Beverly Naya and Gregory Ojefua among others.
It is directed by Niyi Akinmolayan, popular for "Out of Luck," and "Falling," Arbitration will be released on August 12.
You can watch the trailer here:

A Trip to Jamaica
Sequel to 30 Days in Atlanta, AY returns with this movie "A Trip to Jamaica". Directed by Robert Oyime Peters and set to be a mix of Hollywood and Nollywood stars, the movie will chronicle more adventures of Akpos. Shot in Nigeria, America and Jamaica, the film focuses on Akpos and his Fiancée Bola, who travel across the Atlantic to visit family. The comedy will star Funke Akindele, Nse Ikpe Etim, Patoranking, Cynthia Morgan Ras Kimono, Chris Attoh as well as Hollywood star Eric Roberts and will be released on the 30th of September, watch the trailer here:
Remarkable
From the producers of the movie "Broken" comes this Bright Wonder Obasi, movie, titled "REMARKABLE."
A story which mirrors the life of a couple head over heels in love with each other and how they cope with the obstacles that surround their relationship. The movie stars 2016 Africa Magic Viewer's Choice Award winners Daniel K Daniel, Tope Tedela, Titi Joseph, Apel Orduen, Nita Byack, Osas Iyamu and Matilda Lambert. It is set to premiere in Abuja on Saturday, August 27, 2016.
Watch the trailer here:

93 Days
Directed by Steve Gukas (A Place in the stars) and stars Bimbo Akintola, Gideon Okeke Bimbo Manuel, Tina Mba and Danny Glover, 93 Days tells the story of the 93-day period from when Sawyer comes in contact, to the men and women from Nigeria, WHO and MSF who do battle with this deadly disease. At its core, 93 Days is a compelling human story of dedication, sacrifice, resilience and survival.
93 Days is set for release on the 16th of September, as the trailer gives a good account of what to expect from the movie.
Watch its trailer here:

One Fine Day
Nollywood actress and producer Chika Ike is set to release her new movie 'One Fine Day.'
The movie, which stars Chika Ike, Anthony Monjaro, Ijeoma Grace Agu and more, tells the story of Ronnie a married woman who bumps into her ex and starts having extra-marital affairs with him. The movie is produced by Chika Ike Production in collaboration with Rok Studios (IrokoTV) and is directed by Serah Donald Onyeachor and written by Biodun Stephen Oladigbo.
Although no official release date has been published, the trailer does show some promise.
Watch the trailer here:

76
Never ever have I seen a production heavily coded like the movie '76! Produced some years ago, we have been teased and teased of its pending release; it is becoming absolutely ridiculous and absurd.
Directed by Izu Ojukwu, '76′ is a movie set during the era of military assassinations in Nigeria. With a focal point on the life of an officer who is wrongly indicted by the military and gets entangled in a romantic relationship with a beautiful O-level student from the Southeastern part of Nigeria.  It stars Ramsey Nouah, Rita Dominic, Ibinabo Fiberisima, Chidi Mokeme and Daniel K. Daniel and was filmed in Ibadan. The movie also depicts the experiences of being an officer's wife at a time in Nigeria when there was a lot of unrest.
The official word of it's showing in the cinemas,  is November 26th. Highly expectant and i hope it will be worth it, but the trailer caught my attention and is a good watch.
Watch it here:

The Wedding Party
Come December 2016, EbonyLife Films, producers of 'Fifty' will bring us the first feature film from filmmaker Kemi Adetiba titled The Wedding Party. Written by playwright, Tosin Otudeko, 'The Wedding Party' is a riveting tale of the complexity of love. It is the story of Dunni Coker, a 24 year old art gallery owner and IT entrepreneur Dozie. The couple took a vow of chastity and is looking forward to a ground-breaking first night together as a married couple. The synopsis reeks of the movie 'Jumping the Broom' but I am excited nonetheless. With a myriad of stars from Adesua Etomi, Banky W, Alibaba, Sola Sobowale, Ireti Doyle, Richard Mofe-Damijo, Zainab Balogun, AY, Ikechukwu, Beverly Naya, Eyinna Nwigwe and Lepacious Bose (that is a mouthful), the movie which wrapped up filming, promises to be very entertaining.
Although no official release date in December has been stated, the behind the scene images does show promise.
Watch the trailer here:

Public Property
Singer, Song Writer, Actress and Producer Ashionye Raccah is teasing out and promoting her new movie "Public Property". Although we are still awaiting her official trailer, the little clip she has put out on Instagram looks promising.
The movie stars Ashionye herself, Okey Uzoeshi, Femi Jacobs, Kiki Omeili and Sika Osei.
A Hotel Called Memory
Nigerian film producer of Violated, Keeping Faith, 30 Days and Nollywood sweetheart (To people born in my era) Ego Boyo is rounding off work on a new film, A Hotel Called Memory.  Starring Nse Ikpe-Etim, the movie is directed by Akin Omotoso and is said to have been shot in Tanzania. While it is seriously under wraps, Ego has been posting bits and bulbs on her Instagram page. There is however, a cover image. I am anticipating it will be released this year.
Living in Bondage:
Yep, you thought right. The 1992 production is set to be remade and released this year. I was really excited when I learnt of this, as a silent champion of remaking films and series we enjoyed back in the day. Can you imagine a Checkmate remake? Ramsey Nouah, alongside entertainment and business mogul Charles Okpaleke are the duo responsible for this remake. Although there are no details, still photography or trailers to indicate it is in the works, I am crossing my fingers and wishing it makes the year 2016.
There you have it folks! 10 anticipated movies for the rest of the year.
Which one are you most eager to see, and which ones did I miss out? Tell us all about it in the comments section.