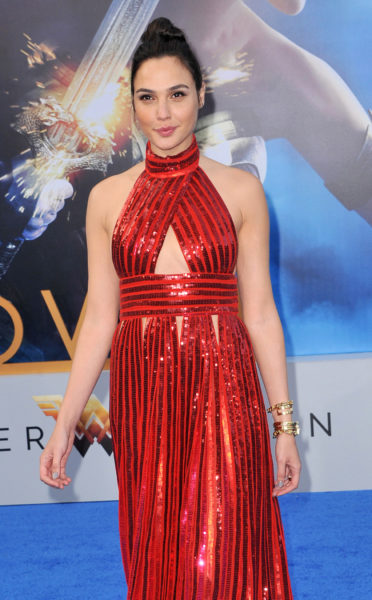 Without sounding too corny or coming off as feminist, I was truly looking forward to Wonder Woman – the superhero film based on the DC Comics character of the same name and distributed by Warner Bros. At this stage, not sure who is winning the war between DC Comics (Warner Bros) or Marvel (Walt Disney), but between them, there has been a testosterone filled surge of male super heroes that unfortunately had women as backup and never in the lead.
There has technically been no superhero movie with a woman in the lead; yes there was Elektra, Black Widow and a host of others, but women were not in the lead.
Set in 1918, the film tells the story of Princess Diana, who grows up on the Amazon island of Themyscira. After American pilot, Steve Trevor crashes, offshore of the island and is rescued by Diana, he tells her about the ongoing World War. She then leaves her home to end the conflict, becoming Wonder Woman in the process.
So, if you're unsure about whether to see Wonder Woman, asides all the female empowerment aspects attached to it, here are 7 fun reasons to go see the movie:
It's been 38 years since the first Wonder Woman Series
Technically, it's almost 70 as Wonder Woman was introduced to the comics earlier. However, from articles and research, it's been a struggle to introduce a live-action Wonder Woman – especially after the TV series starring, Lynda Carter. (Who remembers that series? It used to run on NTA!)
Asides the animated series, I yearned for a full-length feature on a super hero that focused on a woman, so I was pretty happy for this and tripped to watch the movie.
The Costume
With the number of years that have passed, development and technology, I love the upgrade to the costume. Our previous Wonder Woman, series and animation wore the corset and an underwear (not sure what to call it), which sort of suited its time.
I really think that this new costume that comes with the skirt and the armour is sick, compared to the original. It also gives the character her Greek heritage, as a daughter of Zeus.
It's a prequel/build up or coming together of the Justice League
Wonder Woman's appearance in Batman V Superman was one of the best highlights of the movie. This film kicks off with the symbol of Wayne Enterprisee delivering a parcel, so if this isn't a build up to the Justice League Movie – along with the others we saw in Batman V Superman – then I don't know what is. It doesn't look like the Green Lantern would be part of the movie though, but I can't hide my excitement!
CGI and Effects didn't look over the top
So, the movie is set around World War I, and whilst I wasn't born then, I tried to imagine what kind of technology was prevalent at that time to have a Super Heroine that didn't look out of place. So obviously, Computer Generated Imagery (CGI) did most of the work; but when you have some excellent special effects, by an Oscar-winning VFX supervisor in the person of Bill Westenhofer, who did Life of Pi, Stuart Little, The Witch And The Wardrobe, it had better be good and totally worth it.
Robin Wright was a Bad Ass
The Robin Wright I grew up knowing from "Princess Bride" was meek, humble and quiet; and even though series like 'House of Cards' changed the humble bit of her, it was awesome to see her fight and defend her kind with a huge grin on her face – like this is the fight I have been waiting for all this while. It was epic!
 Gal Gadot in another light
Who knew Gal was the lady in the Fast & Furious Series that died in part 5 or was it 6? I swear down ehen, I saw her in another light after watching this movie. The former model and Israeli soldier was effortless, in shape and nothing short of flawless. If there was a real Greek god and she looked like Gal, she will be worshiped. Those camera angles did her justice, and I can't get enough of how perfectly she displayed the awesomeness that is the female gender with her amazing portrayal of the character.
Great Cast, Story and Lines
Yes! Forgive me, asides Gal and Robin, there was Chris Pine, Danny Huston, David Thewlis, Connie Nielsen, and Elena Anaya.
I wasn't a fan of the villain though, he was just blah; but I loved how the other people fitted nicely to their roles.
The film roped in real-life athletes to play the role of the Amazonian warriors, so people like American Crossfit champion Brooke Ence, Swedish professional fighter Madeleine Vall Beijner, and American boxer, Ann Wolfe, were in the movie to kick some ass.
I also caught some of the lines in the movie, powerful yet funny and satirical, proving that Marvel isn't the only one with a sharp wit!
Lest I forget, the story, piecing all our knowledge of Wonder Woman and how she got to be, was a sigh of relief for me. We know Superman, Batman, Iron Man or Captain America's pasts, but Wonder Woman wasn't quite clear. Technically, she would be older than any other super hero combined.
The movie is currently receiving positive reviews, and has set a couple of records for its female director, but you know what? It is currently showing in cinemas around you.
Go see it for yourself and thank me later!
Photo Credit: Starstock | Dreamstime.com