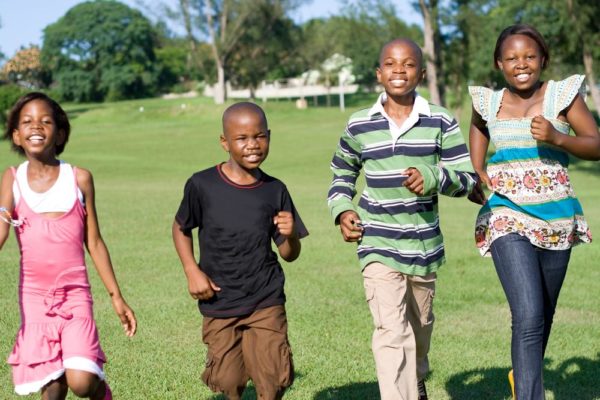 Walking through the Jos University Teaching hospital, it was clear depending on the illness, there is a ward for everyone. The one that is segregated is not the mortuary or the ward for mentally unstable people. It is that of young girls, suffering from VVF.
They lie at the corridor; a mat on the floor, a child by one breast, and they are almost, always absent. They never know what is happening around. Most times, the nurses or people around have to yell to get their attention. . They don't notice who walks by, they don't care. They know that the child needs food and so they just lie there and let the child take the food. Those are not even extreme cases. There are those that have the kids and never bother to feed them.
Last year, I was at the ward for mentally unstable people for a visit and I saw a young girl. It was easy to look at her and wish her the best life can offer. She was asleep when we arrived but when she woke up, we found out that her case was a little extreme. She started by screaming; she needed a little comfort and then stability. She was not fifteen then, but she has a child and having a child did not just cause her VVF, it destroyed her mentally. A chain is used on her.
When the child needs to feed, they take the child to her, a hand gets released but her legs remain chained. The people around are very careful not to get her angry. She goes to the toilet with the help of two able bodied nurses. Nobody is safe around her. People around say she was raped. They also say she wanted to get married and she became unstable almost immediately after the marriage. Someone dumped her at the hospital.
Many of them with children at the hospital are below sixteen but they look older. They have carried more burdens and have lived more years mentally than people twice older than them. That is the reality of many girls in our society. They are not old enough to care for themselves but they care for children. Children that should call them sister, say mama instead. There are people destroying their lives and walking freely. When it gets bad, they take them to the hospital and dump them there.
There has been very little coverage of the child abuse that goes on in our society. We get angry for a bit and then we forget- we relax and we move on with our lives.
We are careful about how we speak about child abuse. When a bride price is paid on a young girl, we give it a fancy name and call it child marriage. It is not child marriage, it is paedophilia and it is a disease, a disease for those who commit it and those who permit it. Calling it child marriage is giving it a fancy name.
A child is a precious gift and marriage is a blessing to those who get into it right, so why combine the two words for a crime that grave, a crime that has killed many girls and rendered many more useless. These girls lurk around, waiting for nothing, perhaps death – but it never comes.
Child abuse is a crime that has left someone, like the beauty I met last year, destroyed. When it happens, they never go back to who they were. Do the surgery, start the treatment, they just never go back.
I once wrote an article about how travelling to my village, for my Aunt's burial exposed me to many girls between the age of 10-13 that were eager to get married. Those that were single by seventeen were already complaining about it. It was shocking, but true. It is poverty. It is the lack of enlightenment. It is the lack of a proper education. All of this especially, poverty is a violation of human rights. A girl will only be eager to be married at a very young age because she has not seen anything else to hope for.
It is poverty that litters the street with gross child labour. I see children as young as nine puffing a cigarette and who are you to talk to them? They need strength to go back to the mechanic stand. They need to boost themselves to push the wheel barrow and cater to their families from a very young age.
A gang rape case was recently dealt with here in Jos, by the Human Rights Commission. A young girl was raped and the oldest of the rapists was nine years old. If children engage in rape at that age, what would happen when they are older? Where do we trace the problem to?
There are a lot of young girls exposed to sexual harassment on the street. They are out at 5AM, they are mounted with very heavy goods and they are expected to sell everything before they return home for the night. Most of them do not enjoy the stress that comes with the sun, so they find a place to rest the goods; they go off and make the money by selling in kind. They return home and the next day the cycle continues. Others are resilient but even at that, their lives are not better. Our society suffers because mothers cannot even fight for their daughters and fathers are silent, some of them are part of the problem, so when there is a crime, when their daughters get abused, they choose to negotiate out of court because they see negotiation as a means of having a better life for a few months rather than going in and out of court to get justice and then ending up poorer. When parents believe the best they can get is a negotiation, they negotiate. It is not because they are insane, it is their best option.
Abusing children is almost a culture in our society; it has swept through the town. It happens frequently, so many times in a day. There are girls who also give themselves to it. They lack knowledge of what is happening, they want a better life, even if that better life is N200. Money takes away a lot of burden and they want just a little of it, they are willingly to give themselves for it. This is not a recent problem, we emphasise on it now because we are identifying with its effect more every day.
Sometimes we argue and say education is not important but what these girls need is an education, the right kind of education that forces aggressive ambition.
Photo Credit: Hongqi Zhang (aka Michael Zhang)