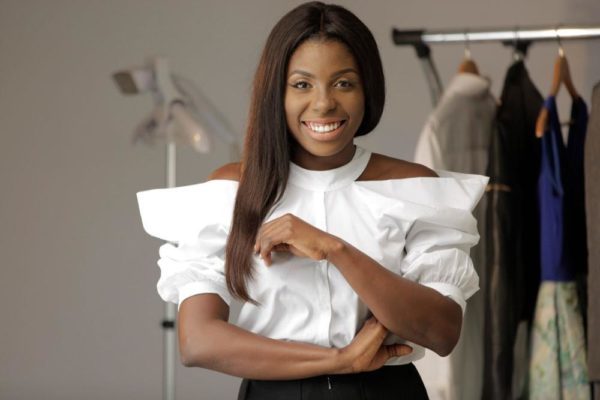 When you meet Jane Michael Ekanem, the first thing that catches you is her warmth. It radiates from her smile and the way her eyes peer into your soul.
The next thing that you notice about her is the pure, unadulterated dedication to her craft. She is a hard worker who loves what she does and isn't afraid to keep doing it till she drops.
Fashion stylist doesn't quite describe this woman, but it's a good place to start. Jane Michael Ekanem is currently one of the top ten stylists in Nigeria. Featured on CNN's African Voices for her achievements, it is impressive that this 30 year old woman continues to push towards a future she probably never imagined. Growing up in a less than affluent environment, Jane Michael, along with her family, faced tough times and came out if it all, determined to be more – and do more. She currently runs the Jane Michael brand out of a home-office situated in Surulere, and has an enviable professional network of artistes, photographers, hair stylists, actors, businesswomen, musicians & make up artists, to name a few.
In our chat with Jane Michael, she told us about her plans for the Jane Michael brand & what it meant to be a fashion entrepreneur in Nigeria. We hope you enjoy reading about this amazing personality whose light is blazing trails over to the next generation
***
When you were 10, where did you see yourself in 20 years?
I cannot state specifically what dreams I had as a 10-year-old; but I do remember we were going through an accommodation crisis at the time. I was sure even then that I never wanted to go through that experience or have my children go through it. 10-year-old Jane knew she wanted to make truckloads of money, so she could build houses for her mom, dad, sister and all her friends (laughs). I still believe dreams come true, even though I haven't achieved that yet.
Tell me about your growing up years
The story of my upbringing has several directions. I grew up raised by several people, exposed to different environments and culture. I am not one of those kids who had the luxury of having an amazing childhood; but the experience helped form the woman I have become.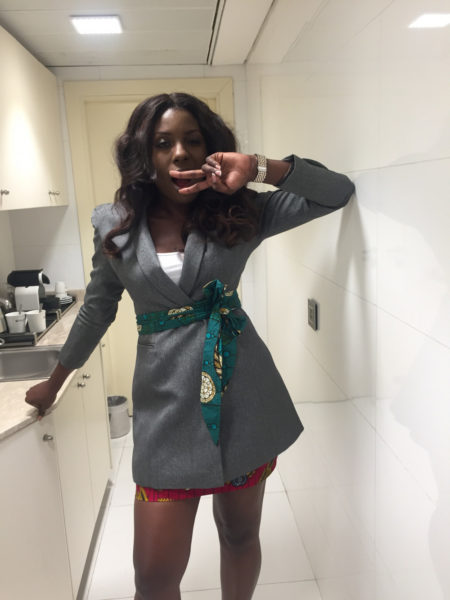 What was your first exposure to fashion and style?
My first exposure was the time I was grown enough to consciously appreciate the concept of fashion and style. Being fashionable for me was innate. My siblings always told me I wouldn't wear clothes without a matching bag. Although I may not have been aware of it much as a child, the love for fashion was there. I would also say my exposure also came from my influences from both my parents. I am sure I inherited my love for fashion from my mom and my knack for quality from my dad.
In your interview with CNN this year, you shared that one of your driving motivations is not wanting to go back to your past. Please can you share some of those stories from your childhood that remain poignant in your mind today, and serve as a motivation for success.
There are so much of past I have striven to leave behind, not because the memories scarred me, quite far from it; but because even as they formed me, I would rather not experience them again. Like I have stated, I grew up all over the place, in different houses with different people. My family didn't live together under a roof for such a long time and that was hard. The journey of my years growing up was trailed with molestation, segregation and as a result, issues with self-esteem. I cannot tell it all in exact details right now but I am hopeful I will get a chance to tell that story and how much I have grown from it.
Please tell us about your educational background.
I was schooled at Day by Day Nursery school, then went on to Ade Akodu Primary School and finished at Aquinas Primary School – all in Surulere. My secondary education was at Girls Academy, Lagos Island and I had my tertiary education at the University Of Lagos.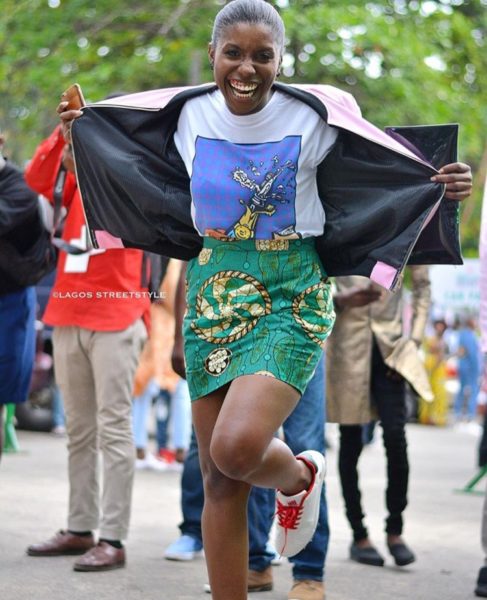 When I asked you about what your job entailed, you said clarified that you were more than just a stylist. Please tell our readers what Jane Michael does…specifically?
Jane Michael is a multi-faceted businesswoman. I am a stylist who works real hard at keeping her brand relevant. My brand has grown to include designing; so I am also a designer and a brand consultant. I am actively involved in motivating people, devising ways to solve fashion-related problems and teaching in different forums all I have learnt in business over time. So, Jane Michael is involved in a couple of connected areas of the fashion business.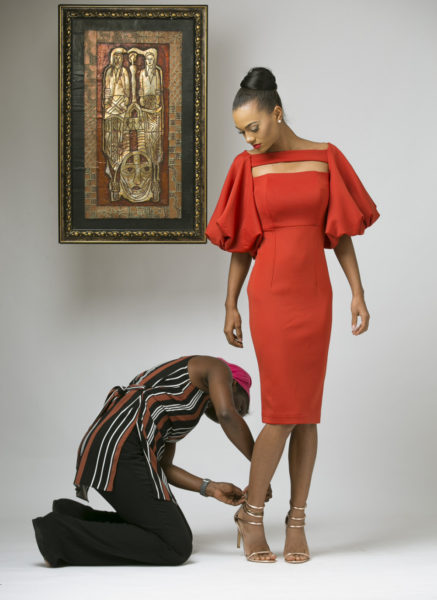 How did you get your first big break as a fashion stylist/ brand consultant, image manager?
My first big break was styling the MTN Project Fame. I, along my partner Jekwu The Stylist, have been the official stylists for the show from Season 2 till date.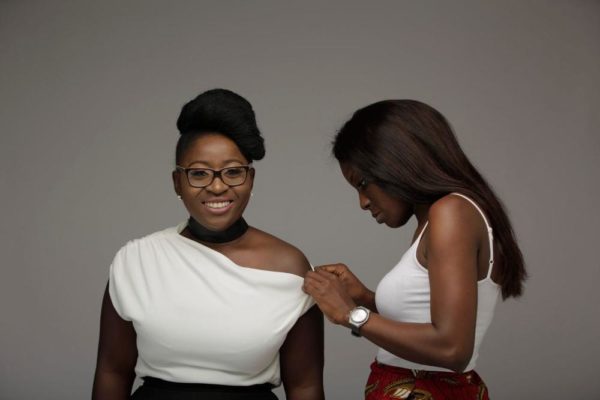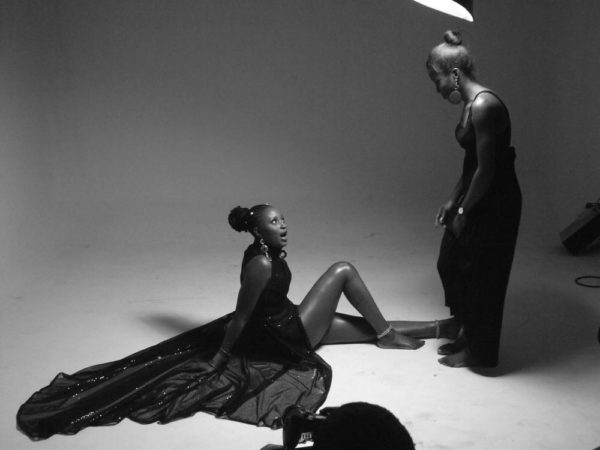 Now, let's talk about the business side of Jane Michael. What specific business model did you use to grow your brand and business?
The business model I have used was a lesson my dad taught me about a good name being worth more than silver and gold. I have employed good morals (even though that is relative) with hardwork and resilience to get results. As regarding my clients, I try to give the best of my abilities and resources to make the outcomes satisfactory.
What's the staff strength of Jane Michael?
My entire team could make up a football team and we are still growing.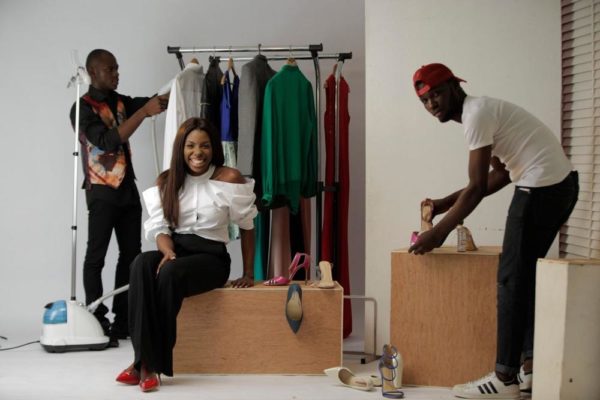 How do you recruit and ensure the commitment of your staff?
To be honest, people have come and gone. Some have left on good terms, others not quite so. I try to follow my instincts  – in addition to doing the needful, such as assessing skill, checking out references and seeing if they are a good fit and all that. It is not so easy to ensure commitment, as I still must monitor them regularly and that makes me feel like I am doing the job myself. By God's grace I have trained them not to compromise quality, even if there are mistakes in the process. As the perfectionist that I am, I am gradually learning to trust them to handle things on their own so the business can expand and grow.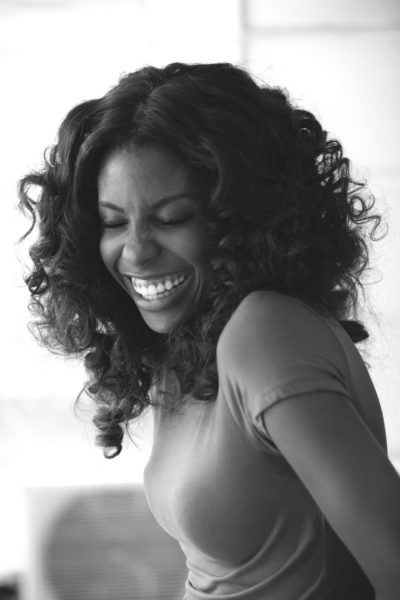 What do you do to keep your overheads low and your profitability sustainable?
Before anything I evaluate the cost of accomplishing a project, even before I place a charge, so I do not run at a loss.
In the last 5 years your business has grown considerably. How do you ensure that your brand still maintains the Jane Michael quality even while you're away on another job?
What has helped me in this aspect is the fact that I am a stockist; so, when we have jobs and I cannot be there physically, the quality remains. I am thankful for technology that allows me monitor my team as they style without me
Do you have a hands-on approach to your work?
I would say yes to that. More often than not, I am directly involved in the planning, selection and final execution of a project. So, yes; I do have a hands-on approach to my work.
Style and fashion is very personal and as such it must be very interesting working with people of different personality traits; what are three practical ways you employ to manage high tempers and running emotions?
First, I listen to them and I try be the reverse of their moods. So when a client is hyper active, I try to be calm, and vice versa. Secondly, I work on my abilities to switch personalities; and lastly I try as much as to be patient with my clients. It is not an easy task, but I try a little more each day to be more patient.
Have you ever had to fire a client who was rude or discourteous?
Yes, I have. First I have my policies; as much as I can be very patient with my client, some tend to abuse the humility I depict or take the respect given to them for granted. So, when I realize such a displeasing situation is happening, I call it a day with between my brand and the client.
There was a time I used an outfit to style an artiste, and this same outfit was seen on the red carpet. The artiste assumed I had used the same outfit to style another person for the red carpet and so she called at 2 am, frantically till my assistant picked up; but she insisted on speaking to me, even though my assistant offered to handle the situation. After she yelled at me, I patiently told her I didn't style anyone for the red carpet in that outfit and it was probably a coincidence that another order was placed for the same outfit.
It was even more possible that it was a coincidence, because the outfit was not custom made; however, she didn't see reason or apologise, she simply hung up. After going back and forth on the issue, during which I made sure I was not rude to her, I had to dissociate my brand from working with her in the long run.
What has been the highlight of your career thus far?
The highlight of my career has been in many stages. From being able to start designing like I had always hoped to, to having successes and rave reviews about my work and being considered to impart the knowledge I have garnered over the years and so much more.
The best thing about being Jane Michael right now is how much growth has come with the sacrifices made.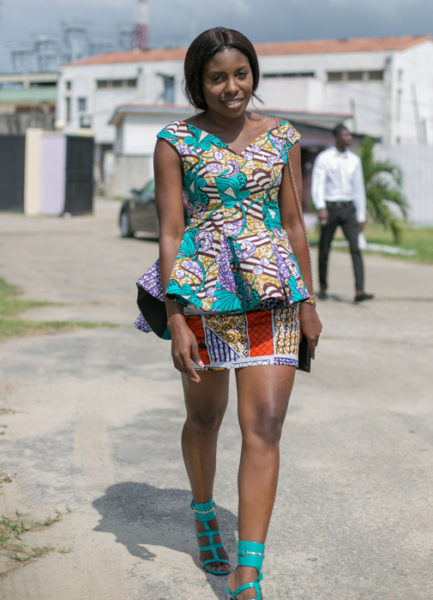 Please tell us some of the challenges you face running this business and the practical steps you take to overcome?
The most recurrent challenge I face is the very minimal availability of resources. This leaves us with no option but to create what we envision by ourselves. We do not have the wherewithal to bring a product to a perfect finish just yet, but we are steadily becoming better than how we started.
How do you balance the home-work dynamics?
Fortunately for me, my mom and I live together and that is a blessing in itself, as she assists me in managing a smooth home front. Thankfully, I am at a point where I have help when I need it – for both work and the home. So, it all goes smoothly, as there is an efficient division of labour.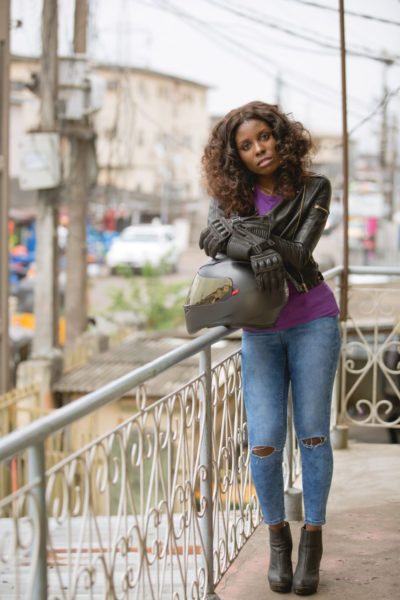 Seeing as you've worked with a lot of Nigerian celebrities, do you get star struck when you see your favorite celebrity?
Well, I still do get star struck, but of course I wouldn't be theatrical about it when I meet someone I admire. I tell them politely without sucking up (or famzing as we would say) that I admire their work and if I am working with the said celebrity, I still keep it professional no matter the struggle. Hahaha
You mentioned something about diversifying into fashion designing and starting your own clothing label, please give us a little insight into that.
People who know me very well will know this aspect of my career has been a long time coming, so it isn't something new. The clothing line already has some pieces out there; but right now I am trying to understand the business side of designing.
Where do you see Jane Michael, the brand in 10 years?
I see a brand and a company that would create all types of solutions for all problems regarding styling, more or less a fashion hospital if I may call it that, where all sorts of fashion defects or anomalies can be attended to.
Let's relax a little
You RIDE!!! Give us some fun tidbits about being a bike rider in Lagos?
The fun part of riding even as risky as it is, is the fact that you look and feel like a demi-god. Secondly, the fact that you are doing things most people cannot and you steal all the attention. That part IS fun.
If you won a million dollar in a lottery today, what's the first thing you'd do?
The first thing I would do would be to have it deposited in a bank and think about what to do, because as I think about it right now, I do not even know what I would do with a million dollars.
What's your favourite holiday destination?
That would be Cape Town. My choice would have been Dubai, but Dubai seems a lot artificial compared to Cape-town.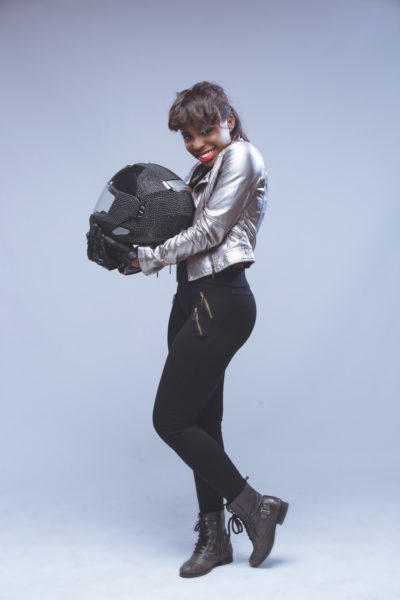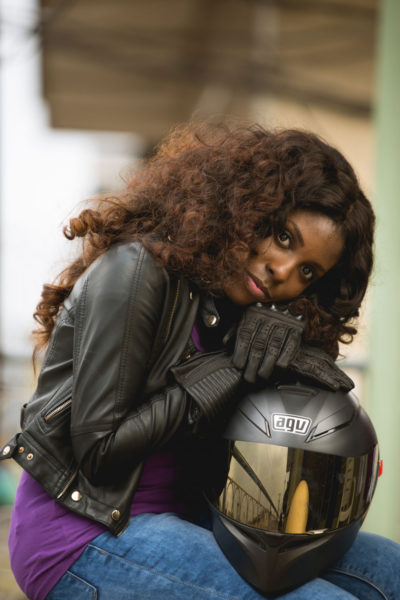 What Nigerian song makes you bust a move without caution?
At the moment, my jam is Meji by Tjan
Who would you absolutely LOVE to style in your career?
Kelly Rowland. It has always been her; I love everything about her, her simplicity, our striking resemblance and so much more.
Three things you won't leave home without?
My phone, my inhaler and my atm card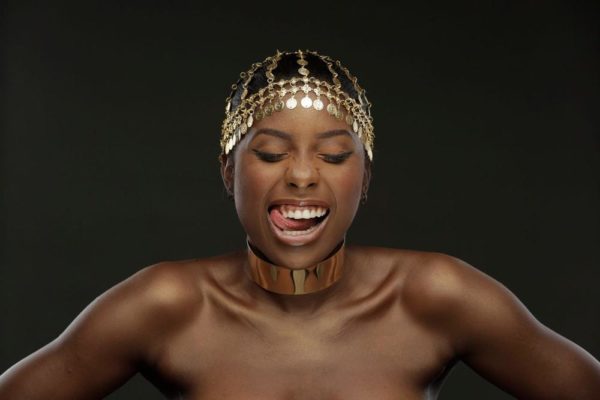 Do you have any final words to remember you with as we close this interview?
Be yourself, try to be a better version of yourself. Live to leave a legacy, do not compromise character – a good name is worth more than silver and gold.
Jane, thank you so much for talking to BellaNaija. It was an absolute pleasure working with you, and I'd do it over and over. We can't wait to see more of Jane Michael on the world stage.