Hey Guys! It's IK Nwosu here again!
I was on an awesome trip to Dubai for BellaNaija this week, and the experience was splendid. See what happened in Days 1 & 2. The rest of the trip was just as amazing and I can't wait to tell you all about it!
***
Day 3
I had cornflakes for breakfast on Day 3 before getting on to the activity of the day.
9AM was when we marched on to the world's tallest building – The Burj Khalifa. It stands at 829.8m above the ground and has 163 floors!! One of the nicest things Emirates did on this trip was to lodge us in The Address Hotel, Dubai Mall. You know why? The hotel is located inside the premises of the Dubai Mall and from there you can navigate to the Burj Khalifa without seeing the sun!
Getting to the 124th floor of the Burj Khalifa is another wonder of Science/Dubai. In less than 50 seconds we were 'elevated' from  ground level to 124th floor! In less than 50 seconds! Cutest thing is, if not for the display system, you wouldn't even know you had started moving.
I discovered what it means to feel on top of the world.
You know, for people like us with the T in TDH nowhere to be found, it's a big deal to stand on a platform high above billions of people. We have been called 'down to earth' aka Short, but in those 30 minutes, I was 'highly favoured'.
I had the sweetest meal on the trip in the afternoon of Day 3. Sea Food Kabsa and Lamb leg. Lamb leg was my go-to meat anytime I was at the Restaurant for the buffet.
Seafood Kabsa is basically Arabian Rice, Shrimps, and Tilapia.
Day 3's buffet was special. A beautiful Chinese singer was performing in the background and it was heavenly!
Next stop was the Dubai Desert Conservation Reserve. We left sometime around 3.30PM to begin our desert experience. Thankfully, the temperature was beginning to come down to what our Nigerian skins are used to.
First stop: Falconry.
After this, we moved on to get a good view of the sunset. Instead of moving in the smooth track created, we navigated our way through the sand dunes and it was simply breathtaking!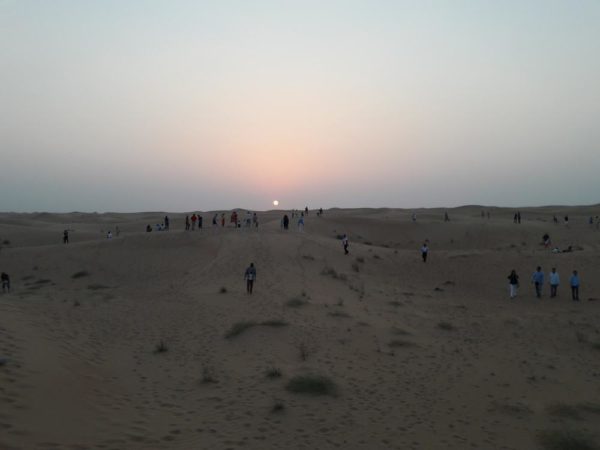 After viewing the sunset, we continued the dune drive to the camp where the camels were already stationed, waiting for the guests. Because the word 'amazed' has been overused, I'll borrow from Peter Pan… I was overgasted and flabberwhelmed!
This camp gets about 500 guests two times a day, but here is the good news, they prepare food for twice the number! So the food was not enough… it was too much! Well, if we had gotten up to 20 people of my kind there, this wouldn't be the case.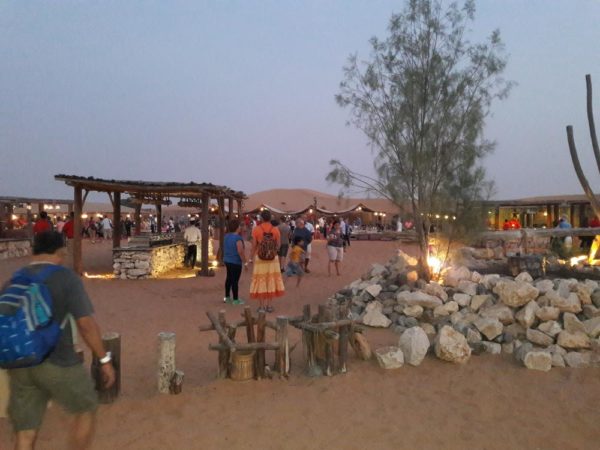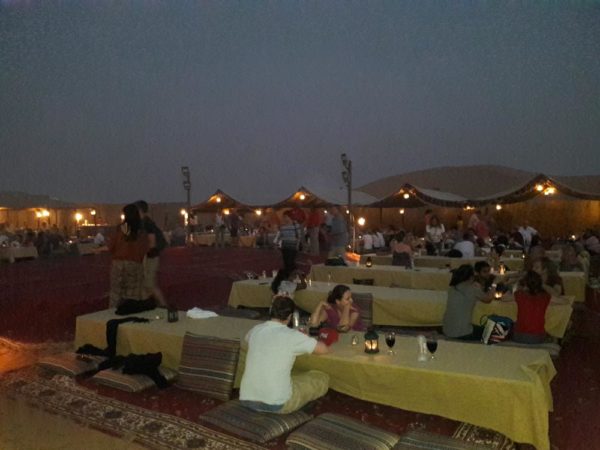 Dinner!
We proceeded to the hotel, but this time, using the smooth track. Khan (tour guide/ driver/ helper/ comedian) kept cracking us up. We asked for WIFI and he said "Yeah sure" with a smirk, and then he put on the radio and started laughing.
At the hotel, I saw a movie – Creed – before going to bed. It starred Michael B. Jordan and Sylvester Stallone.
**
Day 4
I was so looking forward to this day. The day we had a tour of the world's largest indoor themed entertainment destination, sitting on 1.5 square feet of concrete in a temperature controlled environment. I'm talking about IMG Worlds of Adventure!
The park, which opened on August 31st 2016, contains four zones: Marvel, Cartoon Network, Lost Valley – Dinosaur Adventure and IMG Boulevard.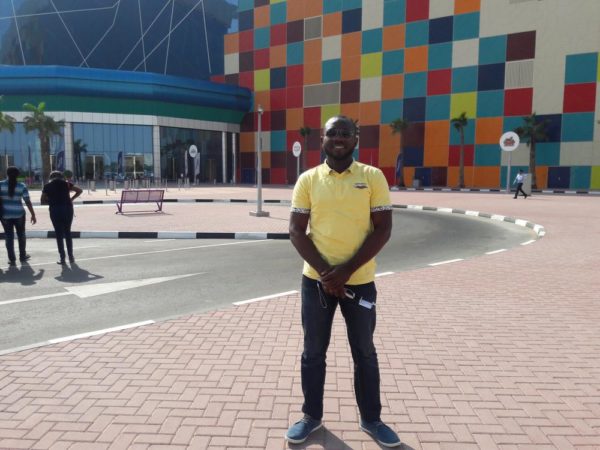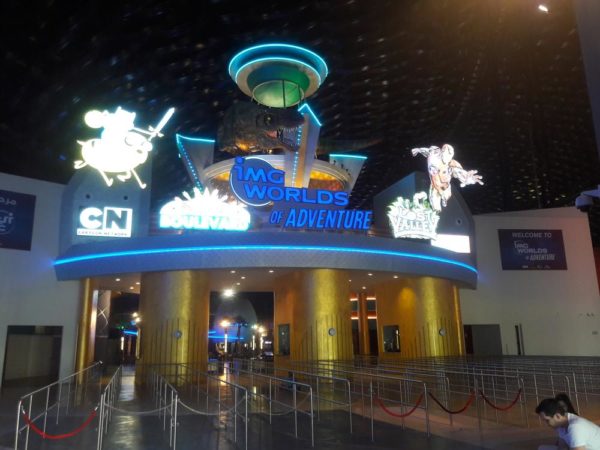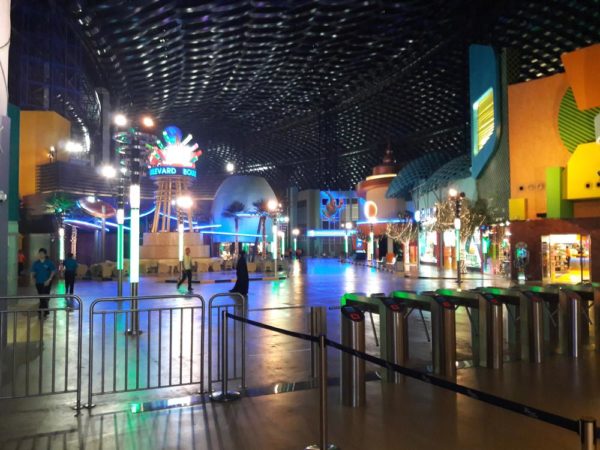 We had a wonderful 3D experience in the Marvel Zone which spans across 350,000 square feet with attractions that centered around Spider-Man, Iron Man, Hulk, Thor and Captain America. It was so surreal that the guy by my side was dodging bullets, blows, and buses.
What about the Cartoon Network Zone? Speechless! We had the realest experience to reality in the Ben 10-themed 5D Cinema. What a wawu!  The 5D Cinema features recruits (us) going through training with Ben 10 and Rook. It was simply breathtaking! You could actually feel the bullet miss you, the foul smell (not foul though) from an ugly looking creature, and the way the vehicle turns to avoid a collision. At some point, we thought we were falling off a skyscraper for real because the engineers were more than good at their jobs. The seats were perfectly designed to create the near-reality experience. This zone covers 230,000 square feet.
The Lost Valley – Dinosaur Adventure Zone seats on 700,000 square feet including the 'The Velociraptor'. Let me explain this velociraptor for you from its name. It's like rapture in top velocity! We were propelled to 100 km/h in 2.5 seconds! The guy behind me prayed all through the roughly 5 minutes ride.
It was a great experience.
The IMG Boulevard zone covers 200,000 square feet and features a diverse range of exciting attractions, including The Haunted Hotel, vast retail and dining selections, live entertainment and interactive experiences.
The Haunted Hotel! This was the highest point of our visit to IMG Worlds of Adventure. One of the team members said if you have someone that always upsets you, fly them to Dubai and take them to The Haunted Hotel. Damn! It was scary! We negotiated a maze of corridors and changing scenery, encountering all sorts of scary characters against a ghoulish backdrop. Zombies, Vampires, Witches & Wizards, Chained Demons, an Undertaker, and a Human Butcher! At some point, somebody was shouting repeatedly, "Why is he following us?!". Immersive entertainment has never been this frightening!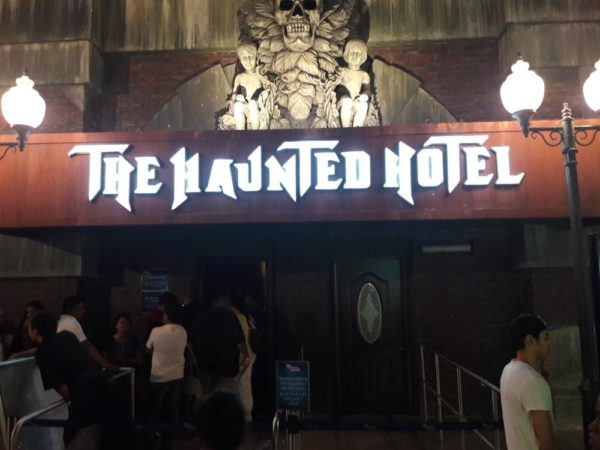 More Photos:
It was really awesome! We went back to the hotel reenacting some of the scenes in The Haunted Hotel, as well as how a team member kept running from pillar to post saying his prayers. He later said he was not scared, but only reacting naturally to the experience… We hear you sir. Well done Mr. Reactor.
We also had a Luxury Dinner Cruise on the evening of Day 4. Very beautiful! It is a must-do excursion for all visitors to Dubai.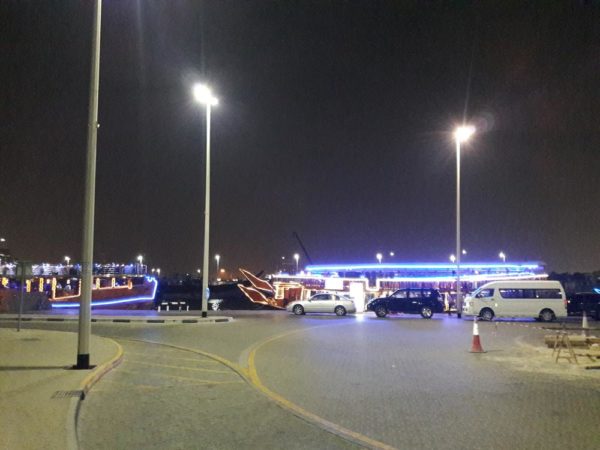 It was indeed a bespoke culinary experience, as we explored the creeks of Dubai in this 2 hours 30 minutes cruise. We enjoyed freshly prepared gourmet cuisine in the comfort of this glass-enclosed, air-conditioned luxury vessel.
Dinner!
We were back at the hotel after a few minutes drive and all we kept talking about was The Haunted Hotel and the beauty of Dubai Creeks. It was and awesome experience.
I'm not done yet! Watch out for my last post on Day 5 of the Trip. Dubai is really a beautiful place!