World Diabetes Day is on the 14th of November and to create more awareness for the cause, a few food bloggers have come together to share some healthy and delicious recipes and BellaNaija Living will be following the #WorldDiabetesDayNG awareness movement. The bloggers also announced that there will be a fun video published on World Diabetes Day, so we're also looking out for that too! Here's a bit of what Atim of Afrolems told us at BN Living;
The idea is to share recipes of food and drinks and some personal stories in between. The participating bloggers are below; Afrolems, 9jaFoodie, Dubai fit foodie, 1QFoodPlatter, My Green Apron, Sisi Yemmie, Kitchen Butterfly, Dobby's Signature, Mummy's Yum, Heels in the Kitchen, Nigerian Lazy Chef, Samantha's Bistro and Freesia Cookery. Follow the movement with #WorldDiabetesDayNG on social media and her on BellaNaija Living.
Here's a list of recipes today:
Deconstructed Vegetable Soup and Uziza Crusted Fish by Nigerian Lazy Chef
Nma of Nigerian Lazy Chef share a recipe for deconstructed Efo Riro with this yummy piece of crusted Salmon and a healthy side of mashed potatoes. She said;
When I say a healthier version, I don't mean it cannot be tasty. We shall just be leaving out the ingredients which could spike a change in a diabetic's condition for the worse.

The use of Iru i.e. locust beans and crayfish replaces the bouillon which we would normally use as a seasoning agent. Then the Uziza crust on the salmon plays the role of a natural seasoning and takes the taste of the fish to a totally new dimension that could possibly rock your world.

This recipe is very easy. Very healthy and very affordable for the average Nigerian family; whether in the diaspora or in the heart of Nigeria.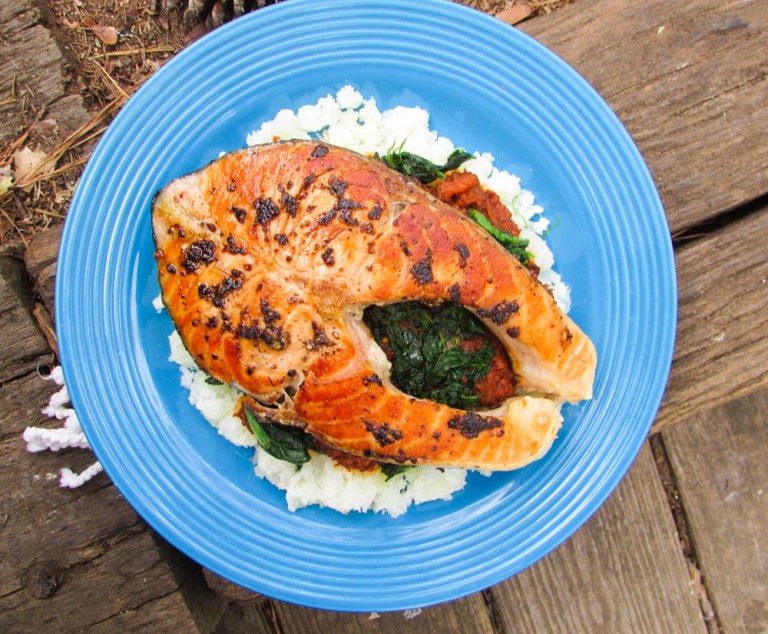 Ingredients
For the Fish
1 salmon steak (any healthy fish works)(rich in protein and omega 3 fatty acids)
A small garlic clove
½-1 tsp Freshly ground uziza seeds(substitute with black pepper)
salt to taste
1tsp olive or coconut oil
For the Sauce Base
4 plum tomatoes
1 Garlic clove(minced)
½ tsp grated ginger
1 small Habanero(ata-rodo to taste)
half a small onion(sliced)
Iru(locust beans)
1 tsp Cray fish powder
2 tbsps. coconut or olive oil
For the Vegetables
spinach or efo tete
salt to taste
For the Starch
1½ small potatoes
salt to taste
Directions
Fish
Season the fish with some salt.
Coarsely to finely crush the uziza and garlic, mix in ½ tsp of the oil into the spices; then rub into the fish. Let it marinate for 30minutes to an hour. Rub the remaining ½tsp of the oil oil onto the pan and cook on both sides until well done.(do not cook on high heat so that the fish does not burn and the uziza turn bitter)
Sauce
Blend or chop the tomatoes and habanero and pour through a fine mesh sieve to remove excess water. Alternatively, season the tomatoes and pepper with a little salt and oil; then roast the tomatoes and pepper in the oven; then blend or mash.
Heat the oil. Add the onions and garlic. Sauté until the garlic is fragrant and the onions translucent. Add the ginger, crayfish and tomatoes and cook until the tomatoes have rendered. Add the iru and salt to taste; then set aside.
Spinach
Place in a pan, season with salt to taste and let it heat up for about 6minutes.
Potatoes
Wash, peel and pour potatoes into a pot. Pour some cold water into the pot, add some salt and cook until soft. using a fork, break the potatoes into little pieces; making sure to mash some and serve with the vegetables, fish and stew.
Plantain and Fish Peppersoup by 1qfoodplatter
Iquo Ukoh of 1qfoodplatter shared this recipe for Plantain and Fish Peppersoup. It also good for when you want to cut back on oil, the spice mix makes the difference. Using diets and exercise, it is easy to control the spikes in blood sugar levels for type 2 diabetes. As we bring attention to #WorldDiabetesDayNG we should review our dietary habits and lifestyle to prevent it happening to us.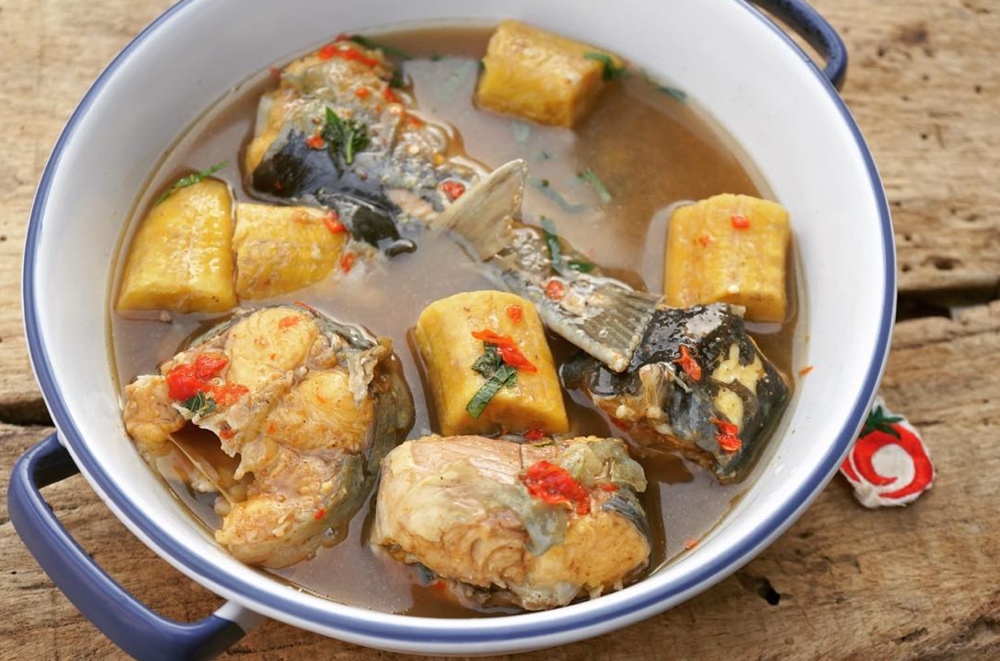 Find the recipe here.
Zucchini For World Diabetes Day by Kitchen Butterfly
Ozoz of Kitchen Butterfly shared three posts for the #WorldDiabetesDayNG movement; a nutritional values post on Zucchini, a recipe for Zucchini Mixed Salad and another recipe for Grilled Zucchini with Chicken & Plantains.
Check back tomorrow as we follow the #WorldDiabetesDayNG movement with more delicious but healthy recipes for you to try out.