"The police is your friend."
This is one of the mantras of the Nigerian Police Force; it is one that the Force takes very seriously. Police officers actually greet you very warmly when they see you on the road.
They advise you to invest your money in the maintenance of public office, usually during the weekend. No amount is too small.
One particular policeman takes this mantra more seriously than most. His name is Commissioner Abayomi Shogunle.
Commissioner Shogunle is a compassionate man. He is not only concerned with fighting crime on the streets. He is also concerned about how updated we all are on latest news from around the world.
He entertains us with fun quizzes online from time to time.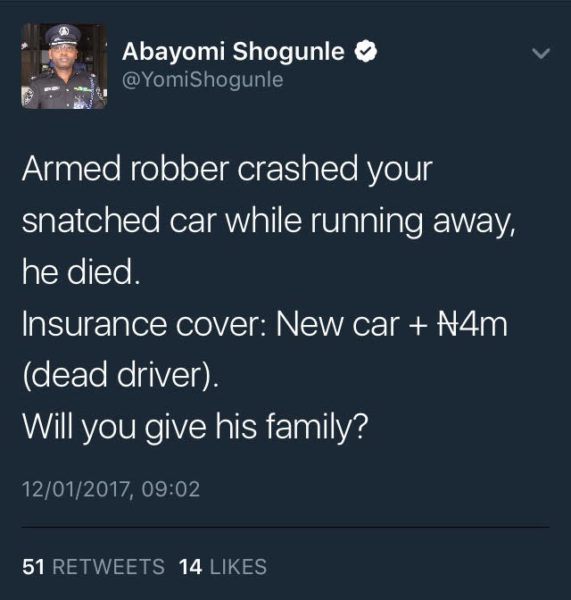 Today, Oga Shogunle may be tweeting about Trump's #MuslimBan. Tomorrow, he may be sharing news about Kim Kardashian's return to social media.
Oga Shogunle knows that times are hard, and electricity is in short supply. So even if we don't have light to put on the TV, we should not be in the dark over important global events, like the new photo aesthetic of the world's most famous woman.
Oga Shogunle sometimes breaks regular programming and brings up to speed on the latest police accomplishments and achievements.
Earlier this week, he told us that while we were sleeping / cuddling, the police was fighting crime…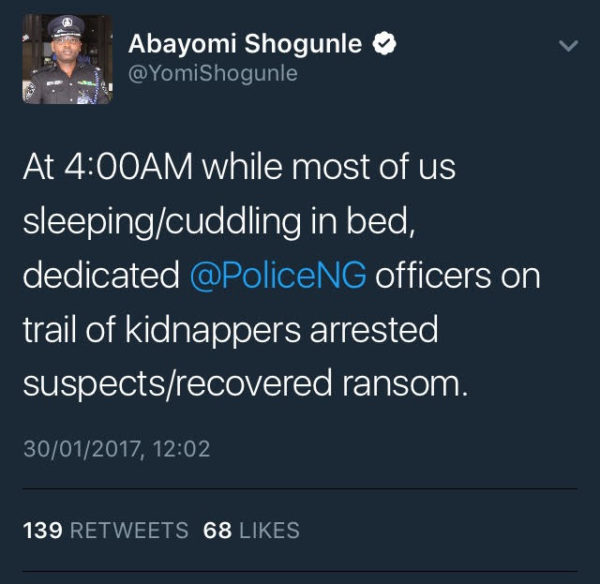 I have decided to write him a thank you letter on behalf of all of us.
***
Dear Oga Shogunle,
I trust this meets you in victorious spirits on account of your recent capture of the vicious criminals threatening the peace and security of our centre of excellence.
I deeply apologize that fellow Lagosians and Nigerians could not be with you at the battlefront at 4AM. After all, when we all sing the national anthem, we pledge to serve our fatherland. Even after being at our own jobs from morning till night, we still should have been there with you, shoulder to shoulder, serving and protecting. That is patriotism.
You are right, you know, most of us were sleeping and cuddling. We are all very sorry for this show of irresponsibility.
Although, I personally wasn't asleep. Resumption time for civil servants like you and me is 12PM. So I was watching Law & Order. From time to time, I watch shows like this to gain information on how I may best help the police catch kidnappers.
Moving on, I am deeply concerned that you had to wake up at this terrible hour to do your job. It is most unfair to you and the rest of the Police Force. I would like to give you some advice sir if you don't mind.
You must demand that it be included in your motto and employment agreement that you can only 'Serve and Protect' during the working hours of 9AM – 5PM. Of course the first three hours of that are discretionary.
Also, you must put out an urgent press release asking criminals, kidnappers, thieves, bombers to also adjust their operational hours to suit yours. I am sure they will comply. They are citizens like you and me after all and they are duty bound to co-operate.
In any case, congratulations are in order sir. I am very sure this feat alone will send a stern warning to other kidnappers to release their captives immediately. Even they should be in awe of such sacrifice like being up at 4AM.
The kidnappers I am sure will let go of their insignificant motivations. Unemployment and lack will always come second to the fear of police.
Sir, should you want to celebrate this arrest and achievement, please tender forgiveness and mercy and invite us, citizens to felicitate with you.
Happy Weekend in Advance Sir.
From:
Douglas,
On behalf of Sorry Lagosians Who Overslept and Forgot to Serve Their Fatherland in Catching Criminals.