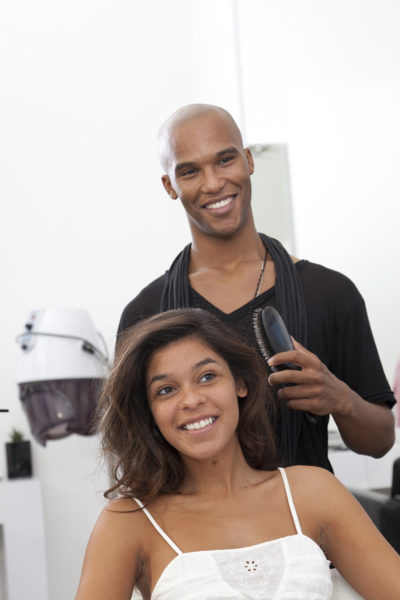 A woman's hair is her identity and gives an insight into her essence and self. Our hair culture has evolved through time; from the days of beautifully crafted weaving styles of didi, high strung threads/ rubbers to the times of cheri curls, Bob marley, Anita Baker, curling piece, gel, braids, Ghana weaving, relaxed hair, Brazillian/Peruvian wigs… and more recently, the natural hair movement. These style trends were propagated and transfused to the society through your local hair salon. The hair stylist that seems ubiquitous and yet obscure at the same time, has redefined a core part of our culture.
The typical hair salon brings together women and girls  from all facets and stages of life literally:
The maid who despises her madam
The madam who is struggling with a business, a husband and six children
A runs girl who is gearing up for her next catch
The lonely housewife who seeks companionship
The  girl who just fell  in love
In all these seemingly disconnected circumstances and personalities, there is all but one purpose…to be attractive and beautiful.
I can't quite put a finger on what makes women identify and blend with other women at the salon; competitive tendencies, kitty claws, airs, envy, foreign accents (real and imagined) are all shelved. Social class, privileges and status seem to be non-existent. In replacement is, this hive of women who want to be more beautiful. They are chatty, and they bond faster than could ever be imagined in other circumstances.
The sister spirit that I always witness in salons is truly inspiring, but it does not seem to last beyond that environment. Why is this so I wonder?
Maybe there is something about a group of women together enhancing their physical appearance that invokes a certain affinity to themselves that usually wouldn't occur, but that's for a human behavioural scientist to investigate this weird phenomenon that occurs in hair salons.
In our culture, it's atypical for people to discuss or seek professional help pertaining emotional issues. It is my prognosis that part of the reasons why this is so, is because the hairdresser has indeed filled that gap adequately in so many ways. On more than one occasion, I have witnessed true tales and confessions from women in hair salons; it is strangely similar to a pictorial view of a client and the therapist/psychologist.
Then there is never a lack of stories and drama! You hear genuine down-to-earth tales that either bring you tears, laughter, or leave you amazed, at the tenacity of the African woman. Truly, our hairdressers are an invaluable part of lives; mores that they hold and hear so many of our deepest and scariest thoughts, while trying to make everything better with the latest hair rave.
You are also interwoven into a world of feminine experiences, which is a  colourful experience of a collection of diverse women handling their struggles, triumphing in battles, birthing every year, heartbreaks, being broke, being in love with the wrong man and surviving. It's all there, with room for a whole lot more. It is a subtle reminder that you are not the last crazy woman to walk the earth. Through this hair bonding experience, most women have found their voice, solace and even lifetime friends and confidante.
Ironically, for the male folk, this strange group bonding does not apply to them, when they are getting a new look. You don't observe them band together thick as thieves conspiring on all women – dead and alive. Nah! They mostly keep their business simple and move on.
I can't tell if men can sense that the hair salon is a women's sacred ground, because majority of them are weary to step in one, and even when they do they are out faster than a bat out of hell. Talk about knowing where you are not wanted.
Most men usually groan that the only output of a woman's visit to the salon is the subsequent drain on their resources. This comes in handy if you move into a new area and you are at your wits' end on what the place is all about. Please let your wife visit the nearest salon, pick a hairstyle, that will take at least 6 hours to finish. You'd be blessed with information that will not only save your money on household items, but also on niggling neighbours to avoid. Thank me later.
There is another dimension of having the male hairdresser which seems to be catching on with more hair adherents. Is it just me or opposite sex hair dressers are more effeminate, compassionate and seemingly caring than the other men you know?
I like a good story like the next person out there; so whenever I want to put my hair down literally and metaphorically and acquire a fantastic look to uplift my spirits, I book my next hair appointment as I know it's going to be a fun filled experience.
Please do share your hair salon stories true or imagined. 
Photo Credit: Photographerlondon | Dreamstime.com