Nkechi Busari-Okoro: Being a New Mom! Things Nobody Warned Me About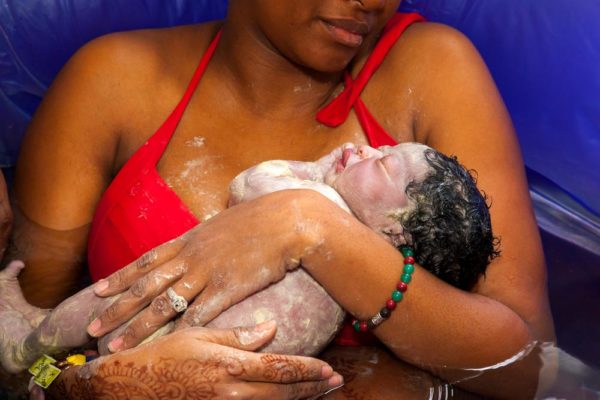 As a first time mom, nothing prepared me for the experience of having and caring for my own child. I had toyed with the idea once or twice, it came to me as something I could handle as I had other areas of my life, I guess. Not even the pregnancy and baby care websites I had subscribed to prepared me for the labour pangs, the teary experience of seeing a new human being made of a hundred percent of me and a hundred percent of my husband; the sound of his loud cry, the joy of the feeling of escape – escape from the discomfort that came with pregnancy (little did I know that I had escaped into something more challenging!). Nothing prepared me for the feeling of accomplishment that I had. To me, I had achieved a new feat, I had created a family. My own perfect little family.
No one warned me about:
Sleepless nights spent feeding or cuddling baby. In the past, I could sometimes sleep for up to twelve hours on Saturdays and still wake up tired.
Restless days spent hanging on to your sanity.
Baby's stomach upset which started just less than a week after he was born, up till about three months after.
Bouts of baby's post-immunisation fever and tantrums.
Dysentery baby had developed a while later. I guess it was the formula, I'm not sure.
Even what a paediatrician called seborrheic dermatitis!
Wads of cash spent and still being spent.
If you had a baby in the abroad, you know the struggle flying thousands of miles back home with an infant. A nice little Nigerian woman had to save me when we were in transit. Another lovely lady held my baby for some hours, so that I could eat and catch some sleep. She must have seen the exhaustion in every part of my body.
As for my body, it had changed. Breastfeed or not, your breasts change. They'll no longer be as plump as they once were. If you're like many of us, you'll most likely develop stretchmarks on your tummy. Mine came when my pregnancy was already about eight months gone. Why evils? I had consistently rubbed on my stomach a mixture of shea butter, coconut oil and bio oil; but they came nonetheless. I genuinely thought I had dodged that bullet.
The bulgy stomach. I'm sure I had had one of the flattest midsections on the block. I lost a lot of general body weight after delivery of my baby, but this midsection, I attest, is the most stubborn. I'm still working on it. Laziness will just not let someone shine.
They say one's hair falls off after they've had a child. I guess mine did; or maybe it fell off because the hair do I had on had been there for a while. Anyway, when I got back, I tinted my hair to a mild burgundy colour, more of my hair broke; then I ran to Jamaican black castor oil my sister got. It revived my hair.
My mind. I've certainly not experienced anything as personally emotionally challenging as having a baby. When I was a newer mom, I'd just sit and cry for no reason. I had to let out all the stress somehow. The nurses and the articles said it was the pregnancy hormones and that it was normal. I was moody some of the time. There was no longer "me time". There was now a human right in my face, waiting on me every time and I was fully responsible for him. When he slept, I'd squeeze in a few minutes of sleep too. Otherwise, I was on my own…
Nothing indeed prepared me for the deep love I feel for this child; the pure unadulterated love. Nothing prepared me for caring genuinely for someone other than myself, in the most fiercely protective, most defensive, most possessive way. Absolutely nothing!
Photo Credit: Jbrown777 | Dreamstime.com