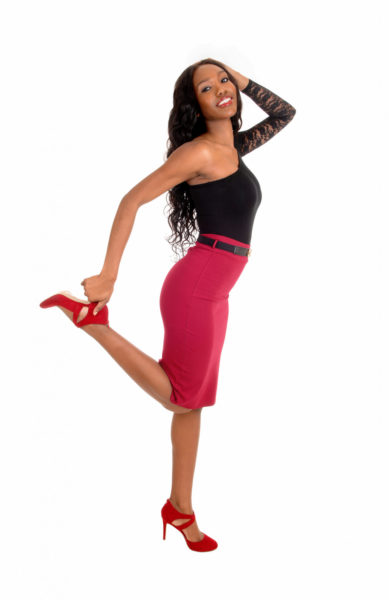 The first time I saw her pretty face, I was standing in the front row during a Sunday morning service and she was on her knees on the platform, in a body-fitted white shirt and red spandex skirt, with a black wireless microphone close to her mouth as she sang: "You are ole, so ole, so ole, you are the Lord.."
I knew the Lord was not ole, or so ole; it was just the way she made 'holy' sound. I was captivated by her thick lips – the way it parted – well-announced by the bright red lipstick she was wearing. But it wasn't until she got up and I saw the way the skirt which stopped above her knees moulded her body, and I saw her standing on her red heels with her silky-smooth shapely legs, that I decided to get her on her knees some other way.
I had spotted other voluptuous ones in the choir behind her; but the energy of the performance rested on this woman. Who would go for the back-up singers when the diva is available in all her glory? Not me! I had just been posted from Lagos where I was second to some fatheaded idiot in our branch office, to Akure where I was second to no one. How much would a branch manager of a bank spend to live like a king in this city? Even in Lagos – in Ojuelegba branch where I had been until the redeployment – they knew my story. I had attended churches like this when time allowed it; and I was always among the ones desperately sought by beautiful and trendy women. I knew how to get these fishes.
She was not the only choir member in red skirt and high heels; she was just the only one in spandex. She was the only one who made me think of 50 Cent's verse in that rap track with Eminem, about a girl whose nice lips he had complimented and the interesting imagination that followed.
Soon the pastor walked to the stage and got the microphone from the young woman I had been watching like a hawk. The light-complexioned, chubby-cheeked man of God in white suit and matching shoes said praise gahd and I heard screams, and whistles, and shouts of hallehlujah. When he said gahd is in this place, I agreed. Gahd is a good gahd, gahd is a faithful gahd; can I get a witness in the house!
The bass guitarist, the keyboardist, the crazy-looking man behind the drums, the shouters and the screamers and the jumpers; we were witnesses for the man of gahd.
The sermon was typical: the Lord really wants to bless you; he really wants to enlarge your territory. But you've got to pay your tithe, if you don't pay your tithe you are inviting a curse. And you've got to sow a seed to connect with the grace of the man of gahd; you have to join a unit in this church, to serve. I had nothing when I started this ministry, all I had was my faith in gahd; but gahd has changed my story and he would change yours' if you can picture it in your mind. If you can pursue, anything could be yours. Gahd wants you to possess your possession.
The pastor was a delight to watch. He knew when to pause, when to raise his voice, when to put in the rhymes, and when to get words of response from the congregation. He ended the sermon with something about whatever you desire, whatever it is, whatever means whatever, brethren; the Lord will give unto you.
So when he asked us to rise on our feet to pray, I prayed to gahd for the young woman in red spandex skirt. She was my desire and the Lord has given me a blank cheque.
The Bible says heavens help those who help themselves. No, maybe not in those exact words. Thing is: you don't just pray to God and expect God to do everything for you; so I decided to do as the man of God has encouraged us to do during his sermon. I had my Range Rover Sport in the parking lot – which I noticed was the most glamorous car there when I parked it – ; and I had my complimentary card and some naira notes in my wallet. I would wait after the service, I would position myself properly, strategically. I would greet her with a smile, as if I had not been thinking about it, as if it just came to my mind when she came near me; I would tell her how she had blessed me with her ministry. Then the envelope. It is my seed, I would tell her if she gets wide-eyed and gives me that crap about not taking things from strangers. I was sure she wouldn't. If she would take the envelope she would take the card too, and I would make sure she see me walk to the Range Rover Sport.
That was exactly what I did. I think you've heard it once, but let me say it again, I know how to catch these fishes.
Bola was a geography teacher in a state secondary school but you would never know. The dresses, the shoes, the jewellery, the weave on, the smell of her perfume, the soft whispery voice; you could easily think she belonged to a place that paid hundreds of thousands in a month. On our first date – on a Saturday afternoon – we went to a restaurant beside the mall. She ate fried rice, moinmoin, coleslaw and chicken, she wanted ice cream, she wanted two extra take-away packs; she preferred water to a soft drink. She said she was watching her weight.
"How come you are still single?"
"I'm still waiting on God for direction." I said.
The following day I drove her to my place after Sunday service. The gate man opened the gate before I could press the horn, just the way I wanted it to be. She took in the well-tended flowers, and the green lawn, and the swimming pool, and the giant white generator under a shed.
"This is a very nice place." She said. "Do you stay here alone?"
I smiled and nodded.
I knew she would cling to me like a nail to a magnet because she had been close enough. I knew it, I could see it in her eyes when I opened the door, when she saw the things in my sitting room.
I had not given much thought to proper entertainment for my guests in terms of food and drinks. I had some wine in the fridge; alcoholic wine, fruit wine; some soft drinks too. I had noodles, apples, cakes, chocolates, groundnuts; the things I could eat when a trip to the restaurant seem too burdensome.
"What should I offer you?"
"Do you know how to cook?"
"No," I said.
"So I can assume you don't have things for home-cooked meals."
"Any ideas." I asked with a wink.
"Let's go to the mall. We'll get some foodstuff. I will cook something nice for you."
We got a full trolley of foodstuff, I was the one pushing the trolley as we made our way to the parking lot. I imagined being married to her. I was sure she felt the same way too.
I enjoyed the meal; Bola was an excellent cook. I could tell she had been cooking rich meals, the kind you would see in those TV ads of food seasoning where families would gather around a table of food with their teeth showing.
That night I got her on her knees in the ways I had imagined it. Both ways.
That was not the last time. She was a very passionate woman.
One evening, we sat at the botanical garden near the government house grounds, taking in fresh air, watching other couples clinging to each other, children playing with balloons and toys.
That was when a man walked to us to ask us if we know the Lord, if we have a personal relationship with him.
I told him we do. He annoyed me when he wanted to know if we were very sure.
"I attend WBL," Bola said. "I sing in the choir."
"That does not matter." The man replied. "Matthew 1:21, 'his name will be called Jesus because he will save his people from their sins'. If you are not saved from sin, what you do in a church, or your position, doesn't matter."
I was pissed. I stood to leave; she followed me as expected.
We were soon in the car; I was driving her to choir rehearsals when she told me about her period.
I had prepared for her but she would never know.
"Bola, you can't have that baby." I said solemnly.
"Why? What are you talking about?"
"There are some rituals we do in our family before a woman can even conceive for us. If we don't do it, the baby will be born deaf, dumb, and crippled."
"I can't abort! I am a Christian!"
"You have to." I said, avoiding her eyes. "We have two crippled, deaf and dumb people in our family. Their parents took the rituals lightly. Baby, I don't want our child to be like that."
I gave her some tissue paper for her tears. It took me about two years to shake her off; it took her that long to know that three other fellow choir members had been getting on their knees for me while she was there thinking of keeping it all to herself.
Photo Credit: Horst Petzold | Dreamstime.com