IF I HAD KNOWN HOW THE DAY WOULD TURN OUT, MAYBE I WOULD HAVE STAYED AT HOME….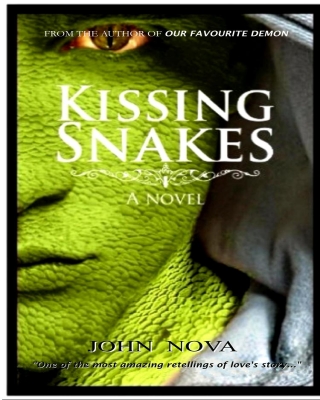 John Nova is a public speaker, business consultant and underground rock musician (under the name XTSamurai). A lover of tea and long walks, he is also the author of "Our Favourite Demon". He is largely inclined to religion, a fact which is reflected in his work.
His book, "Kissing Snakes", is the story of a man who takes his son and his neighbour's daughter on a trip to his farm. He warns them not to touch a chemical called The Goo, but they flout his orders, and gradually transform into reptiles. Things get more complicated when these reptiles begin to reproduce, and he is left with figuring out a way to return the kids to their original state, while trying to stop the reptiles from multiplying.
This body of work, rendered in the first person narrative, could be referred to as a novella, owing to its length. The use of language is graphic, the descriptions are top notch, plus, the themes of sacrifice, the ripple effect of mistakes and the importance of obedience are well explored too.
"Kissing Snakes" could be seen as an analogy for the fall of man, origin of sin and the ultimate sacrifice of redemption as chronicled in the Christian Bible…if only the author did not have to explain himself in the final pages! It would seem that the doctrine of "show, don't tell" is lost on some creatives. While the book is apparently faith-based and would appeal to Christian literary enthusiasts, it would have been a lot cooler to let readers figure it out. Chronicles Of Narnia, anyone?
Away from its didactic value, the narrative is experimental, it reeks of speculation, and it would be interesting to see how Nova tries to write a longer manuscript in the future, while exploring diverse themes. I admire his sense of imagination, and I think his art should transcend religious perspectives. "Kissing Snakes" is short, not-so-simple, and laden with undeniable literary potential.
We dug out what some other readers had to say about John Nova's Kissing Snakes. See them below:
"Writing a story which exglains the Christian faith in a way that is believable and makes sense is kind of the holy grail for a Christian storyteller. KISSING SNAKES is a fable that attempts to do just that; and it succeeds far better than most in its goal."
"Tear-jerking. Nothing prepares you for the read. I was astounded, horrified, moved..and I cried."
"I wish the whole world would get to read this."
"What a cliffhanger!!! You are a genius!"
"Beautiful! Just beautiful…"
Rating: 6.8/10
Want a copy of John Nova's "Kissing Snakes" ? Get one here on the OkadaBooks store.
Jerry Chiemeke is a lawyer who resides in Lagos. His works have been featured in The Kalahari Review and Brittle Paper. His editorials have also appeared on True Nollywood Stories and he is currently a book reviewer on literary blog Bagus Mutendi. He recently published his first book, "The Colours In These Leaves".