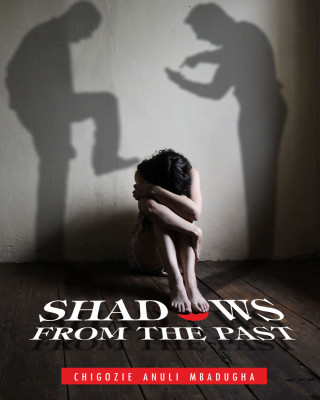 How does one describe a circumstance that makes one's life a living hell? How does the sudden downturn of events cause one to become heartless and careless?
When I started reading Chigozie Anuli Mbadugha's "Shadows From The Past," I thought it was centered on a rape victim and how she survived the trauma and moved ahead.
Well, that's not the exact case with Ada, her mother, and siblings. It is instead, about their bad childhood experiences and how it affected them negatively, even after 20 years.
Ada is the first child of Mr. and Mrs. Chukwuma. She's on a mission to help every member of her family overcome their fears.
While her father, Mr. Chukwuma, was a marshal in the colonial court, working closely with the British colonial masters and interpreting from English to their indigenous language, his wife, who he married at eighteen, is a petty trader, who also did farming on a small scale, so as to care for herself and her children.
However, Mr. Chukwuma did not care for his family. Even as a wealthy and educated man in his village, he hardly dropped any reasonable sum for upkeep and school.
His anger towards his family escalated when Nigeria got her independence. Colonial courts were replaced by Customary courts. He lost his job. Life became tough until he was able to land a teaching job at one of the village schools.
But then, he'd beat his wife up for anything, even for an offense as little as moving his shoes from one spot to the other. Same anger was meted out to the innocent kids; several lashes of the cane and being locked up in his study wardrobe for as long as two days without food, water, or even using the
convenience.
The kids got so used to the abuse, so much so, they started to try to take beatings for their mother.
In the midst of all these, Mr. Chukwuma had a concubine, to the knowledge of his wife, children, and the entire village, who he spent all his money on. And he never failed to rub her in his wife's face, a lot.
Years later, the past is still with Mrs. Chukwuma and the now grown up Ada and her siblings, affecting their lives and marriages negatively.
The book maintains a normal pace. The writing style is basic, just the way I like my books.
Most importantly, I love the way the author dabbled in the past and the present, thereby helping any reader understand the experiences that brought about the present state of every member of the Chukwuma family.
This book may be just a novel, but I recommend it for everyone, especially those who have had an abusive experience, either in childhood or adulthood. There are lessons to learn here, on how to overcome such sad experiences.
The author did a good job of putting this novel together. Reading it helps one realize, you can overcome abuse of any kind, and still go on to live a fulfilled life, as long as you open up to those who care about you and truly want to help.
You can get a copy of Chigozie Anuli Mbadugha's "Shadows From The Past," on Okadabooks. Click here
**