BN Prose – The SilverCoin Series: Trying New Things by AJ Nwaeze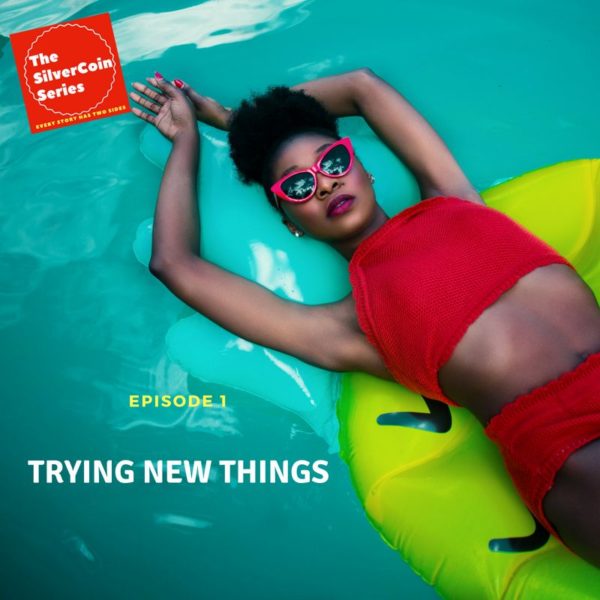 The Head
My mother never liked thongs and G-strings, especially the ones with ribbons and butterflies behind them. Not on herself, not on her girls, not on any female.
"Take off that rope my friend, and put on something decent," she ranted at my half-dressed size 8 reflection in the mirror. "Do you want to parade the streets with that pink catapult behind you?"
She let go of the tiny piece she picked from my behind, pushed me aside and headed towards the kitchenette, her sagging wrapper trailing her. Then the room went quiet like an angel had passed.
My name is Asama Martins. I am 27 years old and my mother lives with me – at least for today. As a child, I saw my mum as a saint. But as I grew older, she too grew – from the sweet mother of a 'beautiful fish' (like my dad prefers to call me) to a restless horse who gave birth every other year and yelled at her daughters at every chance as though we were the cause of her son-lessness.
I wondered how dad had been handling her attitude for 30 years now. Little wonder he encouraged her to spend weekends at my place, while he buried his worries in beer.
Anyway, I never really liked thongs and G-strings, especially the ones with ribbons and butterflies behind them. I just wanted to look good in my bodice dress without those embarrassing pant lines from fully covered undies.
Tonight was all about breaking new grounds, and from my lingerie to my choice of date and the hang out spot – everything was a first-time try. I wasn't going to let my mum's thong-disapproval change my decision.
"He is here oo," mum yelled from the kitchenette. The enthusiasm rang through in her voice. She was always happy whenever I had a date. "Asa, have you blocked your ear with makeup? Can't you hear the doorbell?"
It was 6:30 PM and my date wasn't supposed to show up until 7. I wondered why she was 30 minutes early. And did mum say "he"?
I rushed to the door. Behold, mum was right, he was here!
***
The Tail
I got into the country a week ago, and damn! Nigeria is as hot as the Libyan Desert. From the moment the pilot announced the flight's descent, I could feel the air in the plane tighten up like the snail between a celibate lady's thighs. Urghh! The thought of snail gives me chilblains – why eat snails when carrots taste better?
It was the evening after our last game. My team had been terribly humiliated by D'Tigers in the court, and I needed a shoulder stronger than mine to lean on and cry out my frustration on missing a half-court shot that would have earned us more points.
"Cheer up, we did our best," Coach Ben assured the other boys and I. "That was to compensate for their brothers losing to Croatia at the football tournament," he teased.
I heard Nigerian men were all straight, except for a few. I also heard the men loved skirts, so I played along, with their best interest at heart.
Aha! I was excited when I got a notification, 'Congratulations, you have a new match.' A man eventually fell for my beautiful profile picture: me in a hot dress. And, to be frank, of all the pictures of guys I swiped right, my favourite was the one who returned the favour – Martins, 27, Chef, Lagos.
Martins and I had been chatting for two days before finally agreeing to hook up at 7 PM. As my Uber pulled over at his apartment somewhere in Lekki, I opened my pseudo Tinder account, just to confirm my name, age, gender and occupation: Rhoda, 25, female, basketball player.
Rhoda was the easiest female name I could think of. Maybe because it reminded me of Rwanda and my Umukunzi, Rodrigue, who I couldn't wait to return to. I smiled to myself; at least I was truthful about everything except my gender.
With all the five litres of blood in me flowing down south, I hurried my steps toward the flat B – It was only 6.30pm and I wanted Martins to have an early surprise.
"Hi, I'm here for Martins," I said to the young lady at the door. "Are you his sister?"
To be continued…