Oris Aigbokhaevbolo: Merry Men is Silly But Better Than the Akpos Movies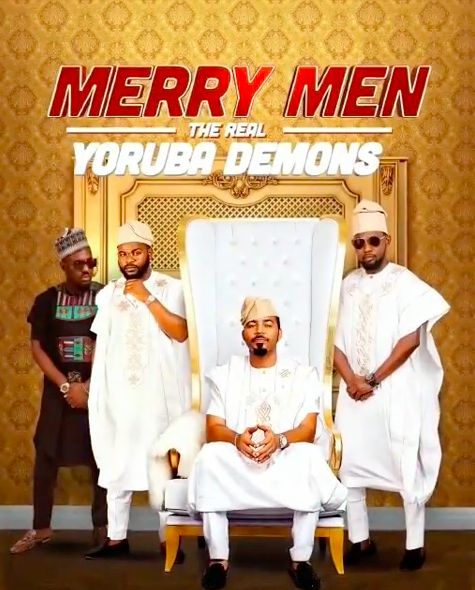 Three cheers for growth! Ayo Makun made commercial history with a mediocre movie, and then he did it again with a bad movie. He's back with another comedy, which as the end credits reveal, will become a series. You might want to roll your eyes, but wait a minute.
Merry Men: The Real Yoruba Demons follows a group of men as mischievous as they are merry. They might even be misogynist but that is hardly the concern of the film's screenplay. There is Ramsey Nouah (Ayo Alesinloye), Makun himself (Amaju Abioritsegbemi), Jim Iyke (Naz Okigbo) and Falz (Remi Martins).
This is an approach to casting that brings the past and present of Nollywood together: Nouah and Iyke are frozen in youthful middle age; Falz is old enough to remember them at his current age. Together they make a group of supposedly maverick characters. But throughout this film their genius is limited to shopworn banter from Nouah, crudely clever retorts from Makun, and idle laptop fingering from Falz.
Iyke's own maverick ways is restricted to a smugness amplified by his increased weight. But some things have hardly changed in Nollywood: Jim Iyke is still the bad boy and the film's screenplay remains in service of his prurient ego all of these years later: he gets to passionately kiss the film's overtly sexual character and get her to fall for his ageing charm. The other guys don't do too badly: it is almost as if Anthony Kehinde Joseph's screenplay is interested in the pimping of fictional women to Nollywood star actors.
Of the four men, Nouah is of course the superior actor; but these days, AY is the superior brand. It is the mix that brought success to the 30 Days in Atlanta series. AY takes some of Nouah's Nollywood currency and Nouah takes some of AY's commercial appeal.
The plot involves the bulldozing of an area in Abuja close Ayo's heart. The Merry Men decide to scupper the plans by destroying the businessman scheduled to carry out the demolishing. Before they settle on stealing his money through some half-baked heist, they think to threaten him with a sex tape. Played by a mostly funny Jide Kosoko, the man bluffs his way through this threat in one of the film's standout exchanges.
A minor plot has a libidinous Amaju engage in some hanky-panky with an oversexed government official played by Ireti Doyle. It came as a small shock to see that Makun and Doyle have more chemistry than AY and Adesua Etomi in 10 Days In Sun City.
The film, which is genuinely funny on occasion, ends as you know it will: All of the Merry Men survive, their looks, liquor, and lust intact. The only surprise is that even with its low stakes, it represents progress in AY Makun's Nollywood journey. But, considering how his older films played out, maybe that isn't too much of a surprise. As always the Makun Method is simple: Pay Me, Laugh When You Can, and Go Home.
The laugh part is optional, of course.