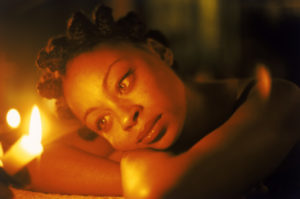 Mmphmmmm…Mmphmm…" he groaned as he thrust back and forth into an almost lifeless form, making a rhythmic sound with the creaking bed, squeaky jarring notes that pleasantly annoyed the neighbours.
Baba Taju, the palm wine tapper, could no longer stand the noise. He was soon at the entrance to bang on the roofing-sheet door that led to their dingy room. When she eventually managed to tilt him off her, after he was done and was now snoring, she opened the door to meet a committee of angered neighbours. The spokesman, Baba Taju, stated that they could not tolerate the nuisance the couple caused every night – all the children now sang along whenever the couple moaned in the throes of late night passion. Iya Alapere, the basket weaver, even mimicked the trademark sound, angrily cutting Baba Taju's speech short.
"We all know empty barrels make the most noise; we whose homes are filled with children, did people know when we produced them?" she blared to the nodding approval of the others.
"You people make so much noise, yet in five years you have nothing to show for it. Tell your husband to buy a mat, if he cannot fix your creaking bed!" She hissed and walked away, hurling insults at the children who had gathered in a corner chanting the accustomed rhythm.
"Only a man who loves his wife wants sex from her everyday", her mother had said when Faderera had gone to complain the umpteenth time of the sexual abuse and maltreatment she received from Folarin. "He will kill me one day maami; it was when I tried to tell him I was tired that he hit me in the face with a bricklayer's basin", she responded in tears.
"See my face."
"Rub some palm oil on it" maami replied, he eyes still fixed on the vegetable she was plucking.
"He is your husband and you should not have refused him. Your father would have done the same had I refused him. Now you will go back and beg him."
"maami… okay, I want to stay here just for this night" Faderera, managed to say.
"There is nowhere for you to sleep; your old room is now a pen for the goats. The rains have been disturbing them so I have moved them there. The fowls sleep in there as well". She continued plucking the leaves and turned her back to her daughter. Hot tears beclouded Faderera's eyes as she stumbled back to her home on that cold night. The throbbing pain in her head worsened. Now, the painkillers wouldn't even work for her anymore.
"Where did it all go wrong?" She thought to herself. She had been the village belle who refused every desirable suitor in the village – those who came hunting all the way from the city also left empty handed. Was she wrong to have married for love? Folarin had meant the world to her. He showered her with affection and promised to take her to places that existed only in dreams. But those dreams did not last a long time. After a perennial tussle for the land on which Folarin's new shop had been built, the Arowolo family won the suit. This broke him totally. It was the same tussle that had taken his father's life. But Folarin swore to hold on to his inherited property and had, after several strings of advice from friends, put a structure on it. He had loaned some money from the local thrift collector to build his tailoring shop on the land.
Chief Arowolo, on the pronouncement that he was he rightful owner of the land, locked the shop and demanded rent in arrears from Folarin. He seized Folarin's equipment and other property pending full payment. Now, Folarin had to pay the thrift collector and his customers demanded their clothes. That was when Folarin changed. He became a hireling to his friend, Kolade, a bricklayer. He began to return home late and drunk; he beat his wife at the slightest provocation, often pointing accusing fingers at her for his condition. When she tried to neglect her wifely duty, in a bid to put him in check, she incurred more wrath from him. He raped her…
One day, her best friend, Sade, who had followed the firewood merchant's lorry to the city returned home in a new car – her own car – and she even had a driver! She told Faderera how easy life was in the city by just doing 'runs'. She told her how men doted over her and ridiculed her friend's state of helplessness. She gave her some of her old clothes and shoes with some money in case she changed her mind.
Faderera had kept all these from Folarin, for the explanation of the benefactor would have brought her more beating? Faderera cried some more as she tied her bundle. In despair, she remembered the beatings over nothing she had received from a man whose once professed love and bought her heart with his tongue. She was just his sex thing now. A depressant, she had caused his present predicament.
He came home drunk as expected, pushed her roughly as she opened the door to let him in. Now she knew better than refuse him. As soon as he started to loosen the cords of his trousers, she reached for the bowl of oil under the bed. In a practised movement of fingers, she quickly lubricated herself as he yanked off her wrapper from her waist. Reeking of the putrid smell of cheap local gin mingled with the staleness of his sweat, he blindly guided himself devoid of passion into her. His mocking silhouette shoved in the poorly lit room. Faderera stared blankly into the deep night from the holes in the roof trying to keep her mind off the jangling.
"It will soon be over", she thought to herself as a drop of tear hurried down a swollen battered eye onto her left cheek. Fifty kilometers away, a lorry honked as it approached it approached the village.
Photo Credit: http://bglhonline.com
____________________________________________________________________________________________
Olusola Roberts is an accomplished actor and director. He has starred in the production of The God's are not to Blame, Death and the Kings Horsemen, and that Scoundrel Suberu. He also starred in the critically acclaimed production "The V Monologues Vs The Tarzan Monologues".